Transport solution
Choose a sustainable haulage solution from Renault Trucks' 360° All-Electric offer
#JoinTheGoodMove
Electromobility
Opting for a fleet of electric trucks is the most profitable and efficient way of decarbonising your operation. Throughout the energy transition, Renault Trucks will be at your side, enabling you to complete this journey with complete peace of mind. Whether you have questions about the legislation, profitability, reliability and maintenance of electric vehicles or the installation of charging infrastructures, we will provide you with all of the information and support tailored to assist you in making the transition.
Download our free white paper and get a step-by-step guide on how to smoothly decarbonise your fleet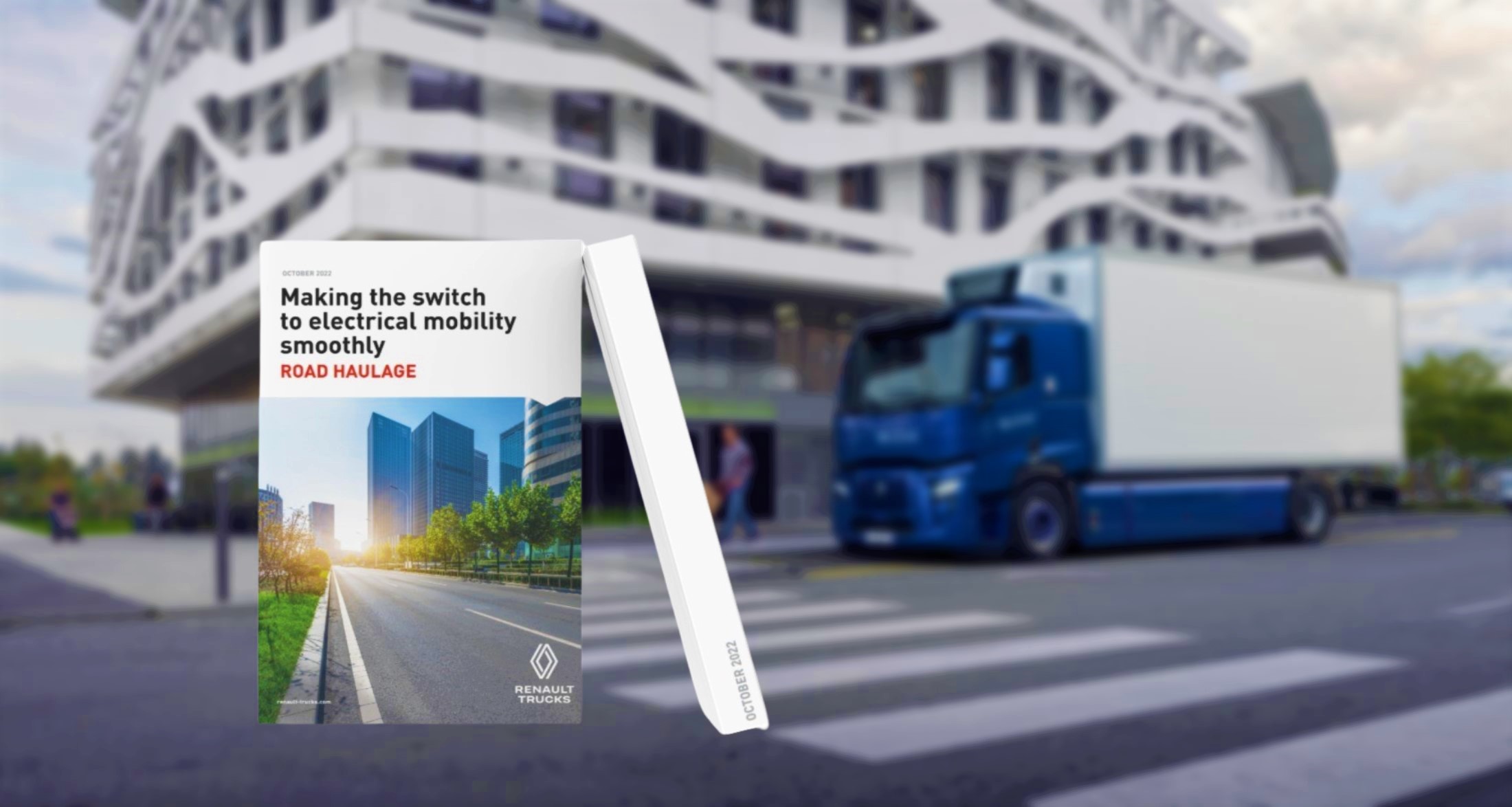 Keep up-to-date with legislation
The reduction of CO2 emissions entails an approach founded on an environmental, economic and social basis. For goods haulage, this translates in terms of legislation as a set of measures that could affect activities on a European, national and even local level. Sometimes, such legislation is mandatory, with the definition of LEZ (Low-Emission Zones) in some cities, with entry criteria based on vehicular pollution or a vehicle maximum emissions level (Euro Standards). These may also be incentivised, and offer financial support to assist you in the updating of your fleet with electric trucks. Our electric vehicle experts will support you in applying for the Government grants available, thus enabling you to reduce the costs associated with buying an electric fleet and allow you to see a return on investment and decarbonise your activities more quickly.
Decarbonise your fleet while limiting your costs
Currently, the initial purchase price of an electric truck is higher than that of its diesel-fuelled counterpart. But in terms of running costs, an electric truck is less costly because electric vehicle technology reduces your additional and variable fleet costs considerably. The main cost item to be reduced is fuel. In addition, electric trucks require less maintenance: the electric motor has a simpler design and has less wear and tear parts. If we consider the bigger picture, and take into account the TCO (Total Cost of Ownership), the difference in cost to that of a diesel truck is reduced greatly.
Finally, we can offer servicing and maintenance contracts to provide a transparent and holistic overview of actual costs over the length of your contract (which is usually between seven and ten years). We will also support you with finance and insurance solutions that are suited to your requirements. With Renault Trucks Financial Services, you can decarbonise your fleet without impacting your profitability.
Rely on proven technology
Electric vehicle technology is not new. At Renault Trucks, we have been marketing electric vehicles used by our customers on a daily basis for more than 10 years, and have been producing them since 2020. This experience allows us to offer a range of electric trucks today, with our Renault Trucks E-Tech Master, Renault Trucks E-Tech D Wide and Renault Trucks E-Tech D. Our comprehensive range covers the majority of requirements for delivery and distribution activities. Large groups are placing their trust in us and have opted for a 100% electric fleet on a large scale, such as the Swiss co-operative Migros Aare, Feldschösschen, the Swiss subsidiary of the Carlsberg Group and even the Urby company (Groupe La Poste).
You can rely on the expertise of our workshop technicians who receive ongoing training in emerging electric vehicle technology. Furthermore, our network is equipped throughout for servicing your electric vehicles. Finally, we make a performance commitment for our batteries through our Start & Drive Excellence contracts to provide you with peace of mind for the entire time that your vehicles are in use.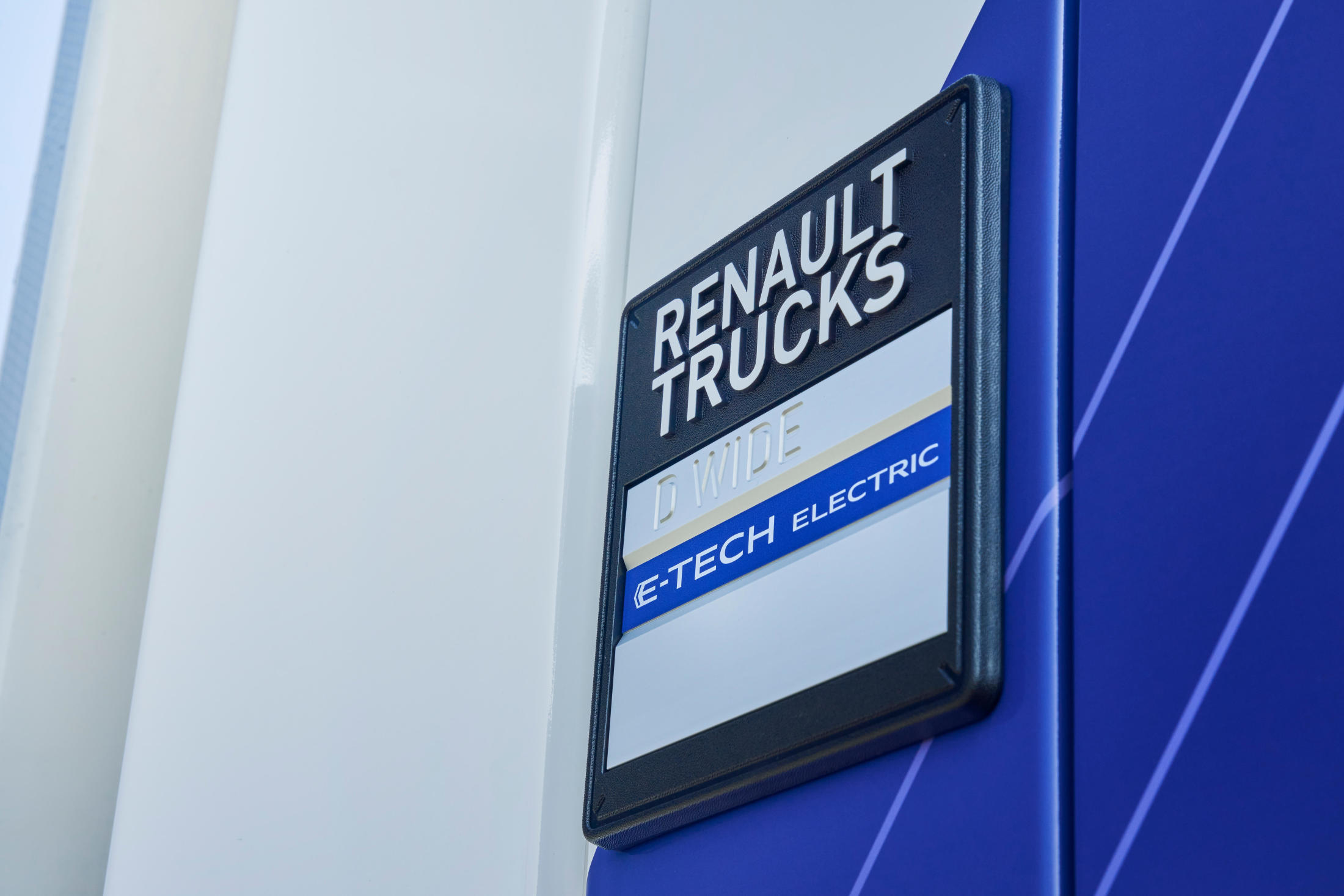 Rely on charging infrastructures that are perfectly suited to your site
Converting to an electric-powered truck fleet requires an in-depth rethinking of your logistics chain. To this end, we will support you not only in the design of the project but also in the project management of works and the maintenance of your charging infrastructures. There are load management or smart charging solutions available to allow you to make the best use of your infrastructures. Optifleet, our on-board fleet management tool is a solution for co-ordinating your fleet and training your drivers in the specifics of driving electric vehicles. With well-designed infrastructures that are used effectively, trained personnel and our support, you will be able to optimise the use, operating range and reliability of your electric trucks, resulting in an increase of your profitability. To go the extra mile, we will also advise you on how to optimise your electrical energy consumption and make recommendations based on the analysis of your round-trips to make them as cost-effective as possible. Finally, we can quantify the reduction of your CO2 emissions.
Understand transport decarbonisation
Subscribe for free and access an e-learning platform of expert content!