Report
Electric truck leasing is convenient, environmentally friendly and cost effective
#JoinTheGoodMove
Green Energies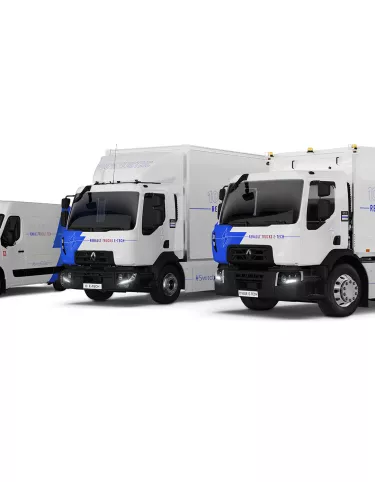 Jean Francesco Hächler is a Country Manager at Renault Trucks Financial Services. He offers Renault Trucks customers - including Carlsberg - a choice of leasing solutions that deliver budgeting and operational benefits.
"I live and work in Zurich, one of the world's banking and financial centres. In common with the rest of Switzerland, urban transportation in my city is moving towards e-mobility solutions to improve city centre quality of life and reduce overall CO2 emissions. Personally, I can only welcome this trend towards cleaner, more energy-efficient and quieter transportation solutions that are compatible with energy from renewable sources.
With electric trucks, I'm financing eco-mobility
My job at Renault Trucks Financial Services involves putting together financing solutions for companies looking to add one or more electric trucks to their fleet. I almost always recommend leasing, rather than outright purchase. Given the Total Cost of Ownership (TCO) for electric trucks, leasing makes much more sense financially. So what are the benefits for Renault Trucks Financial Services* customers? All they have to do is drive; we take care of everything else! To put it simply, Renault Trucks takes responsibility for maintenance. If there's even the slightest problem with a truck, the manufacturer takes care of it, and gets the vehicle back on the road as quickly as possible: that's real peace of mind.
E-mobility is becoming key to winning new contracts
There are also very practical financial benefits to transport operators that use electric trucks. Over and above the benefits in terms of company image – eco-mobility is seen as increasingly important in all sectors of industry, and is becoming the key to winning new contracts. In Switzerland, for example, electric trucks are totally exempt from road tax, which means a saving of Chf 20,000 (€18,980) for a truck covering 35,000 kilometers (21,750 miles) per year.
This was certainly a factor for Carlsberg when the company signed a major contract this February with Renault Trucks for 20 D Wide Z.E. 26-metric tonne trucks. These 100% electric vehicles will be operated by Carlsberg's Swiss subsidiary, the Feldschlösschen Brewery. All 20 trucks will make daily rounds of between 100 and 200 kilometres (60-125 miles) to supply the brewery's customers from its 15 logistics centres. I'm very proud personally to have played my part in arranging the finance for this historic contract."
*Renault Trucks Financial Services is the finance and insurance service of Renault Trucks, a Volvo Group subsidiary.
Profile
Country Manager and specialist in non-common leasing transactions, Jean Francesco Hächler has a Master of Corporate Finance qualification from the Lucerne University of Applied Sciences and Arts. He began his career with Credit Suisse in 2001. Having spent six years with Xerox Leasing, he joined Renault Trucks Finance in 2017. His successes include arranging finance to facilitate the Carlsberg Group contract for 20 Renault Trucks D Wide Z.E. 26-tonne trucks.