Transport solution
Which alternative energy truck is right for my business?
#JoinTheGoodMove
Green Energies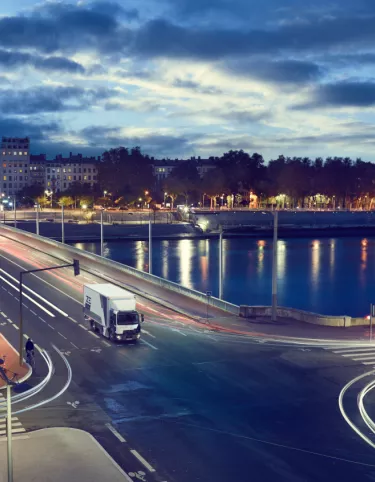 How do I choose the right truck for my business? Which criteria should I prioritise based on my business constraints and goals? Which type of energy should I opt for? Many transportation operators are now asking themselves precisely these questions. Renault Trucks is here to help them identify the best solution.
Today's industry landscape is far from simple for transportation operators. As if the 2020 health crisis was not bad enough, regulatory and financial constraints are increasing all the time. Restrictions on access to city centres, pressure from customers wanting to use only environmental-friendly transportation providers, fierce competition between providers, price wars... constraints like these add real complexity to the task of choosing the most suitable vehicles for your business, especially when you want to use an alternative energy.
Selection criteria... the questions you need to ask yourself
The right choice of energy source and vehicle will differ depending on geography, local legislation and regulations and the routes and/or distances travelled. For long-distance freight haulage covering hundreds of miles per day without returning to the depot, the best choice would be B100 biodiesel, which can reduce CO2 emissions by up to 60%.
For regional distribution covering less than 402km per day with vehicles returning to base for an overnight battery recharge (6 to 12 hours, depending on the type of terminal using a conventional electricity outlet), an electric truck can be an excellent solution. It is particularly recommended for night-time deliveries in city centres, because electric trucks are very quiet and generate zero local emissions in use (except for braking-related particulates, which applies to all vehicles).
The third possible type of alternative energy is compressed natural gas (CNG). It can come from underground mining (fossil gas) or from the processing of household and green waste (biogas), and can deliver CO2 emission reductions of up to 70%. Vehicle range can be as much as 500 miles and, like a diesel truck, refuelling takes only a few minutes, thanks to connectors compatible with the VNG1 and VNG2 standards.
Total cost of ownership and support from Renault Trucks experts
Whichever type of alternative energy or sustainable fuel its customers are considering, Renault Trucks helps them identify the most adapted solution and vehicle for their business. Renault Trucks proposes a number of methodology-based systems that customers can use to calculate Total Cost of Ownership (TCO) with help from their sales advisor. This calculation incorporates a series of different criteria, including the initial purchase price or finance charges (standard loan, leasing/lease purchase, finance lease, etc.), any available government incentives, local/national taxes, fuel/energy costs and vehicle maintenance costs. The ultimate aim is to provide the most comprehensive decision support possible to ensure that every customer is using the right energy for the right application at the right time and in the right place.
Lastly, Range Simulator is a purchasing assistance tool used by Renault Trucks sales staff to help their customers make a successful transition to electromobility. It can simulate the routes used, loads carried, mileage and weather conditions to identify the most appropriate solution. It's so accurate that it can calculate how much energy will be left over at the end of the delivery route!
All these solutions help transport companies to choose and operate vehicles that are less polluting, more energy-efficient and compatible with a renewable energy source that suits their business, with the ultimate aim of reducing CO2 and local emissions such as nitrogen oxides (NOx) and fine particulates. This is essential for envisaging a more environmentally friendly future.