Discover the Renault Trucks T 2024, it already has what you need
| | | | |
| --- | --- | --- | --- |
| | | | |
| Enhanced safety | A more comfortable cab | Improved profitability | Maximized productivity |
The Renault Trucks T is your ideal partner for regional transport.
Recognized for its efficiency and reliability, it is the vehicle that allows you to make your regional missions with peace of mind. Sober while being efficient, it meets the needs of your business to make every journey a source of profit.
Safety: "I need to feel that I am driving safely."
We integrated the latest safety technologies to make driving easier and safer for you and other Vulnerable Road Users.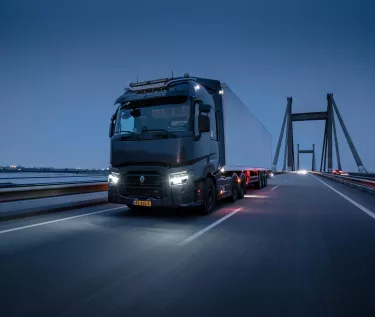 Better visibility
Radar detection and cameras all around the vehicle

Automatic activation of headlights and windscreen wipers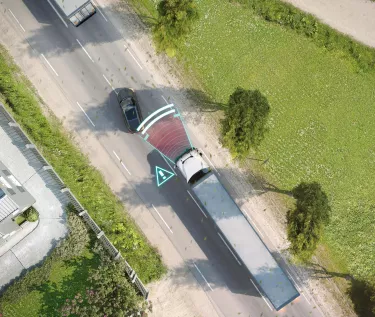 Driving Assistance  
Driver fatigue detection and lane departure warning system (LDWS/DDAW)

Automatic Emergency Braking System (AEBS)

Hill start assist

Speed Assistance (ISA)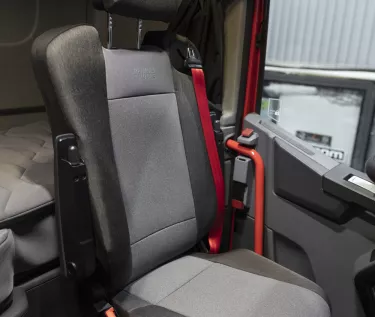 Increased peace of mind
Tire Pressure Monitoring System

Anti-runaway mode

Mechanical anti-intrusion lock
Comfort: "I need to feel comfortable in my cab."
We have redesigned our cabin. Every detail has been thought to combine ergonomics and comfort, to ensure your well-being on the road as well as during your breaks.
New dashboard
New steering wheel
Induction charger
The best steering column
Totally adjustable 
The driver position is much better
New interfaces
Multifunction screen
New digital cluster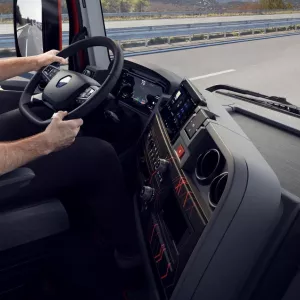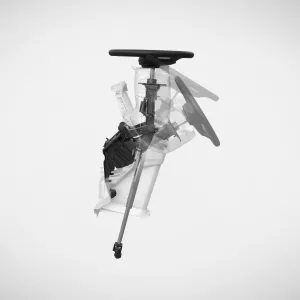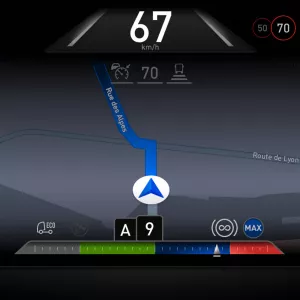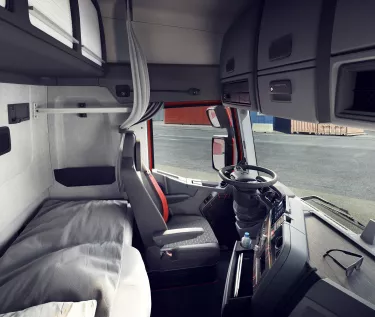 A living area just like home
"Extensia" large size lower bunk
Length: 2,009 mm

Width: 680 mm / possible 120 mm extension (extra sleeping space while preserving living area)

Mattress thickness: 120 mm

Density: 40 kg/m3

Available with memory foam mattress* with density of 80 kg/m3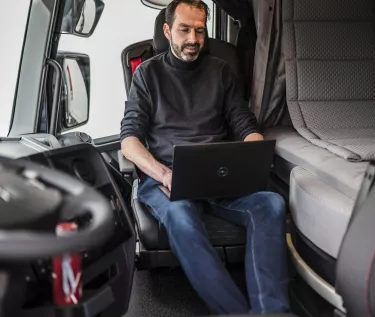 90° Swivelling passenger seat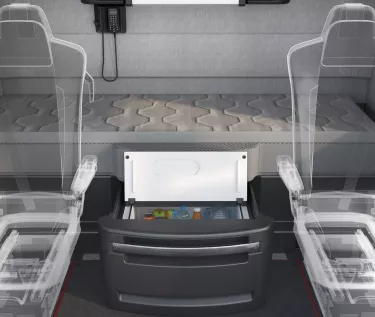 Silent electric refrigerator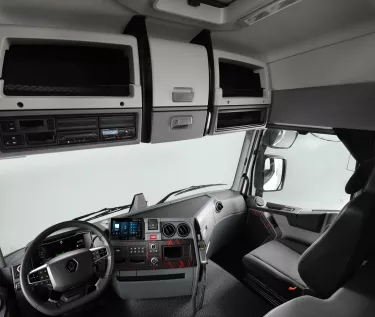 Interior/Exterior storage
Easy loading of heavy luggage (easily holds a 6-pack of 1.5 L water bottles)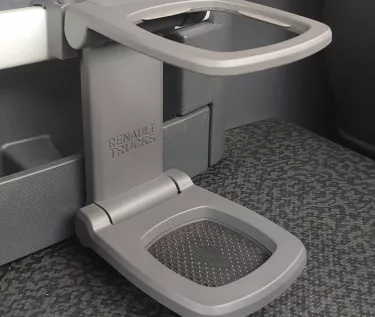 Cup holder
I want to personalise my truck
Profitability: "I need an efficient truck."
We have developed the Turbo Compound technology to reduce fuel consumption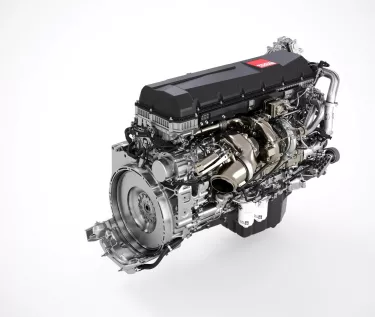 DE13 TURBO COMPOUND ENGINE
 UP TO 10 % FUEL SAVINGS
 UP TO 10 % CO2 REDUCTION
TURBO COMPOUND Technology

Improved engine combustion with wave pistons and new injectors

Reduced frictional losses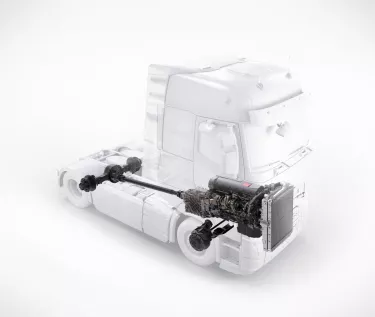 Designed for profitability
DE11 & DE13 engines

Category A tires as standard for lower consumption

Optimized axles ratios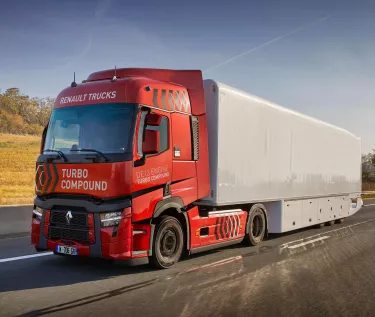 Optidriver gearbox
Faster and smoother gear changes

Dedicated Optivision softwares (to optimize gearshift)
Technology for controlling your costs
OPTIVISION MAP BASED
This option uses topographical data. Data transmission to the on-board computer is automatic and continuous throughout the journey, before starting each new incline ➊, ➋, ➌ and for driving downhill ➍, ➎. The gear shift, acceleration and speed strategies are optimised, which further reduces fuel consumption.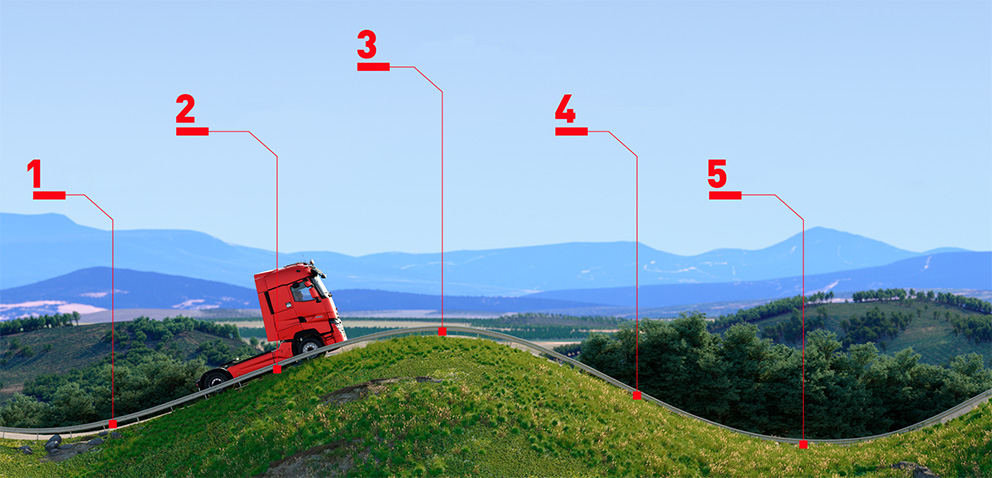 1 - Before the climb: Acceleration 
2 - During the climb: No change of speed 
3 - Before descending: Switch to free-wheeling
4 - During descents : Braking always under control
5 - In the hollows: Extra momentum

AERODYNAMIC DESIGN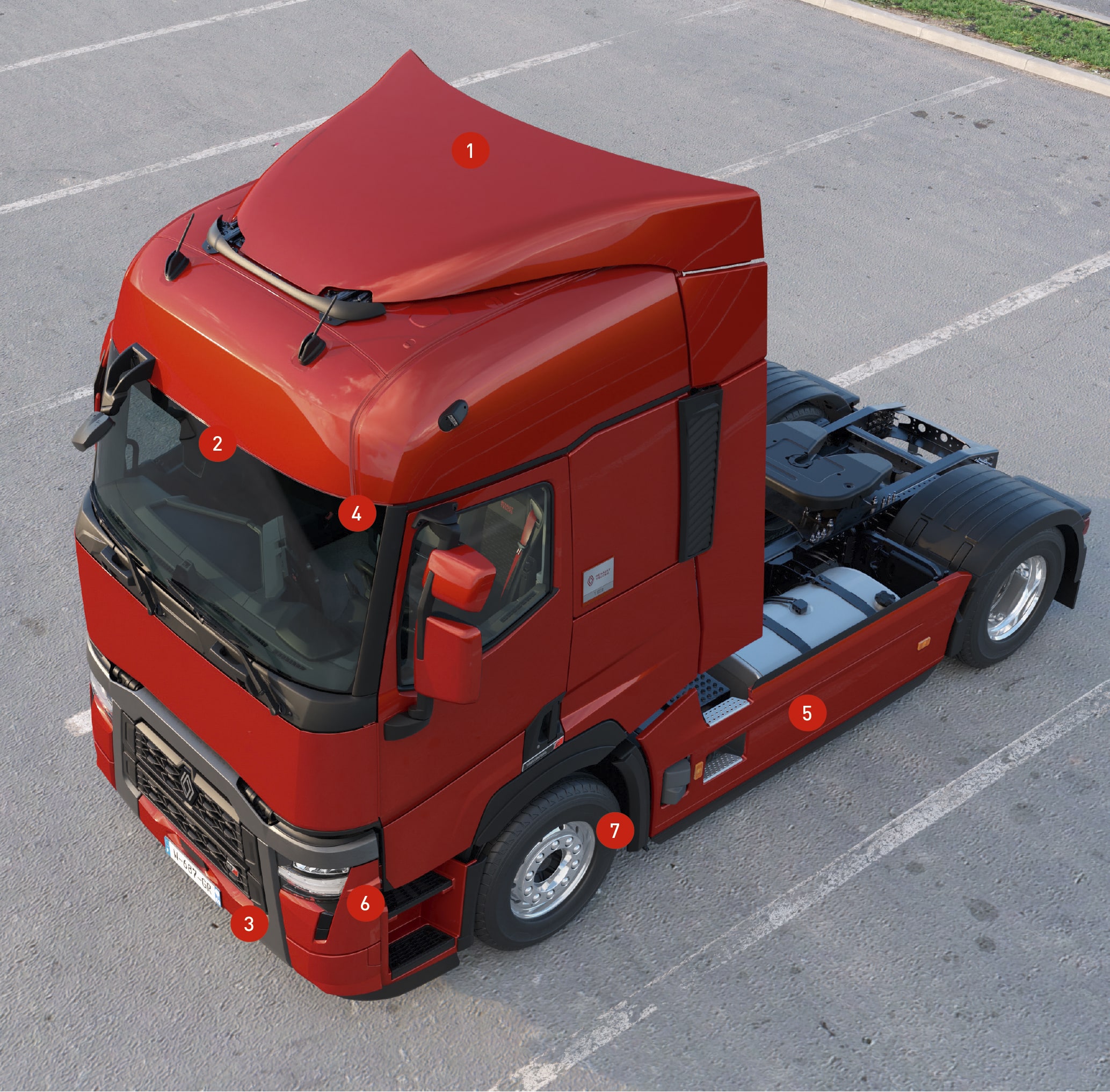 1- Different types of roof deflectors
Fixed (88 mm), manually adjustable from 285 to 496 mm (fast adjustment optional) - folding lateral deflectors.
2 - 12° Windshield inclination
3 - Bumper with integrated spoiler
4 - Trapezoid cab
2.3m at the front and 2.5m at the rear.
5 - Fairing extentions
On frame and door extensions.
6 - Deflector incorporated into the optical block
7 - Wheel arches
Improve air flow and reduce water splashes.
Uptime: "I need to optimize each moment."
Our vehicles are connected, allowing you to benefit from remote services offers. We help you optimize your vehicle's operating time and prevent potential downtime.
You are interested in the Renault Trucks T ? Contact us for more information.