Transport solution
Transport your goods efficiently on all types of roads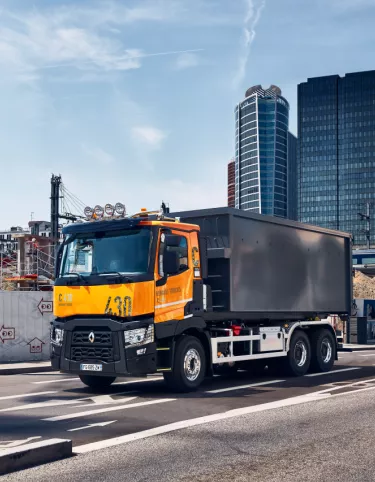 Whether you're dealing with cereals, liquid or solid bulk, the transport of goods requires a versatile truck able to drive on all kinds of roads and in all weather conditions. This is something we can help you with, thanks to our well-adapted products and services.
Transport of goods: a robust yet comfortable vehicle
When transporting goods, loading is often done in places that are quite hard to access, on unstable ground and, sometimes, in fairly precarious conditions. In looking to ensure utmost safety and smooth engine power, the Renault Trucks C model has a reinforced chassis and an engine ranging from 380 to 520 hp, with maximum torque available even in low gears - starting at 900 rpm.
If the ground is unstable, the Optidriver automatic gearbox has an off-road mode that helps adapt gear changes in strenuous conditions.
To avoid any damage or impacts on paths and tracks, the Renault Trucks C model's standard off-road installation includes a bumper with steel corners and headlight protection grids. For more frequent off-road use, you may even want to fit a 100% steel bumper.
°
This is the angle of attack allowed by the 100% steel bumper on the Renault Trucks C model.
Trucks can therefore drive on all kinds of ground without any hindrance. Furthermore, the chassis can be reinforced on several levels along the stringers to ensure the frame's mechanical resistance.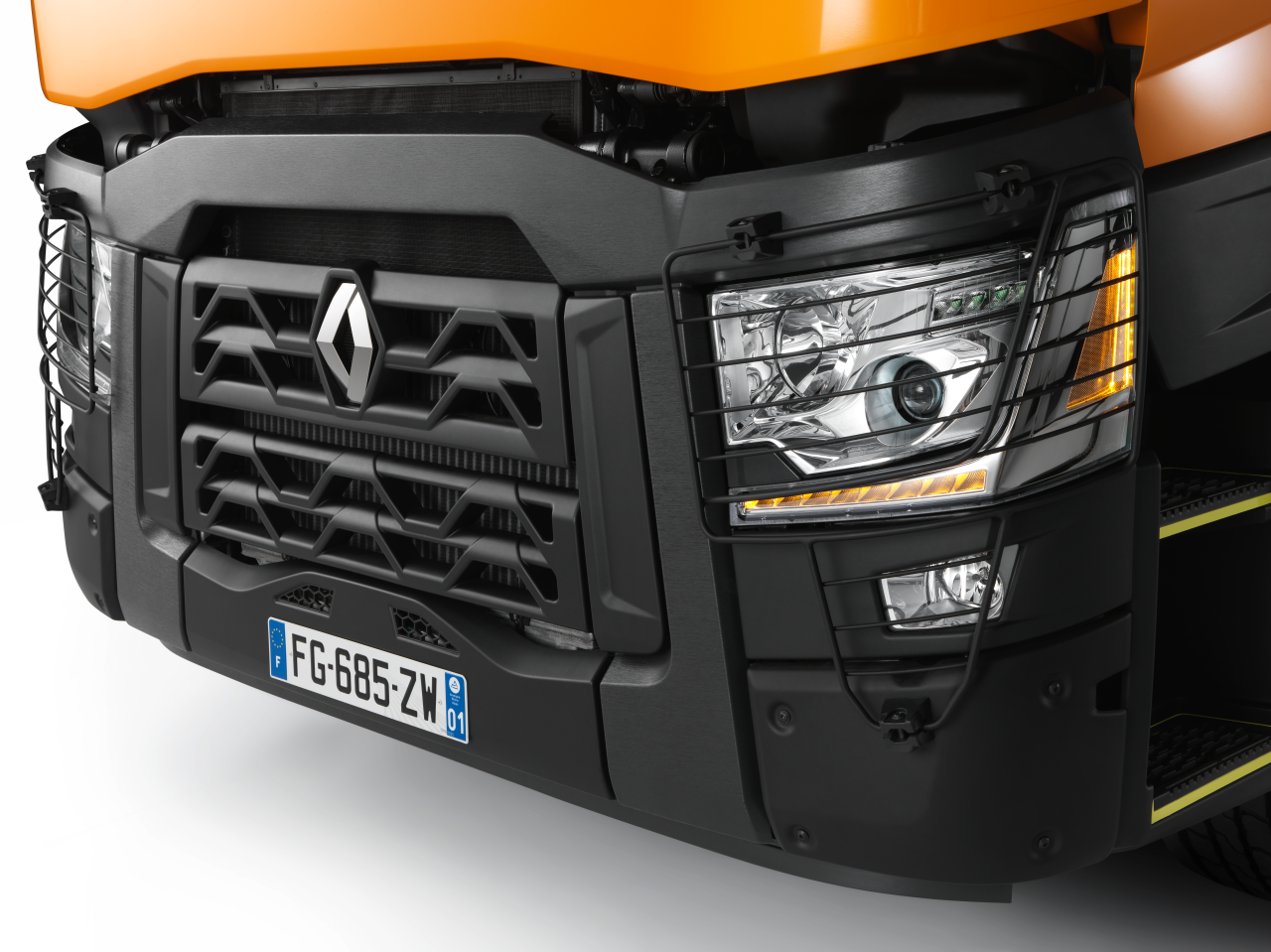 Once on the road, the Renault Trucks C model boasts all the advantages of a long-haul truck. Its trapezium shape improves aerodynamics thanks to its 12° angled windscreen. Fuel consumption is therefore lower.
The Renault Trucks K model may also meet your transport requirements - whether the goods are in bulk or not. Designed for heavy construction, it will adapt to your constraints thanks to its powerful engine and large loading capacity.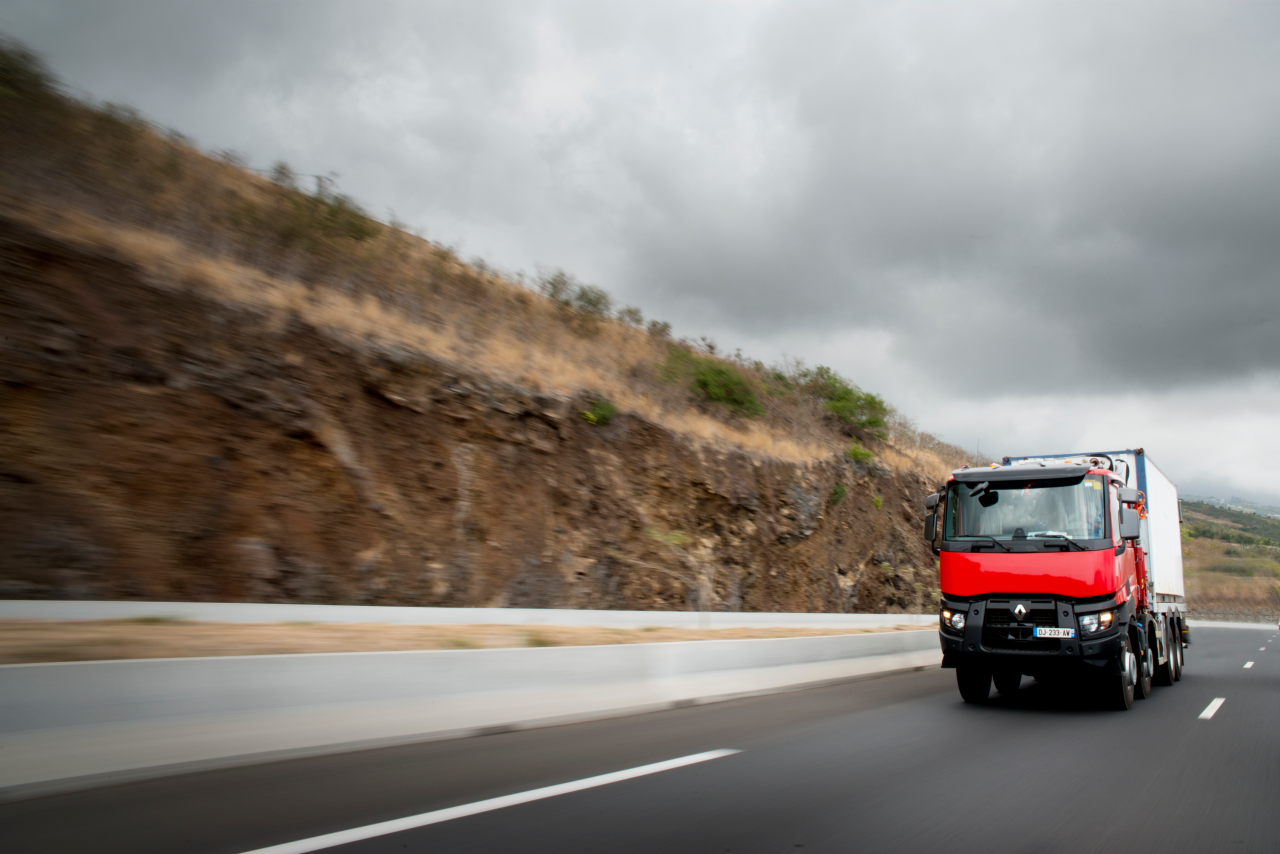 Ensure your drivers' comfort and safety
Designed on the same basis as a long-haul truck, the Renault Trucks C model offers all the comfort and safety you could expect from this type of vehicle. Access to the cab is made easier with its doors opening at 85°, and its aligned, wide, anti-slip steps. An additional side step with a handle on the roof enables the driver to easily and safely check the truck's load.
The advanced position of the cab offers wide visibility and a spacious on-board living area measuring over 2.5m wide, with one or two bunks. All the vehicle's commands are centralised around the steering wheel, so drivers never need to lift their eyes off the road. For their own safety and that of the load they are transporting, they can rely on several driving aids - such as a hill-start assist, electronic stability control and automatic emergency braking.
Increase vehicle uptime
In support of your goods transport activity, Renault Trucks offers several solutions to reduce your maintenance expenses. When you need to change one of the vehicle's parts, you could for instance decide to use standard eXchange parts. Rather than replacing the part with a new one, Renault Trucks has a circular economy system for reusing old parts. They are renovated in our specialised factory, follow a reconditioning protocol and undergo strict tests before being put back on the market. Our renovated parts offer the same performance level as new ones, and benefit from a 2-year fitted parts warranty. They are also less expensive than new parts.
You can also schedule maintenance costs for your vehicles by opting for a maintenance contract. Based on a personalised maintenance plan, the contract's duration can vary from 2 to 7 years, and ranges up to 155,350 miles a year. It adapts to your activity and vehicles, based on their model and usage.
Transport of goods: reduce your fuel consumption
Designed to ensure optimal speed whilst consuming as little fuel as possible, the Renault Trucks C line has an automatic Optidriver gearbox - which contributes to reducing consumption through its Fuel Economy setting. With Optifleet, the smart fleet management solution created by Renault Trucks, you can go even further in reducing consumption. The application is used to gather specific consumption data for each vehicle and how they are used by drivers. You can for instance bring up "fuel alerts" in cases of excessive consumption, you can view standby consumption data, and see how many times the brake pedal was pushed. By geo-tracking your vehicles, you can also plan journeys to make them as efficient as possible. If an itinerary or order is modified, you can send a message directly to the driver, and plan a new route with a clear view of all your vehicles' locations.
Finance your goods transport vehicles easily
FOR MORE INFORMATION, CONTACT US!