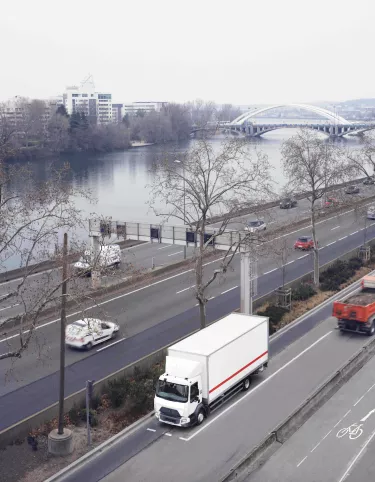 PERFECTLY SUITED TO YOUR NEEDS
When you choose Renault Trucks D Wide, you are purchasing much more than just a truck. With some exceptional body structural options available you can be sure of working with a vehicle that is perfectly suited to your needs. And with better controlled fuel consumption, you can rely on maximum profitability. Renault Trucks strives to provide even greater productivity.
SAFETY
VISIBILITY AND VULNERABLE ROAD USERS
Radars & cameras
Located all around your truck they inform and alert you to ease your maneuvers.
Automatic Headlamp Switch (AHS)
It improves your visibility and helps to stay focus on the road in peri urban areas.
Vision door*
Available on the passenger side to increase visibility in urban areas.
*Optional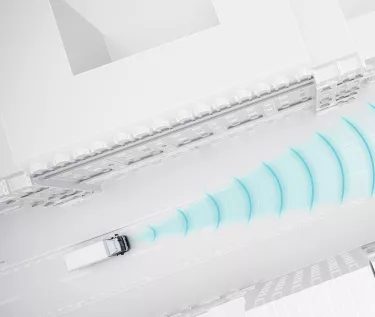 URBAN & SUBURBAN DRIVING
ADAPTATIVE CRUISE CONTROL (ACC)
It keeps a safe distance from the vehicle in front by automatically adjusting the throttle and brake (retarders and service brakes).
HILL START AID
The brakes are held on for a few seconds after releasing the brake pedal for easier hill starts.
AUTOMATIC EMERGENCY BRAKING SYSTEM (AEBS)
It prevents possible collision by braking to bring the vehicle to a complete standstill without the driver's intervention.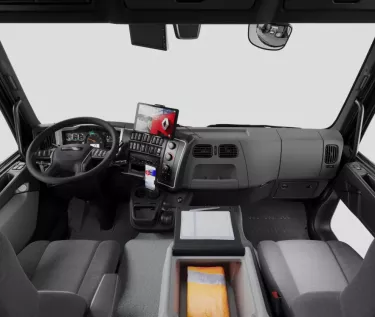 SERENITY
DROWSINESS ALERT (LDWS/DDAW*)
Audible and visual alert on the dashboard when the truck is drifting out of its lane.
*Lane Departure Warning System/ Driver Drowsiness & Alertness Warning
SPEED ASSISTANCE (ISA*)
The camera recognizes the speed and informs the driver with a sound and a visual warning when overtaking.
*Intelligence Speed Assistance
UPTIME
TIRE PRESSURE MONITORING SYSTEM (TPMS)
The sensors are located on the rims. They inform and alert you about any problems of pressure and temperature of the tires. This system prevents any immobilizations of the vehicle.
PROFITABILITY
UP TO 10% FUEL SAVINGS
UP TO 10% CO2 REDUCTION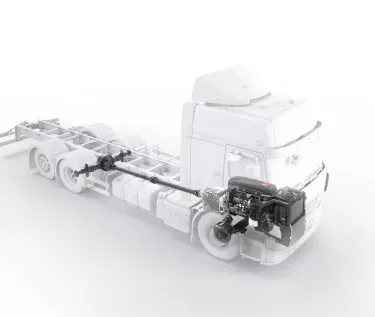 TO ACHIEVE FUEL EFFICIENCY
Renault Trucks has developed engines based on proven technology and perfectly suited to urban and medium distance applications. The driveline offers a wide choice of technologies and power ratings, plus reduced fuel consumption and maintenance costs.
ROBOTIZED GEARBOX AS STANDARD
NEW DE11 ENGINE FOR FURTHER DIESEL EFFICIENCY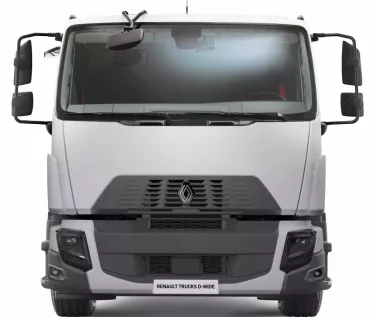 SAVE EVEN MORE FUEL
AERODYNAMIC
Roof deflectors adjustable with 12 different positions suitable for all body heights and all cabs. Side deflectors to reduce fuel consumption even further.
INTELLIGENT TECHNOLOGIES
Automatic engine stop to stop the engine running unnecessarily when idling.
OPTIFLEET
Optifleet allows customers and operators to track their vehicles in real time, whilst also helping to keep their fleet fuel efficient and compliant.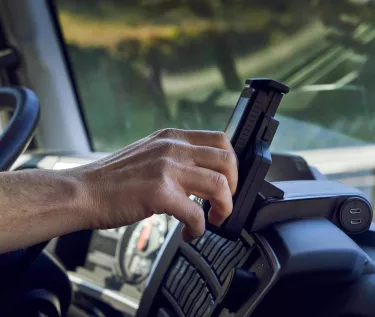 SAVE EVEN MORE FUEL
With optifleet check
Reduce your fuel consumption and CO2 levels and emission
Save money
With optifleet map
Optimise your deliveries
Increase your efficiency and customers satisfaction
READY FOR BODYBUILDING FOR ALL APPLICATIONS
A VEHICLE FOR EVERY APPLICATION
Numerous items of mechanical and electrical pre-equipment simplify bodybuilding operations, allowing the installation of equipment needed for all distribution activities.
A CHASSIS PRE-EQUIPPED FOR EVERY APPLICATION
with a kit of nuts and bolts and pre-drilled side members plus specific equipment (tankers, sweepers, domestic waste collection tippers and firefighting).
BODY BUILDING SIMPLIFIED
web portal dedicated to bodybuilders reduces your vehicle delivery lead time.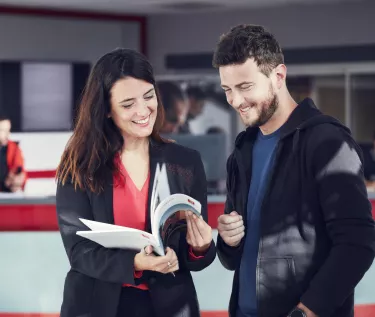 MORE PEACE OF MIND WITH OUR START&DRIVE MAINTENANCE CONTRACTS
A customized and dynamic maintenance plan management adapted to your needs
Our breakdown towing package (24/7 Towing assistance)
ROBUSTNESS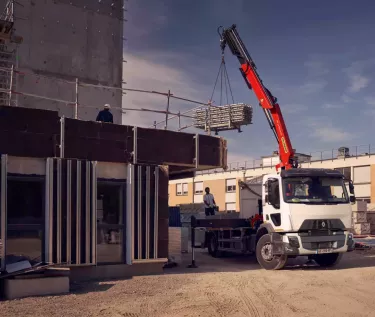 KEEP YOUR PROMISES
The chassis on the D range of vehicles has been tested under extreme load conditions. To ensure reliability and maximum durability, the cab has been reinforced using components and materials recognised for their strength.
A VEHICLE FOR EVERY ACTIVITY
with a range of 100 models.
SIDE MEMBERS
drilled according to vehicle configuration, ensuring a minimum of holes and better structural robustness.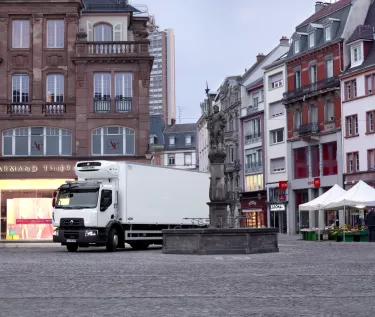 VERSATILE BY NATURE
STEERED REAR AXLE
for easier manoeuvring in town, turning circle up to 19% tighter than a standard 6x2
IMPECCABLE BEHAVIOUR
maximum torque from 900 RPM for a better response combined with an automated gearbox provides increased driving comfort.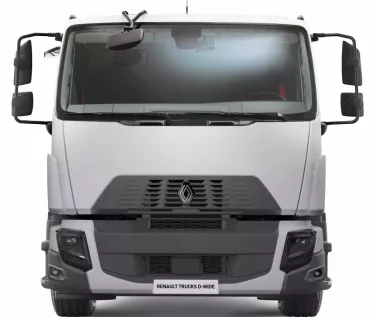 A ROBUST TRUCK
BUMPER WITH STEEL CORNERS
for greater resilience.
COMFORT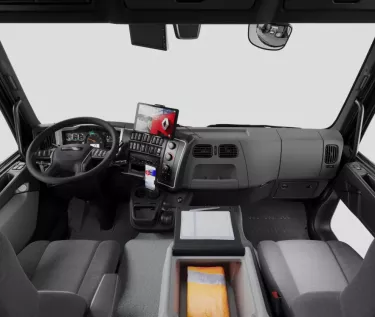 INCREASED COMFORT FOR GREATER EFFICIENCY
EVERYTHING WITHIN REACH
Convenient controls within easy reach provide driving comfort. Driving assistance systems and an automated gearbox help the driver to remain focused on his task.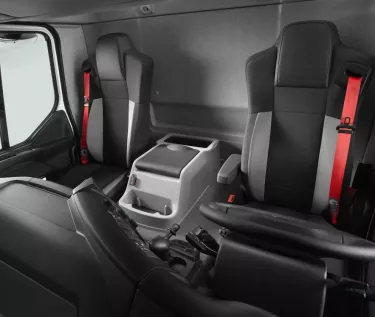 ONBOARD COMFORT
New seats have been developed to improve comfort. Thanks to numerous storage spaces, everything needed to do the job is close at hand.
CENTRAL STORAGE COMPARTMENT
capacity 15 L, writing surface, bottle holder, cupholder and supplementary 24 V power supply.
STORAGE AREAS
in the overhead console.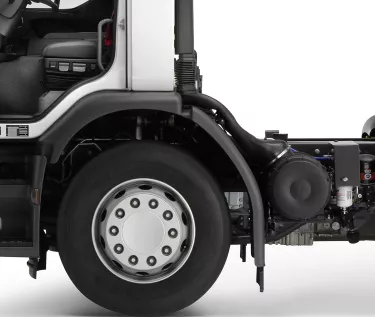 PERFECT WORKING TOOL
THE PERFECT WORKING TOOL
Accessibility to the cab and windscreen has been designed to make the driver's day-to-day work easier and facilitate vehicle servicing. More than a truck, the Renault Trucks D is the perfect working tool to maximise productivity.
90° OPENING DOORS
for easier cab access.
WINDSCREEN ACCESS STEPS
non-slip to make servicing the vehicle easier.
Services for greater profitability
Ensuring your vehicles' availability with our uptime services
Renault Trucks, an expert network
Driving your fleet and energy management