Transport solution
Increase rotations and improve operations on your earthmoving sites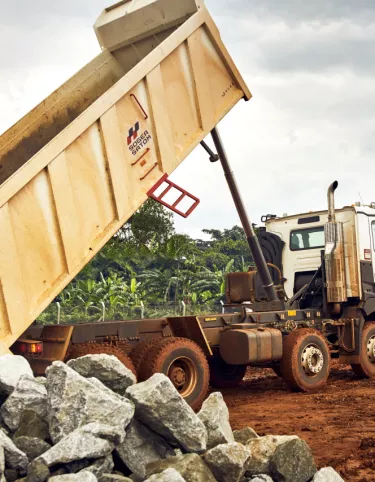 On earthmoving sites, robust and productive vehicles are required, with a high payload and comfortable, safe working environment for drivers. Renault Trucks supports you in your choice of construction trucks and associated services well suited to your activity.
Add value to the rotations done by your earthmoving trucks
Transporting sand, earth or rocks is the first step when starting on a construction site. For it to be profitable, large volumes need to be transported as quickly as possible. The Renault Trucks C and K are construction vehicles able to drive through construction sites bearing heavy loads, whilst still showing high performance out on normal roads.
If you often work in environments with particularly harsh conditions, you may want to choose the XTREM version of the Renault Trucks K. Its payload is increased to 34 tonnes, with a total loading capacity of 100 tonnes for the 6x4 holder, and up to 120 tonnes for the 6x4 tractor. The Renault Trucks C and K can bear a mass of 13 tonnes on each rear axle.
The Renault Trucks Master may also be suitable for more local sites, such as landscaping sites.
Maximise the rotations done by your construction trucks
When being designed, our vehicles undergo strenuous tests to ensure flawless robustness when operating on construction sites. The large ground clearance offers a particularly wide angle of attack to avoid any grounding, and any potential under chassis damage.
°
The Renault Trucks C and K boast the best angle of attack on the market and the K model has a ground clearance under the axle of 15 inches, and 20 inches under the tank.
For each vehicle, the chassis' stringers can be reinforced in different places depending on the bodywork, to guarantee the structure's resistance. To avoid the engine from clogging up, the Renault Trucks K is fitted with a cyclonic air pre-filter to prevent dust from entering.
Any loading or vehicle problems on the construction site can lead to lost time and reduced operational efficiency. To limit this risk and bolster driver safety, the trucks' cab boasts excellent visibility. Drivers can also easily keep an eye on their load thanks to a side step that can be safely accessed using the handlebars on the roof.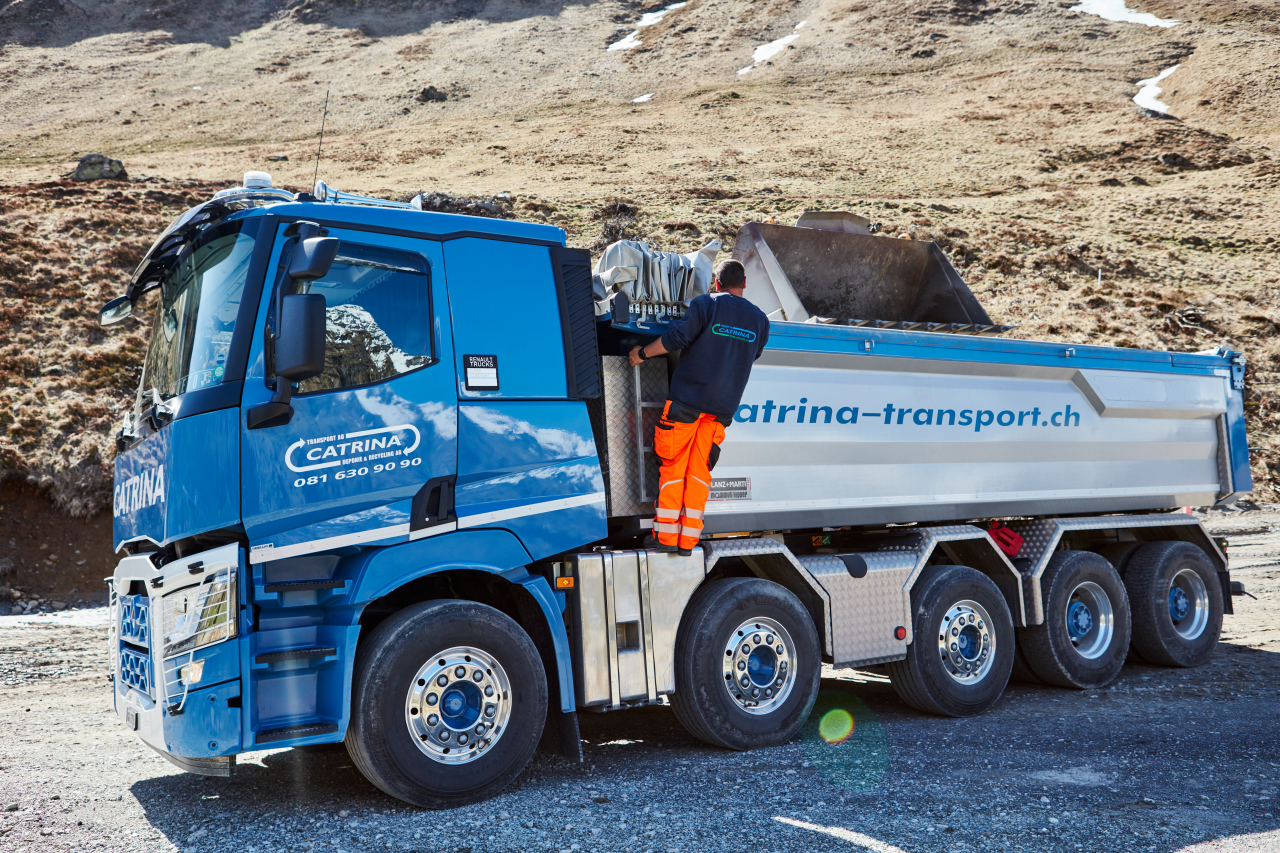 The Renault Trucks C and K are equipped with several driving aids, to assist drivers on construction sites:
Manual accelerator to boost engine power on unstable ground

Hill-start assist

Electric and automatic parking brake

Optidriver automatic gearbox with an off-road mode to help change gears when driving through construction sites

Xtended mode with extra-slow gear for driving through construction sites with heavy loads

Differential motor blocked by a rotary button for easier access

Optibrake, the most powerful engine brake on the market
Renault Trucks vehicles are perfectly at ease both on construction sites and out on the open road. Their powerful engines and on-road features ensure high commercial speed during transit, whilst avoiding excess consumption – improving your profitability.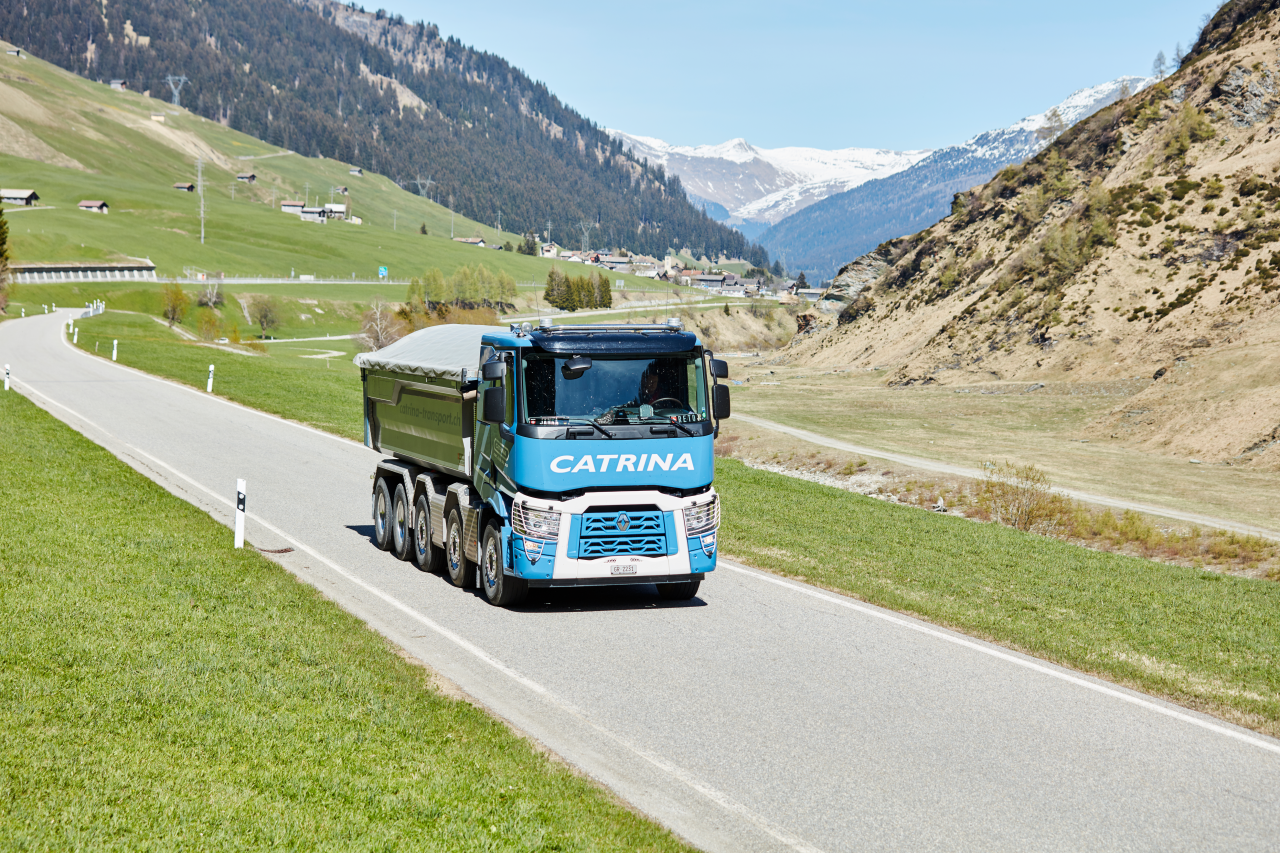 Opt for a construction truck with a body that is easy to build
Our vehicles are designed to help your chosen bodybuilder build the body easily and quickly. You can choose the precise wheelbase you need based on your activity, and we also offer several different fittings to make equipment assembly easier for bodybuilders.
The vehicles' chassis also have pre-made fittings for installing equipment, passing electrical cables or for creating the cab's interface.
Several areas beneath the chassis are left empty so you can choose to add various equipment in line with the chosen bodywork. We do all this work in close collaboration with the bodybuilders, to make their job easier and reduce the lead time for your vehicles.
Follow up on how your fleet is being used and reduce consumption
As you may have noticed, fuel consumption on construction sites can escalate quite quickly. Most of the time, this is because vehicle usage is not being optimised. By choosing Optifleet, the fleet management solution designed by Renault Trucks, you can gain detailed insight on your vehicles' fuel consumption and understand the factors that contribute to it. High consumption can be caused by driving style, excessive idle use of the engine, or by high power take-offs. Optifleet also warns you if you exceed a consumption threshold you have set. The EcoScore module identifies your drivers' areas for improvement, and offers a specific programme dedicated to construction site activities.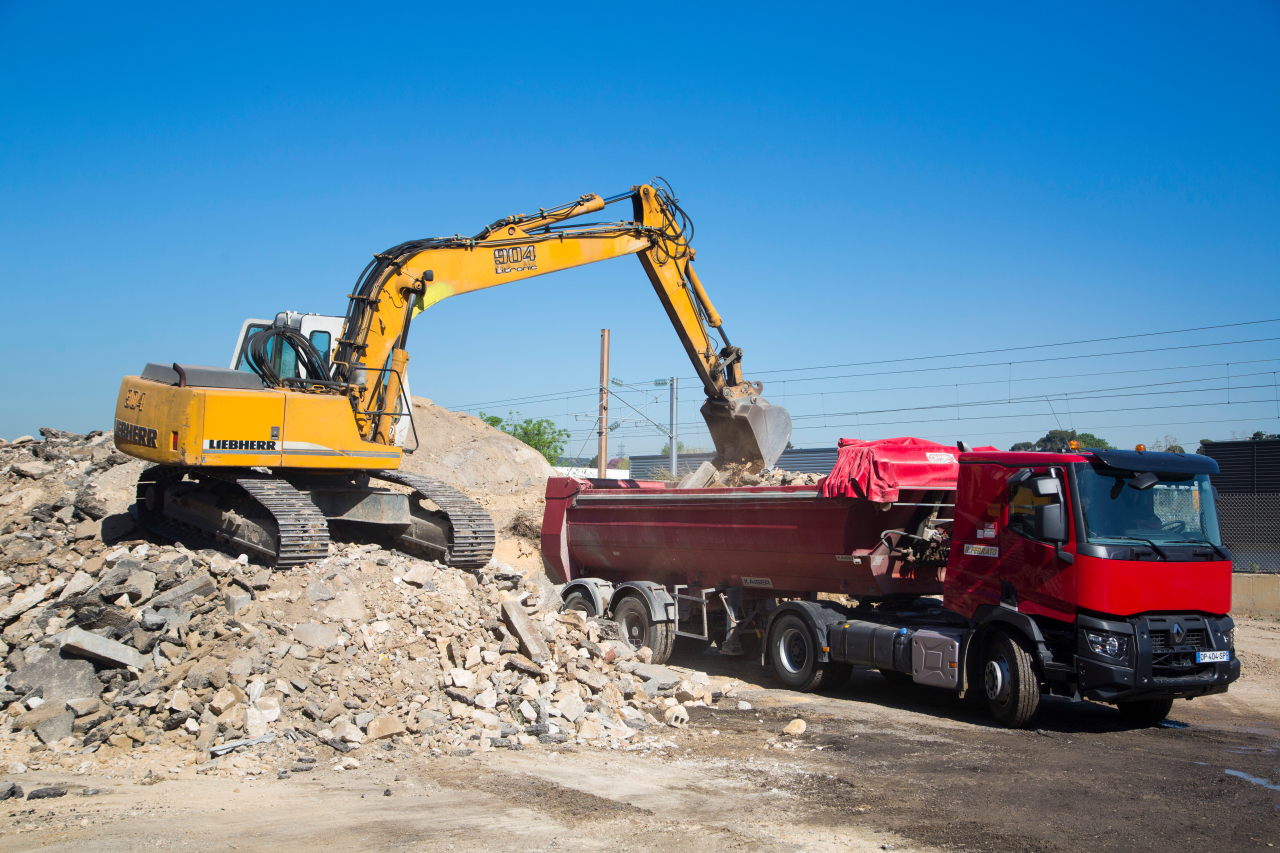 Reduce your maintenance costs
The strength and robustness of vehicles and parts are put to the test when doing earthmoving work. To avoid any excess costs and plan vehicle servicing, Renault Trucks offers various personalised maintenance packages. These plans are transparent, quick to implement and require no long-term commitment. Invoicing and services intervals are also determined in advance. All maintenance work is conducted in our workshops, by experts specifically trained in the technologies and products used by Renault Trucks. We only use original parts, to guarantee quality and durability for your vehicles.
In aiming to reduce costs, whenever you need to replace a used or damaged part, Renault Trucks also offers a standard exchange service. Rather than using a brand-new part, we renovate and recondition parts in line with a strict industrial process, and validate each element prior to remarketing. The reconditioned part's qualities and performance levels meet the same requirements in place for new parts, and are also guaranteed for two years. Over 2,000 parts are eligible for this service, which is more cost-effective than new parts so you can save money without compromising on quality.
Adapt your financing plan to your earthmoving sites
To help you finance your vehicles, Renault Trucks offers various solutions perfectly-suited to your earthmoving activity. Our formulas take bodybuilding time into consideration. For instance, we know that annual mileage in the field of construction is generally quite low, so we make sure to adapt the financing plan's duration to optimise operating costs. Your advisor will support you every step of the way when choosing the best formula.
FOR MORE INFORMATION, CONTACT US!