RENAULT TRUCKS T HIGH IS EVOLVING
MORE COMFORTABLE AND EFFICIENT
Reliability, fuel savings, comfort, safety... Renault Trucks goes even further to keep you operational.
A DASHBOARD DESIGNED LIKE A COCKPIT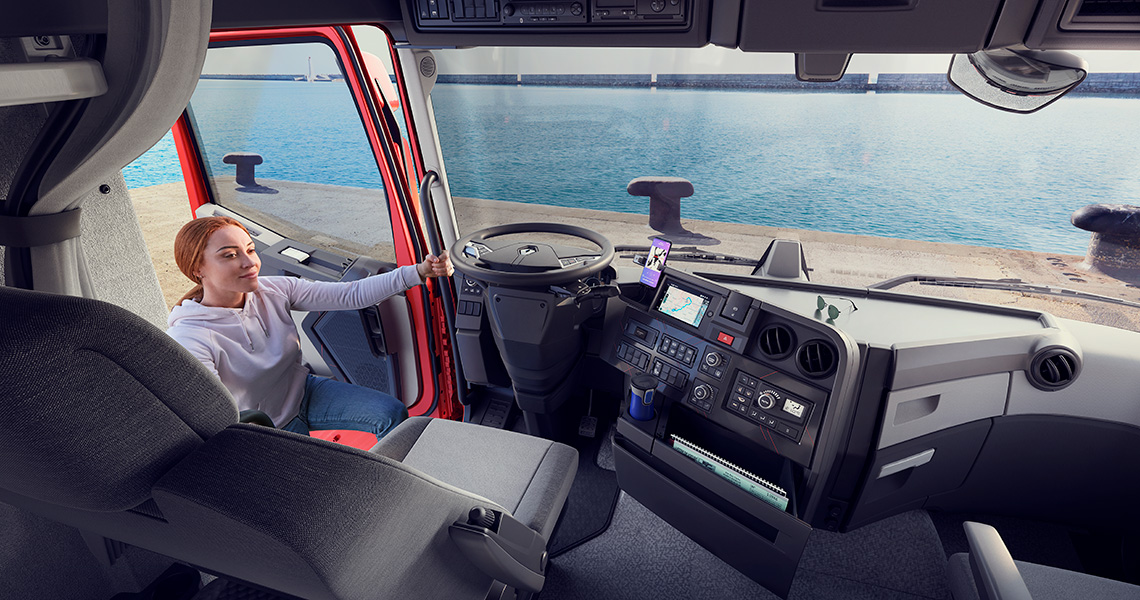 Curved dashboard to keep everything within easy reach
Storage drawer for A4 format documents
Two dash-located USB-C ports
Start button
Removable superior comfort seat with stain-resistant upholstery
Tablet and phone holder
A MULTIDIRECTIONAL STEERING COLUMN
ONE OF THE BEST STEERING COLUMNS ON THE MARKET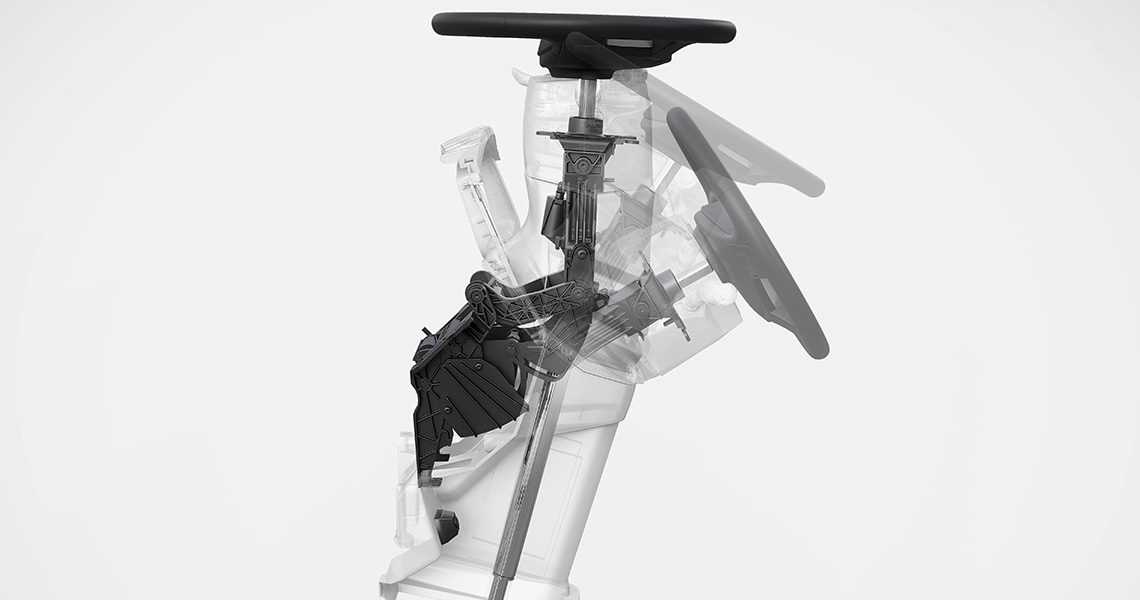 Full three-axis adjustment for optimised driving position
Intuitive foot-controlled control for steering wheel position
Range of movement allows easier access to and from cab
MORE ON BOARD HOME-LIKE COMFORT
NEW ULTRA COMFORTABLE BED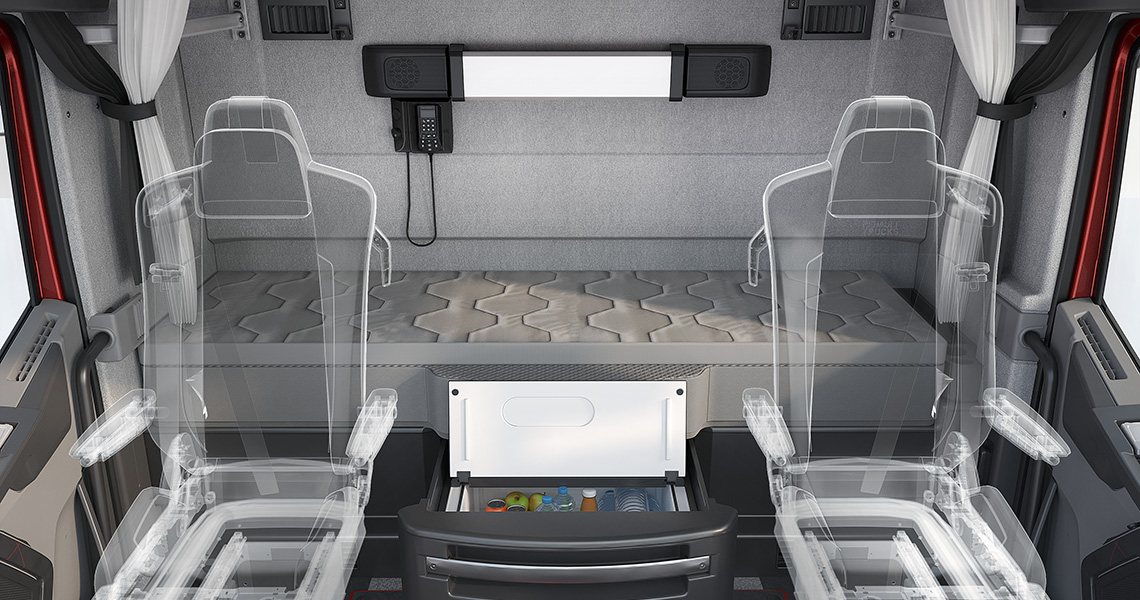 SERENITY BUNK
Mattress thickness: 170 mm; density: 41 kg / m3
Twice as many springs and a thicker mattress to suit all body shapes
Mattress detachable from its base to use fitted sheets
New textured fabric makes cleaning easy
Memory foam mattress topper
TWO USB-C PORTS
MORE SERVICES TO KEEP YOUR TRUCKS ON THE ROAD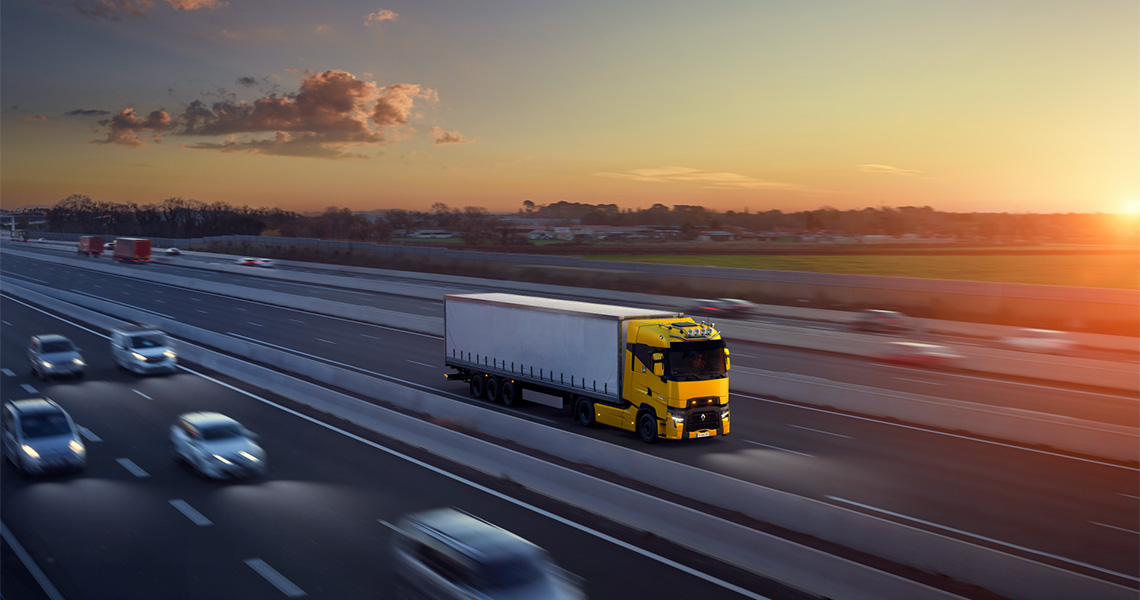 REMOTE SERVICES
Over the Air technology giving you remote services:  
Remote-diagnostic
Software crash fixing
Software update
Remote setting modification
Your truck remains efficient and even improves over time
EXTENDED DRAIN INTERVALS UP TO 150,000 KM / 18 MONTHS (13 L ENGINE)*
Reduced maintenance costs
Optimised maintenance plan to minimise servicing stops
* According to the vehicle usage
GREATER RELIABILITY AND FUEL SAVINGS

-3% FUEL CONSUMPTION
Euro VI Step E engine
Category A tyres as standard for lower consumption
New optimised Eco Pack
LED lighting to reduce maintenance and extend longevity
MORE SAFETY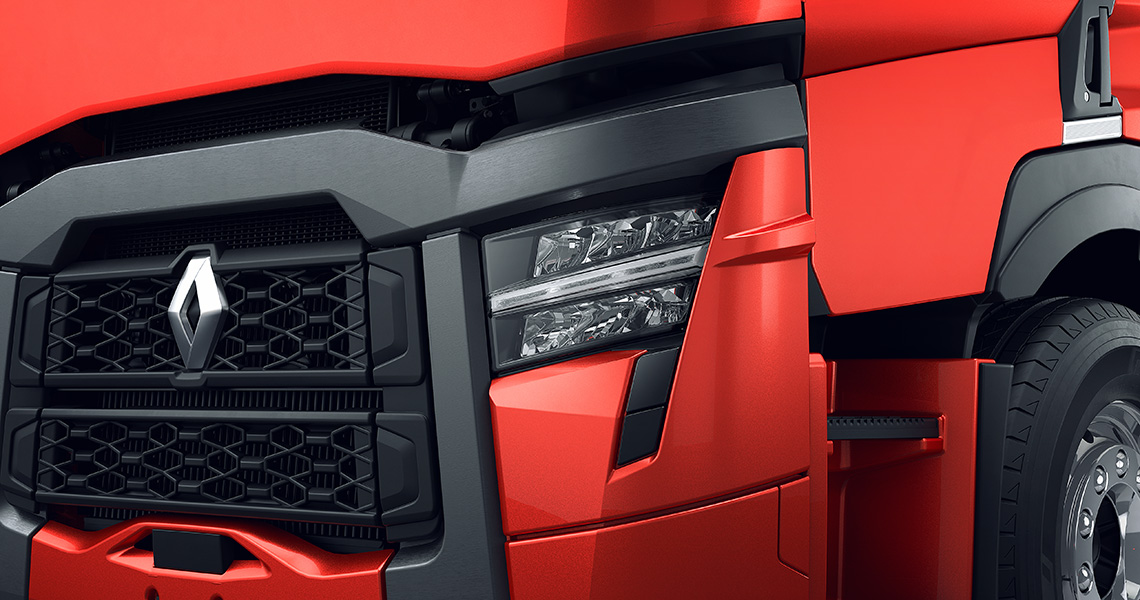 LED HEADLAMPS*
5 Cell LED front lamps - daytime running, main beam, fog and indicator functions
Light output 3 times that of standard lights (main beam 1450 lumens, low beam 700 lumens)
Wrap-around design for side visibility and enhanced safety
*LED lights are specified on on-road models only. Off-road construction vehicles specified with a steel front bumper feature halogen lamps.
PARKING BRAKE EMERGENCY APPLICATION
Anti-rollaway feature
MECHANICAL ANTI-INTRUSION DOOR LOCK
For greater safety in the cab when the vehicle is parked
SECURITY SENSORS
The presence sensors detect vulnerable users in blind spots
T HIGH, DESIGNED FOR LONG JOURNEYS
FULLY FLAT FLOOR
making moving around inside the cab much easier.
800 MM WIDE EXTENDABLE LOWER BED
high density foam 40 kg / m3 and upper bunk reached by a ladder (only available in LHD).
SILENT ELECTRIC REFRIGERATOR
with a capacity of 40 litres.
(Panoramic dash only available in LHD)
For more information, contact us!