Transport solution
Our vision of alternative energies for trucks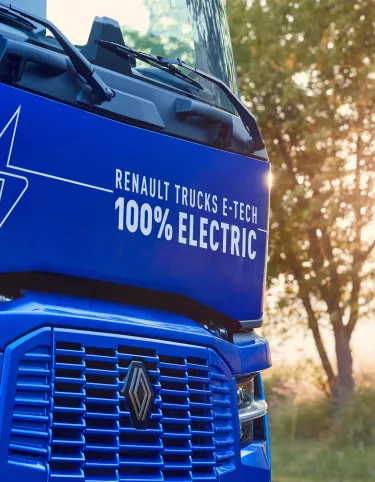 Decarbonising transport to tackle the climate emergency
Trucks play an essential role in society, particularly in the food chain and in transporting essential goods. However, global demand for transport needs to be balanced by sustainable solutions.
Emission standards for trucks are many years ahead of emission standards for cars. Particulates, NOx and all other polluting emissions have been reduced almost down to zero, especially with the current Euro VI-D regulation. Replacing old generation vehicles by recent ones is thus a considerable lever to reduce air pollution.
Fighting global warming and reducing greenhouse gas emissions has become a major concern. Reducing CO2 emissions is our industry's new priority.
Today, there is no unique alternative to substitute diesel in all applications and all markets in an efficient manner. Even if we are convinced that electric mobility will be the new norm in the medium to long term (2040), our proposal today is to offer our customers the best transport solution, adapted to their activities, with the most efficient energy in terms of performance but also environmental impact.
Diesel, as a professional fuel, remains today a good answer to transport industry needs, especially for long haulage, for which it will remain a dominant fuel for some more years. Ruling out the "all diesel" does not mean ruling out diesel.
The best solution to reduce the environmental footprint of long-distance transportation is to remain focused on fuel consumption reduction. Next generation biofuels, especially synthetic paraffinic fuels (HVO, XTL…) will also support further CO2 reductions in the medium term.
For shorter distances or urban transport, Compressed Natural Gas - CNG - provides a mature answer to the challenges the transportation industry faces. It contributes to improve city air quality and is a proven solution. Natural Gas remains however a transitional energy since a breakthrough is expected by society in terms of emissions when compared to diesel (fossil natural gas only cuts CO2 emissions by 2% compared to diesel).
The ultimate transport solution must reach zero emission. Electromobility is definitely THE solution for urban applications, regional transport and construction. With more than 10 years of extensive development and customer collaboration in this area, and series production from early 2020, Renault Trucks is ready to make electric trucks the new standard.
Discover our all electric vehicles and services
Download our free white paper and get a step-by-step guide on how to smoothly decarbonise your fleet