Testimonial
Renault Trucks K - Lithuania - Vilniaus Regiono Keliai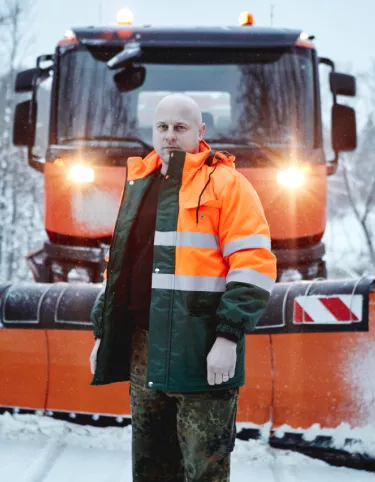 The public road maintenance company in the Vilnius region takes care of snow clearance and salting of local roads to make sure they are safe for vehicles to use them. Saulius Batvinksas, head of the company's mechanical department, lists the advantages offered by Renault Trucks Ks fitted with snow ploughs.
VILNIAUS REGIONO KELIAI 
1990 : year established.
300 : number of staff.
32 : number of trucks with skips, including 1 Renault Trucks K, and 8 Renault Kerax.
2 000 KM : total length of paved roads to be maintained.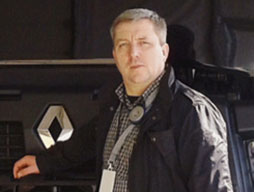 Why did you choose the Renault Trucks K?
Saulius Batvinskas — We listed our requirements and the tender showed that the Renault Trucks K met our expectations. It is perfectly adapted to our constraints and this is what we are looking for: reasonable fuel consumption of course, but also great robustness to withstand temperature differences and corrosion problems.
What are its main assets?
S.B — LThe power of its engine and its high performance braking system. The vehicle has fully protected drum brakes. They are very useful and extremely effective when we work during the summer in quarries or in winter on the roads. It also has a reduced speed function. This is a real asset in winter when we're salting, an operation that doesn't involve driving at high speed.
| | |
| --- | --- |
| 5% | The fuel savings delivered by the Renault Trucks K in comparison with the other vehicles in the fleet. |
Is the vehicle's fuel consumption an advantage?
S.B — Our vehicles generally consume a lot because of the high loads we carry. The Renault Trucks K consumes 5% less than our other vehicles. Its tank contains about 350 litres, which allows us to cover between 500 and 600 kilometres.

What conditions do your vehicles work under?
S.B — This was specified in our technical requirements: vehicles must be able to operate at temperatures ranging from –40°C to + 40° C. This winter, despite negative temperatures as low as – 30 °, our Renault Trucks vehicles had no trouble starting. Other advantages offered by the Renault Trucks K include its steel bumper and the fact that all the vital units are well protected.
What kind of equipment helps drivers in their work?
S.B — The shape of the rear-view mirrors provides a very broad view and the side mirrors are well protected from snow and splashes. The wheels, recessed under the vehicle, do not send out splashes on the sides. As for in-cab comfort, Renault Trucks has thought of everything. The height and back of the heated seats are both adjustable. Our drivers also particularly appreciate the cab's ample dimensions. This is very convenient, especially if they're carrying a box of tools for their work.
VIEWPOINT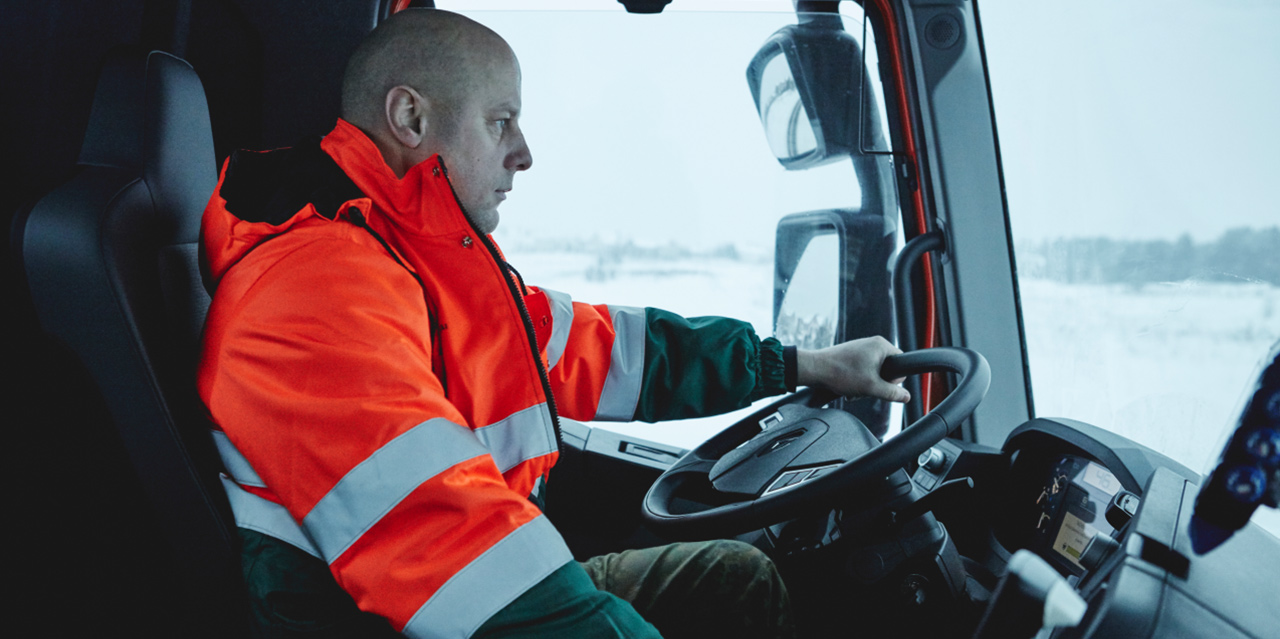 Ricardas Kasperavicius, driver of the Renault Trucks K.
The kind of work 36 year old Ricardas Kasperavicius does largely depends on the weather. Snow clearing or salting, working at night or in the rush hour, he operates on one of the main roads leading from Trakai, a small historical village, to Vilnius, 30 kilometres away. He joined the company 15 years ago, and declares: "It's a real pleasure to drive the Renault Trucks K, everything is so quiet and there are no vibrations. This winter in Lithuania, temperatures dropped sharply, with heavy snowfalls".
As far as Ricardas is concerned, the Renault Trucks K is perfectly suited to the stretch of road he looks after. "You can load up to about 11 tons of salt or sand, more than in other trucks," he explains.
Lower fuel consumption is another of the Renault Trucks K's key advantages. Without knowing the exact figure, Ricardas often sees the vehicle return from a mission with its tank more than half full. Particularly suitable for work in an urban environment, it can also be fitted with two snowplough blades. "They allow us to do more and do it faster. The work I can now do alone would have taken two vehicles to do before," stresses Ricardas. But speed must be accompanied by safety, especially in adverse weather conditions.
The driver must take great care n using both the front and lateral blades. Several things have to be done almost simultaneously; monitoring the road, checking that the snow is being cleared efficiently and controlling the salting. This calls for a great deal of concentration. "You must be very careful; everything is done with the rear-view mirrors," the driver explains. As Trakai is in an agricultural and forested area, Ricardas sometimes travels over more rugged terrain where he could get bogged down. Locking the differential is very useful.
"When we have to drive in fields, the rear wheels start skidding. But the lock makes the task easier. Using this system helps the other drive axle get a grip so that the vehicle can move forwards much more easily," explains the driver.