Testimonial
Renault Trucks K 520 - Reunion Island - ST2D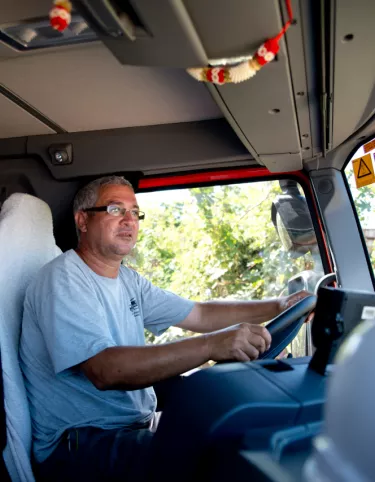 On Reunion Island, Renault Trucks K 520 carries and delivers building materials to worksites, over terrains that are often rough, uneven and hard to access.
ST2D
ESTABLISHED: 1998
ACTIVITY: transport and delivery of building materials
WORKFORCE: 3
FLEET 3 work site trucks, including a Renault Trucks K 520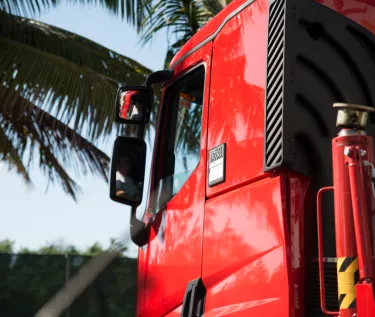 Located in the Mascarene archipeligo, in the Indian Ocean, some 700 km east of Madagascar and almost 10,000 km from metropolitan France, Reunion is a volcanic island covering 2,500 km². The high relief and local climatic conditions have created a rugged landscape subject to very high risks (erosion, ground movements and floods), that also offers a rich, unique and outstanding natural heritage.
€1.66 billion
The cost of constructing the new coastal road on pylons over 12 km long, being carried out by Bouygues, Vinci and Eiffage to link Saint-Denis, the administrative capital, with the town of Le Port, in the north west of the island.
URBAN COASTAL IMPROVEMENT
With 330 inhabitants per square kilometre, this overseas French territory has the country's third largest population density. Concentrated in the coastal areas, 840,000 people have to be able to find accommodation and move around easily. To meet these needs, more and more building sites are springing up around the island. The next major project managed by Bouygues, Eiffage and de Vinci is a good example: it involves building a coastal road on pylons between Saint-Denis and the town of Le Port, in the north west corner of the island, to replace the current coastal road, threatened by rockfalls and regularly saturated by traffic.
DELIVERING BUILDING MATERIALS WITH THE RENAULT TRUCKS K
Max Damour, a 45 year old owner driver, works for certain Vinci construction sites, as well as for a number of other local builders. He is the co-founder and co-manager, with his brother, of the ST2D family haulage company. Since setting up the business in 1998, Max carries all types of building materials (worksite panels, formwork components and beams), delivering them to the various public works construction sites. "Altogether, we have three work site trucks and two drivers: an employee and myself. We have always been faithful to Renault Trucks vehicles," he says. The latest is a Renault Trucks K 520, acquired in July 2014 to replace the Renault Kerax Max had been using for more than 10 years.
2 QUESTIONS FOR…
Max Damour, driver of the Renault Trucks K and co-founder of the ST2D haulage company.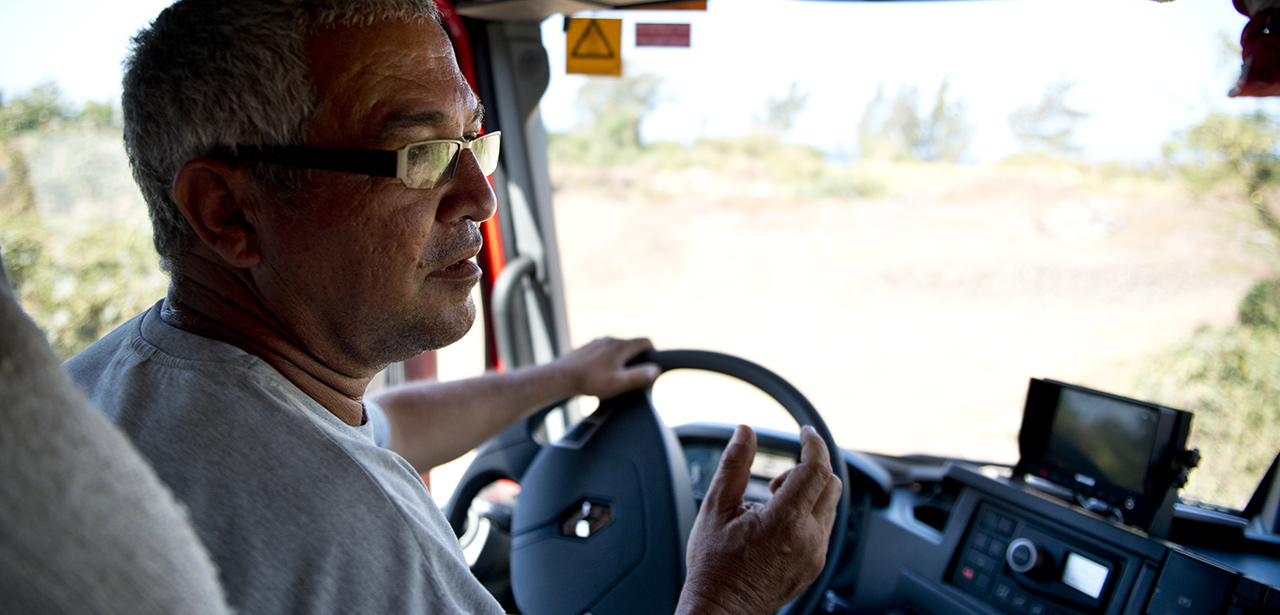 Do you feel safe on-board your Renault Trucks K?
Max Damour — Yes, the truck feels very safe. Its good road holding quickly convinced me. What's more, I can't tell any difference between driving loaded or empty. The automatic activation of the headlights when entering a tunnel or at nightfall contributes to a feeling of safety and peace of mind of the wheel. Furthermore, the parking brake control is very easy to apply and it is automatically released as soon as a gear is engaged.
How do you rate the vehicle's comfort?
M.D. — Renault Trucks has built this vehicle with the driver in mind; you can tell that from the cab's ergonomics. The various operating buttons are grouped together and easy to access. The cab with its bunk is roomy and deep, and visibility is excellent thanks to the vehicle's height. As far as the engine is concerned, the DTI 13 520 hp is very quiet, both when travelling and when using the crane. This makes driving much easier and much less tiring. Driving comfort is also improved by the speed regulator and limiter. In fact, you really get the impression you're driving a car!
THE K 520'S EXCELLENT MANOEUVRABILITY
"The K 520 is the curiosity of the moment. Many people on the island are so impressed by it they call it 'the Transformer', with reference to the film in which cars turn themselves into robots," he explains. Above all, this new 32t GVW truck, equipped with a flatbed and crane, features significant improvements allowing it to operate on the rugged, stony, bumpy and often waterlogged terrains encountered on Reunion Island. First of all, Max praises the robustness of its steel bumpers and chassis. "It's much more resilient than our other two trucks from different manufacturers," he stipulates. The truck is also extremely manoeuvrable, despite its considerable length of 10.5 m. "It enables us to comfortably negotiate difficult terrain because its fuel tank is very high up and the suspension is excellent. Its turning radius is also very good. The K 520 is much easier to manoeuvre than one of our other trucks, despite being 2 m shorter. Neither is there any problem going down the steeply sloping track to my home, in the north of the island," he asserts enthusiastically.
EXTRA PULLING POWER TO GET OUT OF COMPLEX SITUATIONS
The K 520's engine also makes it stand out. The DTI 13 engine responds very well on gradients and provides good pickup. Activating the off-road mode also gives additional pulling power to get out of critical bogged down situations. According to Max Damour, this mode makes it possible to pull heavy loads by gradually increasing engine speed while avoiding any rear wheel skidding.