Testimonial
Feldschlösschen: Since 2013 our electric trucks give us a competitive advantage
#JoinTheGoodMove
Distribution
Electromobility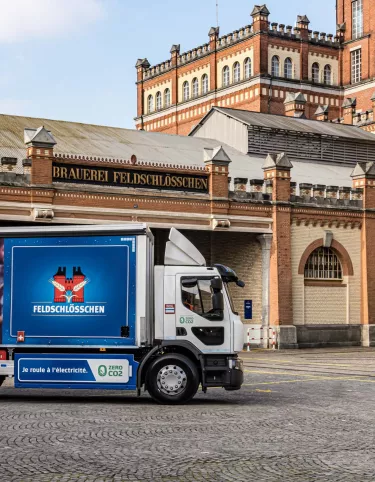 Thomas Stalder is the VP Customer Supply Chain at Carlsberg Group's subsidiary Feldschlösschen, the largest brewery and drinks supplier in Switzerland. In his interview, he underlines the strategic contribution of electric trucks to carbon-neutral logistics.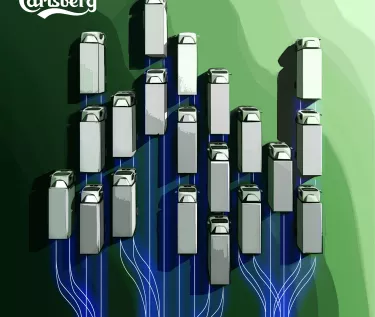 Can you introduce your company and its market?Founded in 1876 by Theophil Roniger and Mathias Wüthrich, Feldschlösschen has been market leader in Switzerland for more than 120 years. It employs 1,200 staff in 21 different locations throughout Switzerland. We brew beer at two production centres: Rheinfelden and Sion. We produce soft drinks and bottled mineral water in Rhäzüns. The beer market in Switzerland is stable but the number of breweries is constantly growing. We have the largest number of breweries per head of the population worldwide. The market is thus highly competitive.
Your company is committed to the protection of the environment. What are its main achievements in that field?  With our 'Together Towards ZERO' program we have set ambitious targets in four key areas: carbon footprint, water waste, responsible drinking and industrial accidents. In the field of carbon footprint, we have increased our share of self-produced renewable energy in the past year from 50% to 66%. This has been possible through the utilisation of biogas from our own operations as well as the use of alcohol from the production of alcohol-free beer, which we use for heat generation.
What makes you particularly proud regarding your professional and personal involvement in the protection of the environment?Beer is a natural product. We obtain our raw materials directly from natural sources and consequently have always had a close relationship with the environment. Environmental protection has been a major theme for us for several decades. We have set clear targets, have subscribed to the Paris climate agreement, and plan to be carbon-neutral by 2030. We have identified numerous measures which will help us to reduce our impact to zero through our own efforts.
I am proud that we have taken a further important step on the road to carbon-neutral logistics with the acquisition of electric trucks. We have been preparing for this step for some years. As early as 2008 we introduced the first E-vehicle fleet for customer deliveries. We have consistently made use of the railways as part of our logistics network. But I'm also proud of the share of renewable energy generation from our own business which has now reached 66%, partly through the use of alcohol from alcohol-free beer.
I am also personally committed to reducing my CO2 footprint as much as possible. I live in an energy-efficient way without the use of fossil fuels, produce electricity in my own home as a self-provider, and we use an electric car for short journeys which runs on our home-generated electricity.
What role do the electric trucks play in the carbon-free delivery policy of the Carlsberg Group and Feldschlösschen?The electric trucks are a major contribution to our goal of carbon-neutral logistics, an important part of our plan. We use rail for the longest supply journeys, and electric trucks for the shorter ones. We adopted this policy some years ago and worked consistently towards achieving it. We have a vision of carbon-neutral logistics and we embarked very early on this journey with the introduction of electric trucks. We introduced the first 18-tonnes trucks in Switzerland as early as 2013. We have carried out many tests, and the Swiss Federal Institute of Technology (ETH) in Zürich carried out a study for us and provided an ecological and economic analysis. We have considerable experience behind us and we want to use this in making further progress in electromobility.
Why have you decided to acquire 20 D Wide Z.E. vehicles from Renault Trucks?After testing the first 18-tonnes electric trucks in 2013 and reviewing our experience, we took the decision over five years ago to switch to electric trucks. When talking to Renault Trucks we quickly realised that with them the possibilities are there and our plans to switch as soon as possible were understood. We worked very closely with Renault Trucks and discussed very openly and constructively which convinced us they were the right partner. Furthermore, the funding solution proposed by Renault Trucks Financial Services helped us to take our decision and sign the contract for 20 D Wide Z.E. trucks.
Do the electric trucks help you achieve a competitive advantage?  Since environmental questions have become more important to the consumer it is certainly an advantage to use this technology. This way we can show the customers that our goals are not just abstract on paper but are actually implemented. But our ambitions go back earlier than this. Our ambition to be carbon-neutral existed long before the climate demonstrations. As a business we are convinced that we have to be aware of our responsibilities to future generations and we must do everything we can to leave behind an undamaged environment.
Is the extra cost of electric trucks compensated by economic advantages for your company? Obviously we have carried out an economic assessment of the electric trucks. Despite everything, we must be prepared to invest in new technology, even if it's not initially more economical than trucks burning fossil fuels. In the long run, it's the right move.
What does an electric fleet mean in terms of delivery organisation? Our drivers have to get used to electric trucks but they're proud to be driving them, delighted that Feldschlösschen is taking a pioneering role in this area too and that they are a part of it. Apart from the fact that the drivers have to be trained at the beginning, nothing has changed. We still deliver daily to our customers as we have always done.
What advantages do you expect from your investment?  That we reach our CO2 targets. And that we gain more experience with this new technology.
How do you see the future of logistics and electro-mobility? Combined rail-electromobility models, such as we have now developed, could also provide a model for other businesses in the future.