Renault trucks supports you in decarbonisation and the switch to electromobility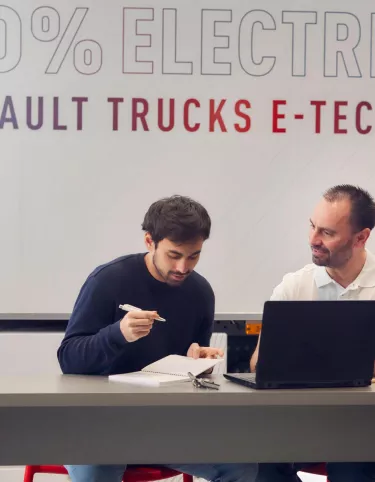 Decarbonisation of freight transport: which energies should I choose?
If you want to decarbonise your transport activity by removing diesel vehicles from your fleet, there are several solutions and energy types available to you.
You can choose natural gas. This solution is mature and gives immediate decarbonisation results because it is easy to adapt an existing fleet to this. However, these savings are negligible when the gas used comes from fossil-based methane: only 2% of CO2 emissions saved compared to diesel. The biogas solution reduces CO2 emissions further but engines still release nitrogen oxides (Nox) and will be banned from city centres in the medium term.
Another option is biodiesel. This is less expensive and easier to use, and it reduces emissions by 75% but there are still obstacles to its development. These include the need for a specially-adapted tank and the consideration that the production of vegetable oil is mainly reserved for the agrifood sector and this is expected to still be the case in the coming years.
The third option: hydrogen, its "energy performance" is also dependant on its origin. This is very interesting from an environmental point of view if it is "blue" or "green", that is to say with the capture of the CO2 released during its production, it is much less so if it is of fossil origin. The production of blue hydrogen remains prohibitively expensive and it will not be viable for use in road transport for at least a decade.
Finally, the last solution, and the most effective, is electricity. Electrical technology, boosted by the automobile industry, has made significant progress in recent years. Again, performances in terms of decarbonisation depend on the origin of the electricity. When the electricity comes from renewable or nuclear sources like in France, CO2 emissions savings are 82%. It is not the case when it comes from sources with high CO2 emissions such as coal or gas. However, the trend in European countries is a policy for the decarbonisation of electricity, and emissions linked to the production of electricity could be halved by 2040. In terms of cost, the expectation is that, in 2030, it will be more advantageous in terms of TCO (Total Cost of Ownership) to drive electric trucks rather than diesel ones.
1. Knowledge and understanding of the decarbonisation options
"What are the different options for lowering CO2 emissions?"
"Are battery electric trucks the right choice for me?"
This is the first phase of our 360° support. Our teams take the time to understand your needs and constraints, all contextualised in your ecosystem and activity. We also discuss your decarbonisation objectives with you. We offer you our expertise and our knowledge to advise you what is available on the market to decarbonise your activity.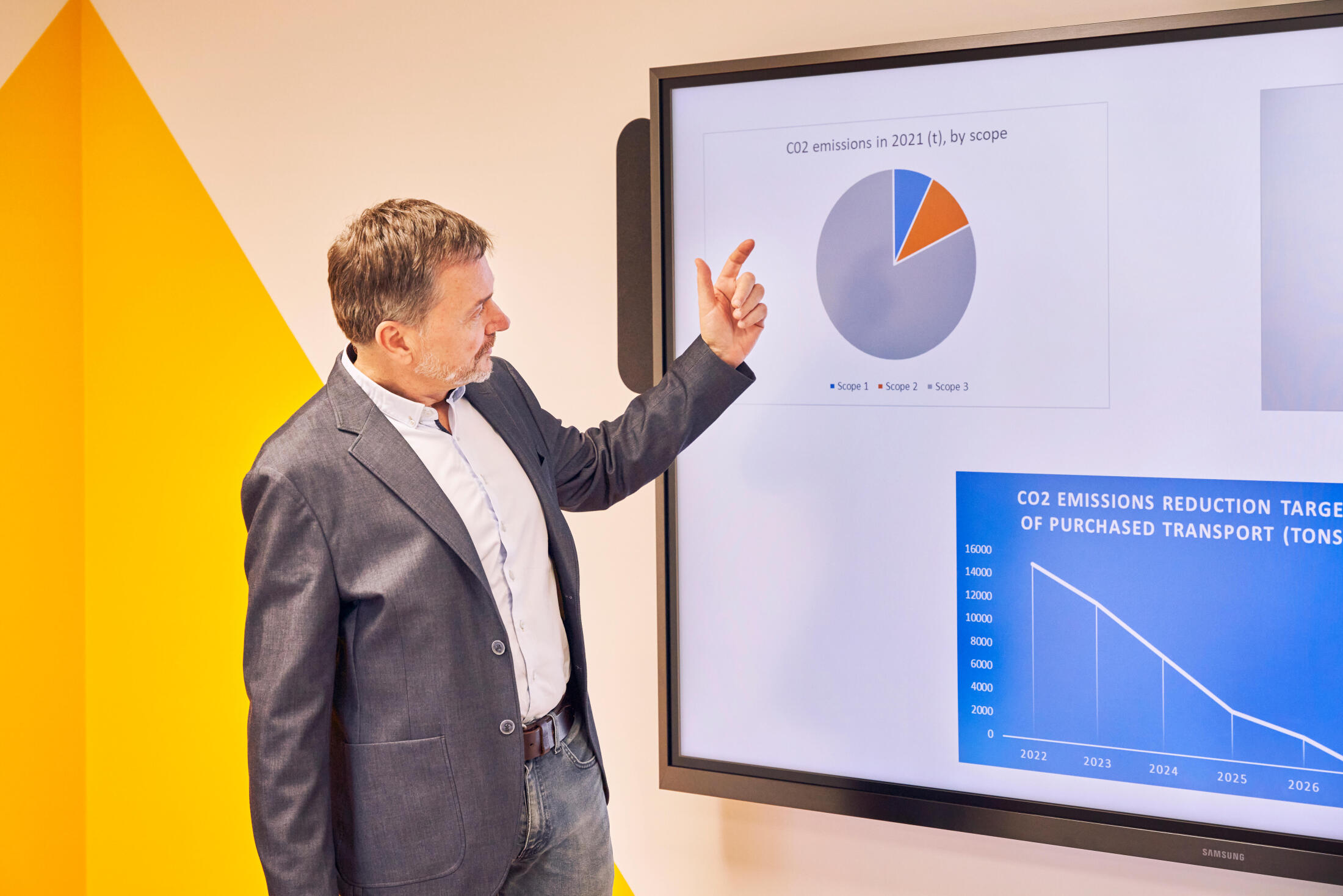 2. Diagnosis to help you with your energy transition
"How can I achieve my CO2 reduction targets?"
"How can I make sure that my fleet will be adapted to future regulations?"
"Are you sure the range is sufficient for my journeys?"
This second stage consists of a full diagnosis carried out by our electromobility experts. After having understood your needs, constraints and objectives, we will analyse your current fleet, your routes, your infrastructure, etc. To do this, we will use various simulation tools such as:
A CO2 emissions reduction simulator
A range simulator considering all the elements affecting the range of an electric truck: distance, topography, load, type of body, etc.
Our experts can also help and guide you when it comes to applying for local or national government assistance which will help you to see a return on your investments sooner. We can also provide you with information on current and future regulations which may impact your activity and help with your decision.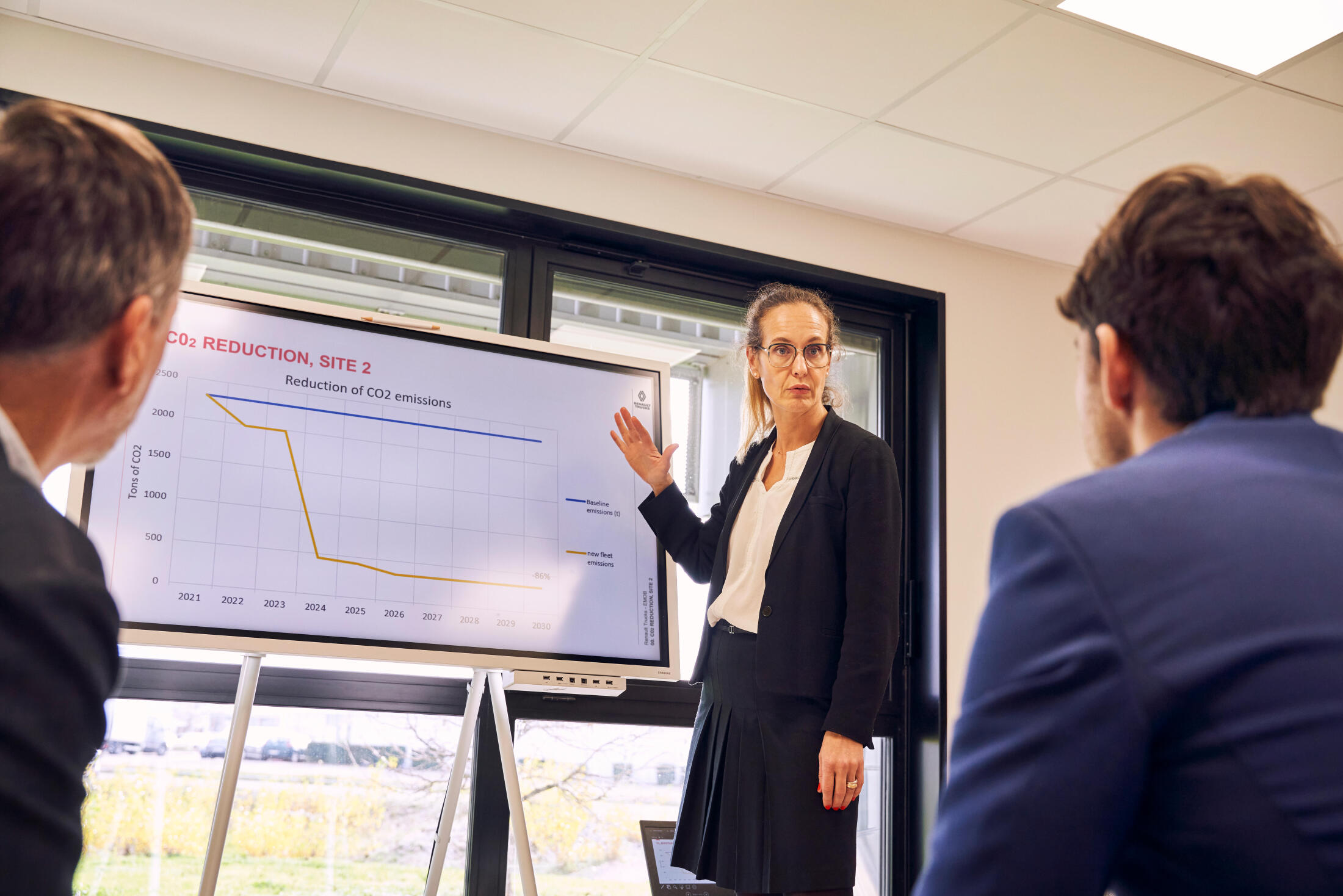 3. Design of the decarbonisation solution for your transport company
"Can I try the vehicle in real world conditions for a period of time?"
"Can you be the architect who designs the comprehensive solution with all partners involved (load, etc.)?"
After this diagnosis, we offer a comprehensive decarbonisation solution suited to your activity. We define the ideal route for your journeys and the trucks most suitable for carrying them out. We can help you with everything up to the technical choices for your trucks: the number of batteries required, the body, etc., We can also offer an adapted charging solution. We then define the most suitable type(s) of charger: standard charger or rapid charger, or both. All this data allows us to estimate the total electricity input required on site and to incorporate new charging infrastructure, as required.
Before committing, you can carry out tests in real world conditions by introducing one or more of our demonstration vehicles into your fleet for a given period.
Our services consider the specificities of a fleet of electric vehicles. We offer maintenance contracts lasting 7 to 10 years.
We can also help you with the financial aspect. Thanks to the financing offers from our subsidiary Renault Trucks Financial Services, we can offer all-in-one contracts covering financing, insurance, maintenance and upkeep. You can then predict and spread your costs. We also provide a battery performance guarantee: we guarantee a minimum level of energy available after a full charge for the contractual life of the battery.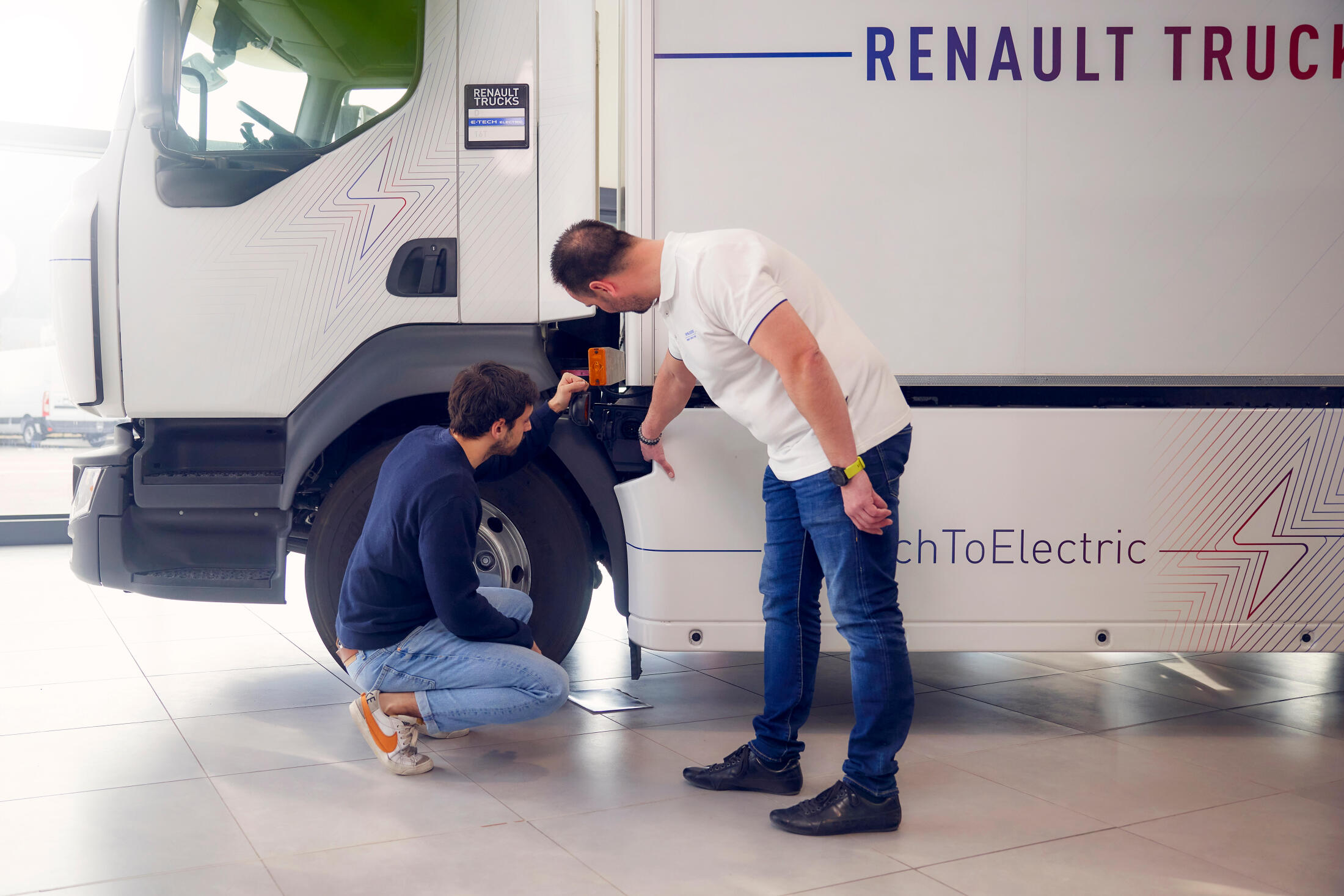 4. Implementation and operation of the proposed solution
"Can you manage my project through to completion, including all stakeholders?"
"Can you help my drivers, who are a little anxious, get to grips with these new trucks?"
"During the operational phase, can you help me with monitoring and coaching for increased efficiency?"
Renault Trucks acts as the project manager for your decarbonisation solution and is your preferred contact. We work on all of this project's stages together and bring all the stakeholders together so that your fleet of electric vehicles works properly and meets all your targets. We ensure compliance with quality standards.
Optifleet can be used to track your trucks on a daily basis. Our fleet management solution is perfectly adapted to tracking electric trucks and provides special reports on battery use and its range in real time.
We can also help with training your staff in these new practices, along with your drivers. The driving of electric vehicles is rather specific. By applying the principles of economical driving and by knowing the specificities of an electric vehicle, a driver can increase the range of their vehicle considerably.
Finally, we manage the second life of batteries once their first life in your trucks is over. They will be collected by our network to be reconditioned and then reused. At the end of their second life, we recycle them and reuse the components.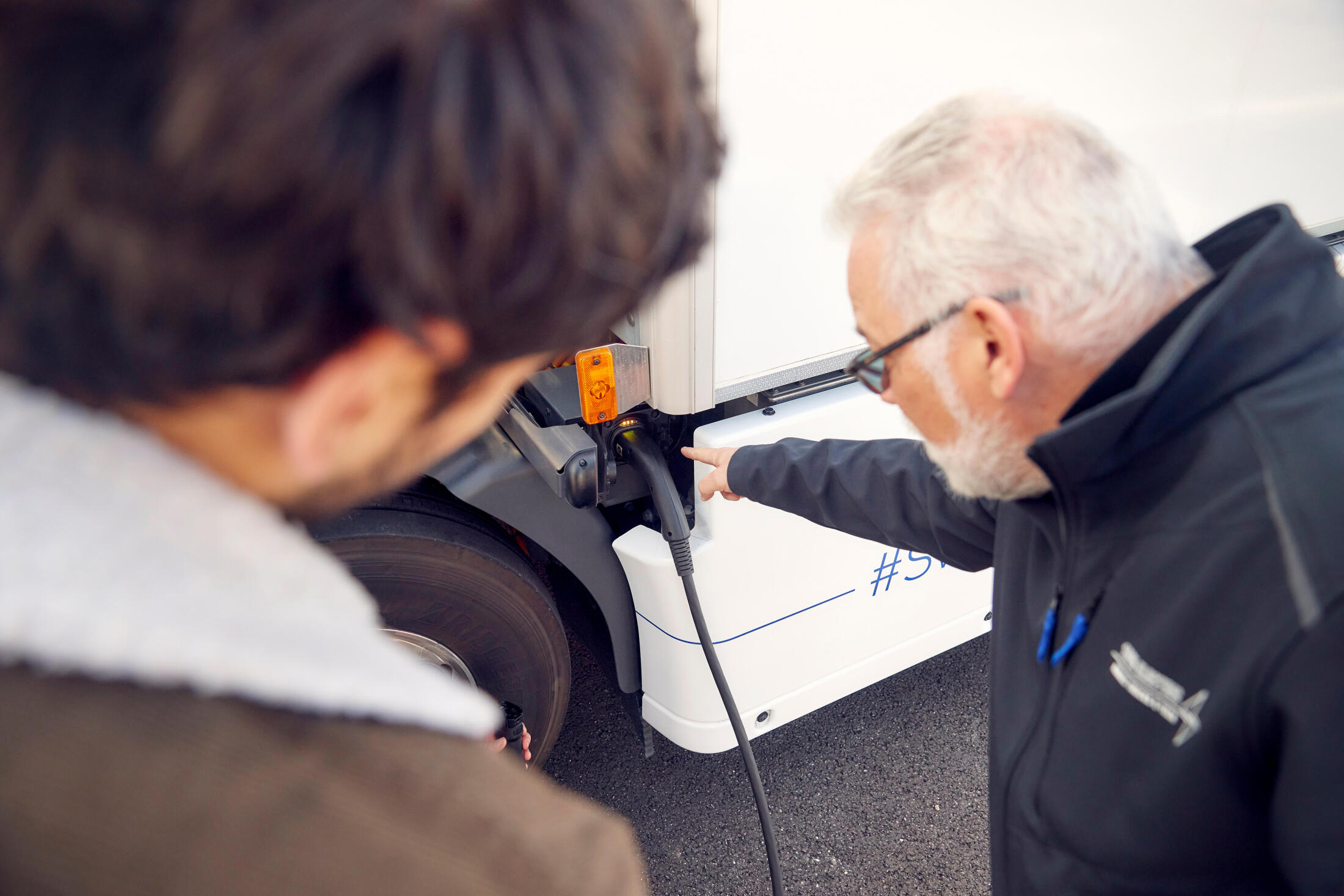 Find out more about our E-Tech offer
Renault Trucks has the most comprehensive electric truck offer on the market with five models from 3.5 tonnes to 44 tonnes covering all road transport sectors:
We have also developed services such as maintenance contracts or financing offers specially dedicated to electric vehicles to help you with the decarbonisation of your activity.
Contact our experts to help you switch
You might also be interested in
Reliability of electric trucks
Switch with ease
Installation and maintenance of charging infrastructures for your electric trucks
Cost of electric trucks
Is electromobility expensive?
Download our free white paper and get a step-by-step guide on how to smoothly decarbonise your fleet