Testimonial
Renault Trucks C Optitrack - France - Transports Ferrato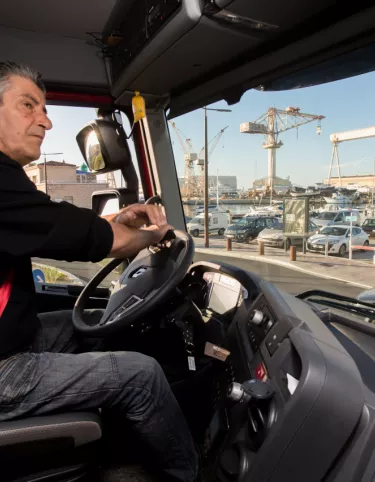 Having driven the new Renault Trucks C Optitrack since April, Christian Vinet has already had an opportunity to test the vehicle's performance under many conditions: on roads, worksites or slippery surfaces. It has proved to be an easily manoeuvrable, versatile and robust vehicle.
TRANSPORTS FERRATO
ACTIVITY: truck rental with drivers for the Public Works and Road Works sectors.
FOUNDED: 1962 in Marseille.
FLEET: 55 vehicles, including 8 wholly owned Renault Trucks T vehicles and 4 on long term rental.
WORKFORCE: 50.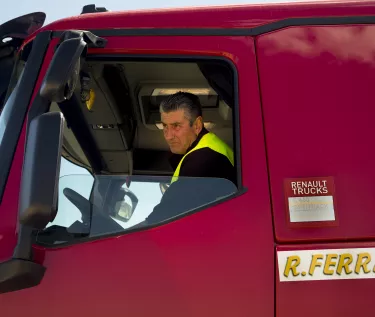 Six o'clock in the morning. Barely a few kilometres from the Old Port in Marseilles. Christian Vinet is getting ready to start his workday at Transports Ferrato, a company specialised in renting trucks with drivers for Public and Road Works. Today's programme involves going to pick up an excavator at the naval port of La Ciotat and taking it to a construction site. He then goes to the Gardanne quarry to pick up a load of rubble for recycling and finally heads for a roadworks site north of the city. This is a schedule which involves coupling and uncoupling different trailers between each assignment. And for just over a month now, Christian Vinet has been working with a Renault Trucks C fitted with the Optitrack system in a 4x2 configuration.
A VEHICLE ADAPTED TO EVERY KIND OF SITUATION
"I wanted to replace a 6x4 tractor with another twin axle vehicle capable of pulling 50 t., explains Robert Ferrato. It has to be both powerful and capable of getting out of all kinds of situations on difficult surfaces. And I made the right decision." Christian coupled a tank transporter semitrailer to the Renault Trucks C Optitrack and got ready to leave for La Ciotat. "I've been driving this vehicle for a month and up to now I'm very pleased with it because it has qualities I didn't expect, especially from a 4x2!" Christian has been driving trucks for 23 years. "I started by driving HGV tractor-trailer rigs on motorways, and then went into public works haulage. I'm also a mechanic."
At this time in the morning, traffic is still running smoothly on the motorway overlooking the coast. To reach the shipyard, Christian has to drive through the old town, the length of the old port, negotiate a few tight roundabouts, etc. La Ciotat was not designed for this kind of vehicle, but Christian reaches his destination without problems.
The excavator is parked on a piece of waste land, surrounded by a number of old, disused hangars dating back to La Ciotat's glorious years. Now, the shipyard is getting a new lease of life thanks to the building and maintenance of super yachts. A few minutes later, the excavator has been securely lashed to the tank transporter and Christian is back on the road. The traffic is denser now, often slowing down, coming to a halt and involving hill starts. "I'm impressed by the Renault Trucks C's roadholding. Gear shifting is perfectly smooth, thanks to the automated manual gearbox, which is well calibrated. It's only a case of putting the speed regulator into cruise mode and the vehicle slows down on its own. I don't use the brake pedal very much at all." Easy driving that has a positive impact on consumption. "Compared with the previous Renault Premium on the same run, you can easily save between 160 to 180 L. You never go outside the green zone when you're driving in automatic mode."
OFF-ROAD VERSATILITY
Once back at Transports Ferrato's depot, it's time to change the trailer. Christian couples a semi-tipper loaded with gravel for the Gardanne quarry, some 40 km outside Marseilles. Local conditions could make things complicated: there has been a lot of rain recently and the sloping quarry ground will probably be muddy and slippery. This chalk quarry now recycles inert waste from building and earthmoving sites to make building materials. Once he has arrived, Christian drives the tipper truck with a total weight of 27 t. towards the unloading area in a maze of slippery tracks on steep slopes. "As soon as the going gets difficult and you feel the rear starting to slip, you should immediately switch into Optitrack mode to activate the 2 front drive wheels." And then, under conditions that would usually make a 6x4 lose traction and hamper its progress, the Renault Trucks C Optitrack is able to overcome the obstacles. "I only have to press a button on the dashboard to activate the Optitrack system. After that, I can forget about it, for once the vehicle gets up to 25 km an hour, it deactivates automatically."
This gives Christian peace of mind to focus on driving, negotiating bends and slopes at the right speed. When it comes to unloading, he has to reverse up a ramp leading to the top of a pile of rubble in a manoeuvre the Renault Trucks C Optitrack is able to take in its stride. "I have already got stuck with other trucks on this climb, without being able to move because the bumpers got dug in; the Renault Trucks C Optitrack has much greater ground clearance and a bumper angle that allows it to go anywhere, even on 'awful' surfaces!"

TANGIBLE IMPROVEMENTS IN PRODUCTIVITY
The Renault Trucks C Optitrack has also been tested when coupling a hot mix coating plant trailer. A long and delicate operation taking at least three quarters of an hour. "These trailers are extremely heavy and can be as long as 35 m.
It should be remembered that this type of manoeuvre has to be accurate down to the nearest centimetre, forward, reverse, again and again... And generally after three quarters of an hour the clutch is red hot."
Once more, Christian cannot hide his surprise at the Renault Trucks C Optitrack's performance."It is incredibly manoeuvrable, I was amazed by the smooth start-up using the 4 wheel drive. It was able to get a trailer moving that had been at a standstill for a very long time and had a few brake problems! The Optitrack system enables the rear drive axle to get it moving, but smoothly, without the clutch protesting." The mechanic's eye closely and uncompromisingly analyses his vehicle's performance. For the client is there, and can make up his own mind about the performance of the vehicle he has hired and decide if he will trust it again... or not! "It has made a very good reputation for itself on construction sites, so much so that I already have reservations running into next year."
DURANCE GRANULATS
Located at a chalk quarry in Gardanne, Durance Granulats extracts chalk from alluvium rock and recycles inert (non-polluting) waste from the construction industry to produce building materials.
"The company is a pioneer in this field in the region," stresses Alexandre Liegeon, the site manager. "Every year, our sites – Gardanne and Meyrargues – take in some 300,000 t. of inert materials as well as tipper loads of rubble from waste management facilities." This is a rapidly expanding market, since the recycled materials are less expensive and of better quality than natural products. "The recycling process allows us to maintain the same properties as original materials." This activity involves an incessant coming and going of trucks on the quarry's winding tracks carrying materials to unload or finished products to deliver.
At present, 60% of this rubble is recycled for a 'new life' as aggregate – an activity which amongst other things, preserves natural resources, avoids an excessive build-up of waste in storage centres and limits the impact of road traffic by encouraging two-way freight flows.
COMFORT HAND IN HAND WITH SAFETY AND ROBUSTNESS
"I spend about 6 or 7 hours a day in this truck, without counting loading, unloading and changing semi-trailers," emphasises Christian. "It's totally quiet inside the Renault Trucks C cab thanks to the double glazing. Everything has been well designed, with all the controls within easy reach. The Bluetooth® system has been improved, the computer is intuitive, the storage compartments are more roomy, the bunk is more comfortable... This means it's always a pleasure to come to work every morning, I feel much less stressed and don't get so tired. We can programme our tachograph warnings 10, 15 or 20 minutes before we have to stop, giving us time to find somewhere to park." Comfort which stays the same whatever the terrain. "I was surprised to find the cab so comfortable; it's on shock absorbers rather than air cushions like my former Renault Premium. Even if we're going over muddy or stony ground, the cab stays stable and compensates smoothly all the time." Steel bumpers, high ground clearance and a reinforced fifth wheel are all features bringing safety and reliability to the vehicle. For Robert Ferrato, the Renault Trucks C Optitrack gets top marks for the moment. "I wanted a manoeuvrable 4x4 tractor that also delivers high-performance and is economical, not only in fuel, but also in terms of wear; tyres, brakes, clutch, etc. It's true that this vehicle is still quite new, but up to now, we are pleased and our clients ask for more!"
THE "PRODUCT BENEFIT"
THE OPTITRACK SYSTEM
Two hydraulic motors fitted into the front wheels of a Renault Trucks C enable the vehicle to temporarily benefit from all-wheel drive. Easy to activate, the Optitrack system can be used between 0 and 25 km/h, beyond which it automatically disconnects. It is associated with the Optidriver automated manual gearbox and compatible with the Voith hydraulic retarder. This enables a vehicle equipped with, Optitrack to be versatile, economic and powerful all at once, as well as being able to carry a higher payload than that of a conventional all-wheel drive vehicle. Renault Trucks C Optitrack has a turning circle which enables it to go anywhere and get out of difficult situations on all types of terrain.