Renault Trucks E-Tech D Electric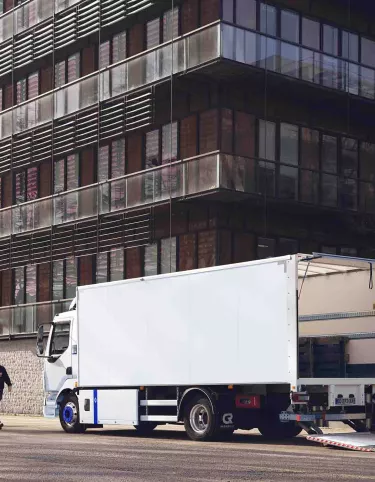 The electric urban solution for your dry and refrigerated transport
Reducing CO2 emissions is a priority and a lot of cities in Europe are adopting stricter and stricter environmental regulations. Renault Trucks builds on its experience to offer sustainable solutions adapted to vehicles' operating constraints, particularly those using electric power.
Title

Our Renault Trucks E-Tech range has
kms
Metric Sub Text
travelled
tons
Gas Sub Text
of Co2 saved
BATTERY
Technology: Lithium-ion
Capacity: 200 to 565 kWh
RANGE : up to 560 km
CHARGING TIME FULL CHARGE
4x94 kWh: 6h10 with 43 AC 1h50  with 150 DC
AXLE CONFIGURATION
Rigid: 4X2
Wheelbase: from 3,800 to 6,500 mm
DRIVELINE
1 electric motors
2 speed gearbox
POWER
Maximum power: 185kW/250hp
Continuous power: 130kW/175hp
Urban transport activities
With the Renault Trucks E-Tech D offer, we design your electric solution which:
Delivers lower operating costs while maintaining its operating range and payload;
Is perfectly suited for your dry and refrigerated deliveries; 
Is qualified to operate for Zero/Low Emission Zones, Science Based Targets Initiative (SBTI) and CO2 regulated industries.  
Our charging solutions adapted to your urban deliveries needs
A full recharge takes less than two hours with a fast charger or overnight on a conventional industrial outlet. The Renault Trucks E-Tech D is adapted to all situations
Mode 2 
43kW AC 
The solution for occasional use
Less than 5h for 265 kWh
Mode 3 (supplied with the vehicle)
43kW AC 
Less than 5h for 265 kWh
Connected outlet equipped with a support
Mode 4
Up to 150 kW DC
For several vehicles or for fast charging
Less than 2h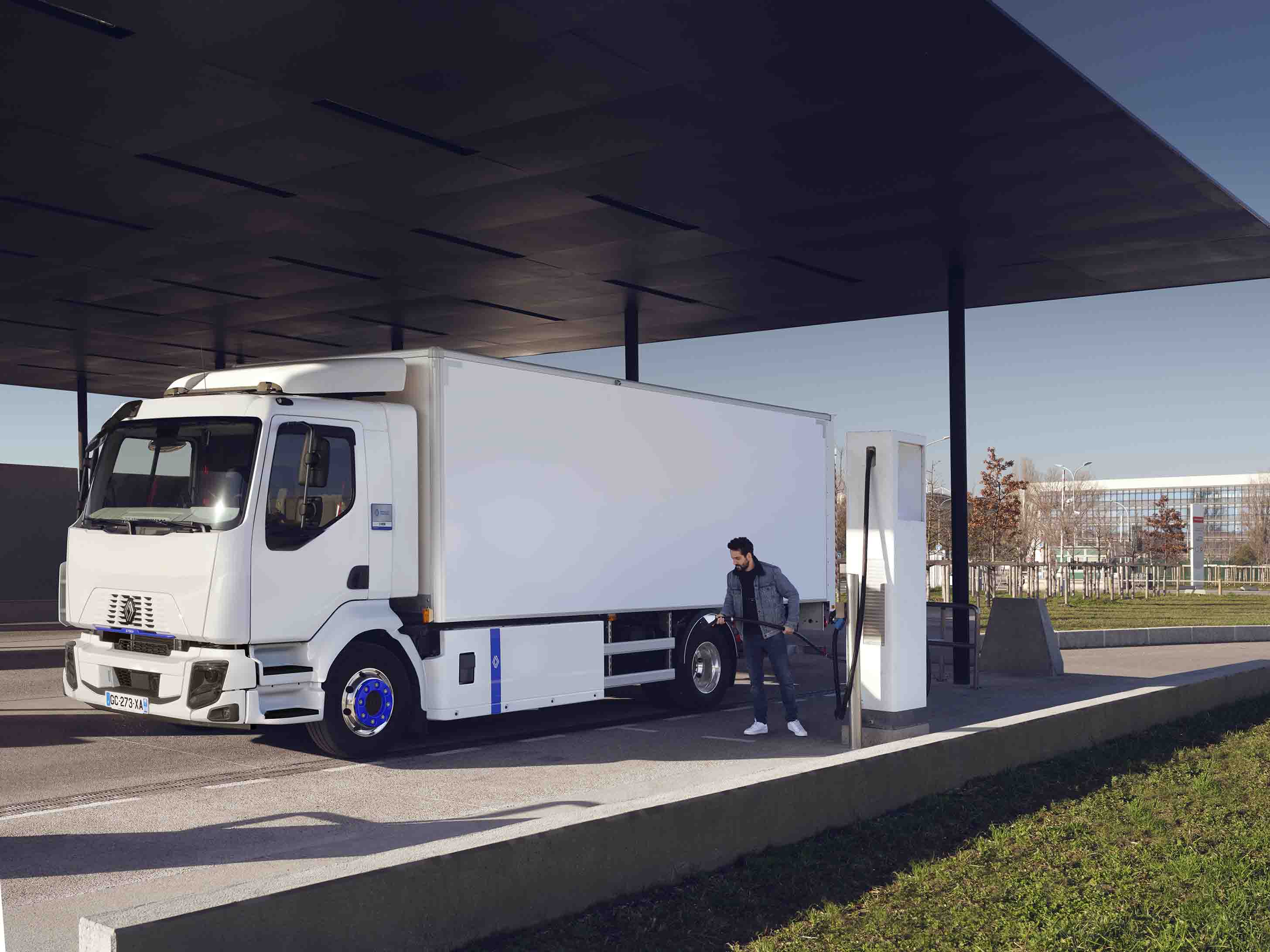 The decarbonized and safe solution for urban deliveries
Because we value the well-being of both drivers and loads, Renault Trucks provides you with new safety features.
Visibility and vulnerable road users
Radars & cameras
Located all around your truck it informs and alerts you to ease your maneuvers.
Automatic Headlamp Switch (AHS)
It improves your visibility and helps to stay focus on the road in peri urban areas.
Vision door*
Available on the passenger side to increase visibility in peri urban areas.
*Optional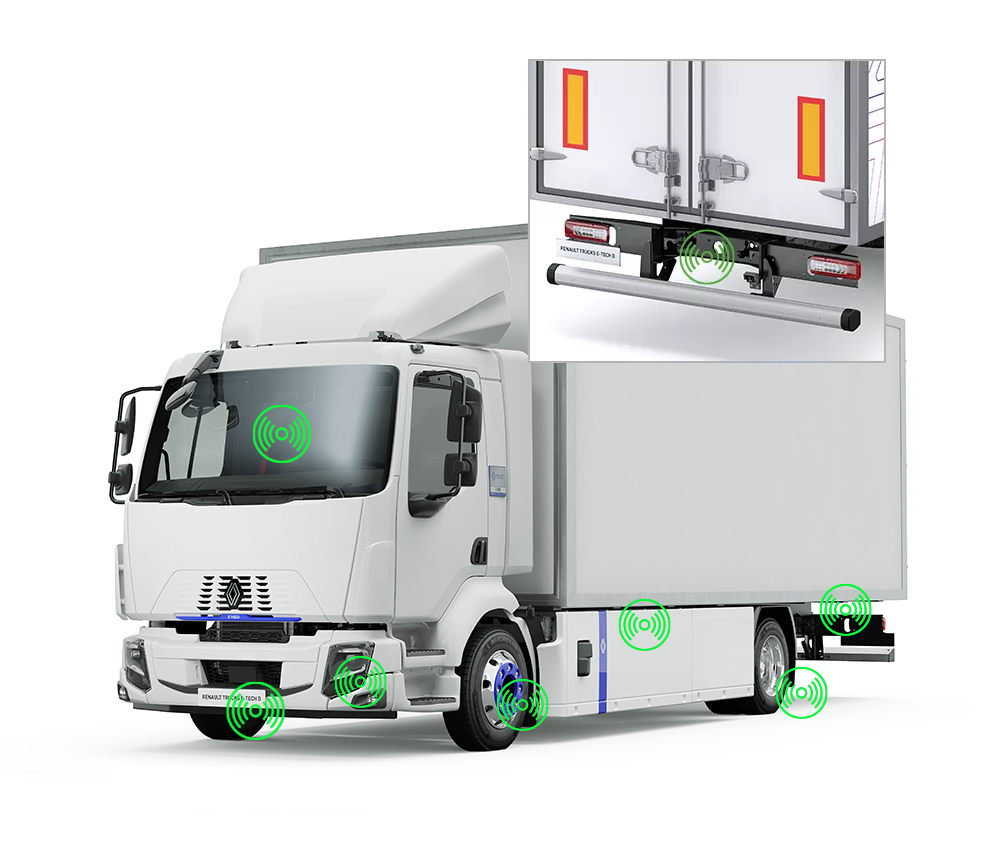 Benefit from tailored services to maximize your uptime
Secure your routes and energy consumption with our serial services.
Services detailed below (navigation, Optifleet modules and Driver App) are included during 8 years with every truck purchase.
Optifleet CHECK*
Analyze the performance of your trucks thanks to reports including data on battery usage, power take-off (PTO) information, load, brake usage, energy consumption.
Optifleet MAP*
Monitor your trucks through:
Real-time data: truck geolocation, speed indication, battery level, driver ID card, mileage.
Advanced features: management of Points of interests (POIs) and geofencing capabilities, route history.
NEW Optifleet MISSION*
Plan the best route for your electric truck, based on vehicle profile, transported load, initial battery level, road restrictions and anticipate the charging stops.
Share the itinerary with your drivers.
*More capabilities information available at your dealer.
Driver App
Benefit from charge monitoring with range left and alerts in case of charging interruption
NEW Serenity pack
A full contract coverage with predictive capabilities and customer data support :
Battery performance commitment: minimum level of energy corresponding to 80% of State of Health available after each full charge
Two towings free of charge in case of energy failure
Battery pack monitoring
Tailor-made performance reports: monitor your electric vehicle and get the best out of it
1 year customer data support (CO2 & usage)
*Features can vary depending on your vehicle model
Finance your electric truck
Existing government subsidies advice*
Advice on suitable financing and insurance products and plans for electric vehicles
Financing of recharging infrastructure* included for electric vehicles in general
*With fixed monthly payments that include financing, insurance, a maintenance contract and a battery performance guarantee, Renault Trucks Financial Services offers you the opportunity to switch to electric vehicles with complete peace of mind.
#JoinTheGoodMove
Know more about the support you can receive from our experts in electromobility
Discover our all electric vehicles and services
You are interested in knowing more about our Renault Trucks E-Tech D?
Download our free white paper and get a step-by-step guide on how to smoothly decarbonise your fleet