Testimonial
Renault Trucks T High - Finland - Martom Oy
On board his Renault Trucks T High, known as the «Diamond Devil», Jani Martikainen travels the roads of Finland from North to South and from East to West, every day. With temperatures ranging from -30° to +30° C, his vehicle has become a reliable partner, dependable, powerful and reassuringly secure.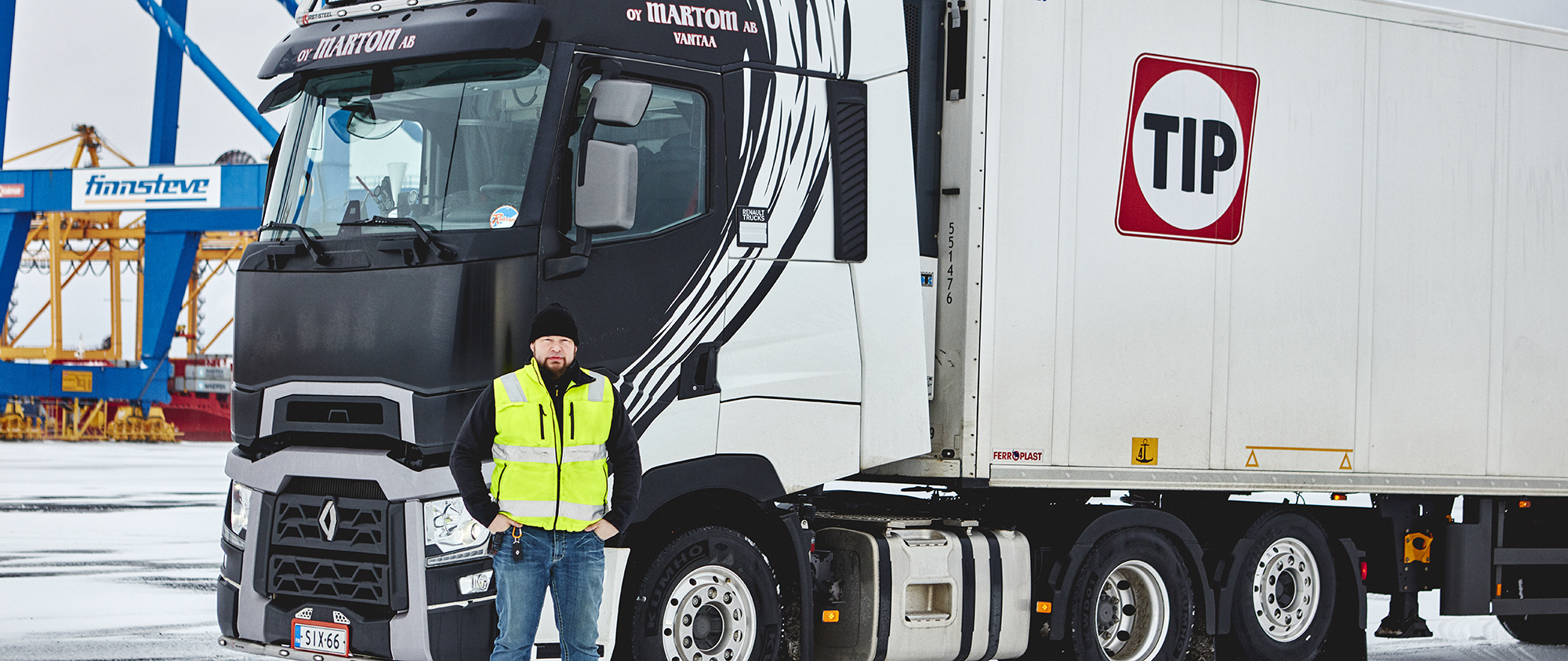 I set up the Martom Oy company in 2005, with my partner Tomi Hjelt. We currently have a staff of nine, which includes five full-time drivers and another working part-time. We are based at Vantaa, near Helsinki, but we don't have a head office, premises or garages. All the «magic» of our business takes place on the road, and my wife handles the paperwork from our home. Although I was trained to be a mechanic, I never actually did that job.
My enthusiasm for trucks soon caught up with me and got me out on the road. Our «Devil fleet» consists of five tractors (Star Devil, Black Devil 666, SWE Devil, etc.) including the flagship Diamond Devil, the Renault Trucks T High that I drive. We also have a lighter vehicle for carrying foodstuffs at controlled temperatures. We work as subcontractors for Rahtikeskus, which gives us assignments to carry all kinds of goods.
Our trucks cover between 100,000 and 120,000 km a year and the light vehicle covers 40,000 km. Our business takes us to the furthest reaches of Finland, and every day is different, as are the goods we carry: electronic equipment, industrial components, foodstuffs, paper and even dangerous substances.
THE DIAMOND DEVIL'S POWER IN EXTREME WEATHER CONDITIONS 
Just over a year ago, we needed to get a new vehicle very quickly. The Renault Trucks dealer in Finland, who we appreciated following a positive experience with him, suggested the Renault Trucks T High which seemed to meet our requirements.
This first impression proved to be largely confirmed. The engine, with its 520 hp, made it possible to effortlessly handle heavy loads over all kinds of surfaces and in all kinds of weathers. What surprised me most was its power, which was available from 30,000 km, where as other vehicles generally need to cover between 50,000 and 60,000 km before reaching their full potential. In urban conditions, open country or hilly regions, it never lets me down.
And I've also noticed that it consumes less than the other «devils» in the fleet, despite me not being particularly light on the pedal! If I made an effort and adopted a more flexible driving style, I think I would save even more.
5 HIGH-PERFORMANCE YEARS ON EVERY TYPE OF ROAD
Since it was launched in 2013, the Renault Trucks T range of haulage vehicles has been extended in France and throughout the world, year after year reasserting its power, low fuel consumption and reliability on every kind of surface and at any latitude. Its modular design makes it possible to meet long-distance hauliers' every need, while at the same time providing a perfect balance between power and fuel savings as well as comfortable driving and life on board.
Prize-winning performance. Ever since the International Truck of the Year Award obtained in 2015, right through to the German Design Award in 2018, Renault Trucks has been constantly improving its vehicle's performance: the DTI 13 engine now boasts the Common Rail injection system for lower consumption, while a reduction in weight has now increased its payload capacity.
FIVE-STAR COMFORT, FOR GREATER SAFETY
The road is my life, my "panoramic office" and my second home. However, to drive safely without being tired, comfort is absolutely essential. If I had to give a rating to the Diamond Devil It would be 10 out of 10 without hesitation for its comfort, visibility and drivability. The bed suits my large size, the cab is perfectly soundproofed and heated. That was the first thing I had to put to the test in fact, because when I set out on my first assignment with the Renault Trucks T, the temperature was -32°C! In Finland, we often have to cope with extreme weather conditions. Torrential rain, polar cold, heat, etc. But the Renault Trucks T High, my «Diamond Devil», always gets me to my destination safely, even in the most remote and inaccessible parts of our vast country.