Testimonial
Every night, 15 premium Paris shops receive their deliveries by electric truck
#JoinTheGoodMove
Distribution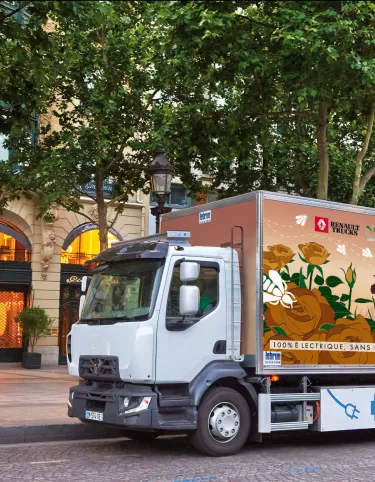 Feedback – April 2020
Sandrine Sommer has been Chief Sustainability Officer at Guerlain since 2007. The premium fragrance, skincare and makeup brand has been using Renault Trucks D 100% Electric vehicles since May 2014. We look back on six years of intensive deliveries.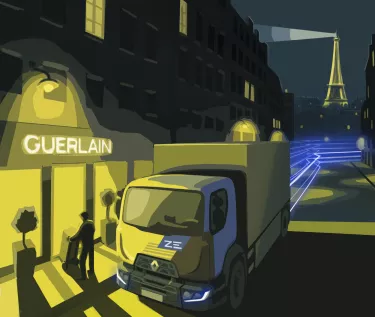 « It was in May 2014 that Guerlain took the decision to reinvent the urban logistics solution for deliveries to our 15 shops in central Paris, including our shop at 68 Avenue des Champs-Elysées. We chose to go electric! It's important to understand that our company has been totally committed to implementing a sustainable development strategy since 2007 through the four major priority areas of eco-design, biodiversity, climate protection and social responsibility.
Guerlain: socially supportive beauty delivered by sustainable mobility
As Chief Sustainability Officer and a member of the Guerlain management committee, I'm very proud that our 4,000 employees, 2,500 of whom work in our international markets, are all committed to working for a more sustainable world. Nature has been our inspiration since the origins of the company in 1828, and more than 13 years ago we made nature conservation central to everything we do. Our company-wide goal now is to be carbon neutral by 2028. This means reducing the weight of our product packaging - we have, for example, reduced the weight of our Imperial Orchid cream jar by an amazing 60% - and reducing our carbon impact in transport.
To help us meet that goal, we contacted our logistics provider Speed Distribution back in 2014 to identify a clean and efficient on-time delivery solution for our 15 Paris shops. Speed Distribution suggested that we try out what was then the prototype of an electric 16- tonne truck: the Renault Trucks D. Six years on, we're still using the same vehicle - we renew our rental contract annually - and we've even nicknamed it the 'Bumblebee' after our company emblem and our daily commitment to the protection of bees.
200 km range with zero emissions
By opting to use an electric urban truck, we've not only cut our annual carbon emissions by 30 metric tonnes, but we've also been able to boost efficiency. The fact that the truck is completely silent means we can now deliver to our shops at night. Which means that all 15 shops can be certain that they are fully stocked as soon as they open the following morning. Our sales consultants are also proud to let their customers know about this system. Some have even used it as an advantage when explaining our commitment to customers who are increasingly concerned about environmental protection.
The truck covers more than 125 miles every night travelling between our production centre in Chartres, the Speed Distribution warehouse in Ivry-sur-Seine and our 15 shops in central Paris. At the beginning, we had some concerns about the vehicle's operating range, but it has proved to be perfectly suited to our needs. As a result, we've succeeded in achieving a truly virtuous circle, because we achieve zero emissions from beginning to end of the logistics journey, rather than just in the final mile.
Of course, no matter how efficient it may be, an electric truck alone could never reduce all our CO2 emissions, most of which are generated by the air freight of our products, but it does contribute to reducing not only our CO2, nitrogen oxide (NOx) and fine particulate emissions, but also our noise pollution. It's proved a real success in the Paris region, not at least in terms of our corporate image. The 'Bumblebee' was even used as a mobile barbershop outside our shops in November 2016, in support of the Movember charity fundraising event.
I'm in no doubt that sustainable mobility in urban environments has a bright future at Guerlain, and we're already looking at similar projects i Belgium, Italy and Spain. »
Chemist and packaging engineer Sandrine Sommer has been Guerlain's Chief Sustainability Officer since 2007. She has been a member of the fragrance company's Management Committee since her appointment to this strategically important role. Her mission: to reduce the environmental and societal impact of the famous Maison. Her goal: to achieve carbon neutrality by 2028.