Transport solution
5 key points for reducing the fuel consumption of your trucks and your CO2 emissions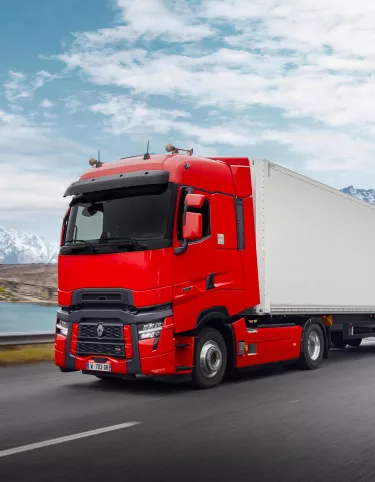 If you are managing a haulage business, fuel is a major cost to your business. Despite the soaring prices at the fuel pumps, fuel consumption shouldn't be an issue with a sober and efficient truck. Reducing CO2 emissions is also at the forefront of our minds, as we strive to comply with stricter emissions regulations. Our experts are here to help you choose the right vehicle and find the configuration that meets your requirements and offers the best possible fuel economy, thus being more environmentally friendly. To assist you, here are 5 key points to bear in mind.
Train your drivers to drive rationally
The role of the driver is fundamental in reducing fuel consumption and in supporting the success of your business. Investment in training means looking for results in the long term. We offer training courses in economical driving which can take place either at our training centre or on your own premises using your own vehicles. As a result, you will be able to develop the know-how of your drivers, which will contribute to your profitability in the long term.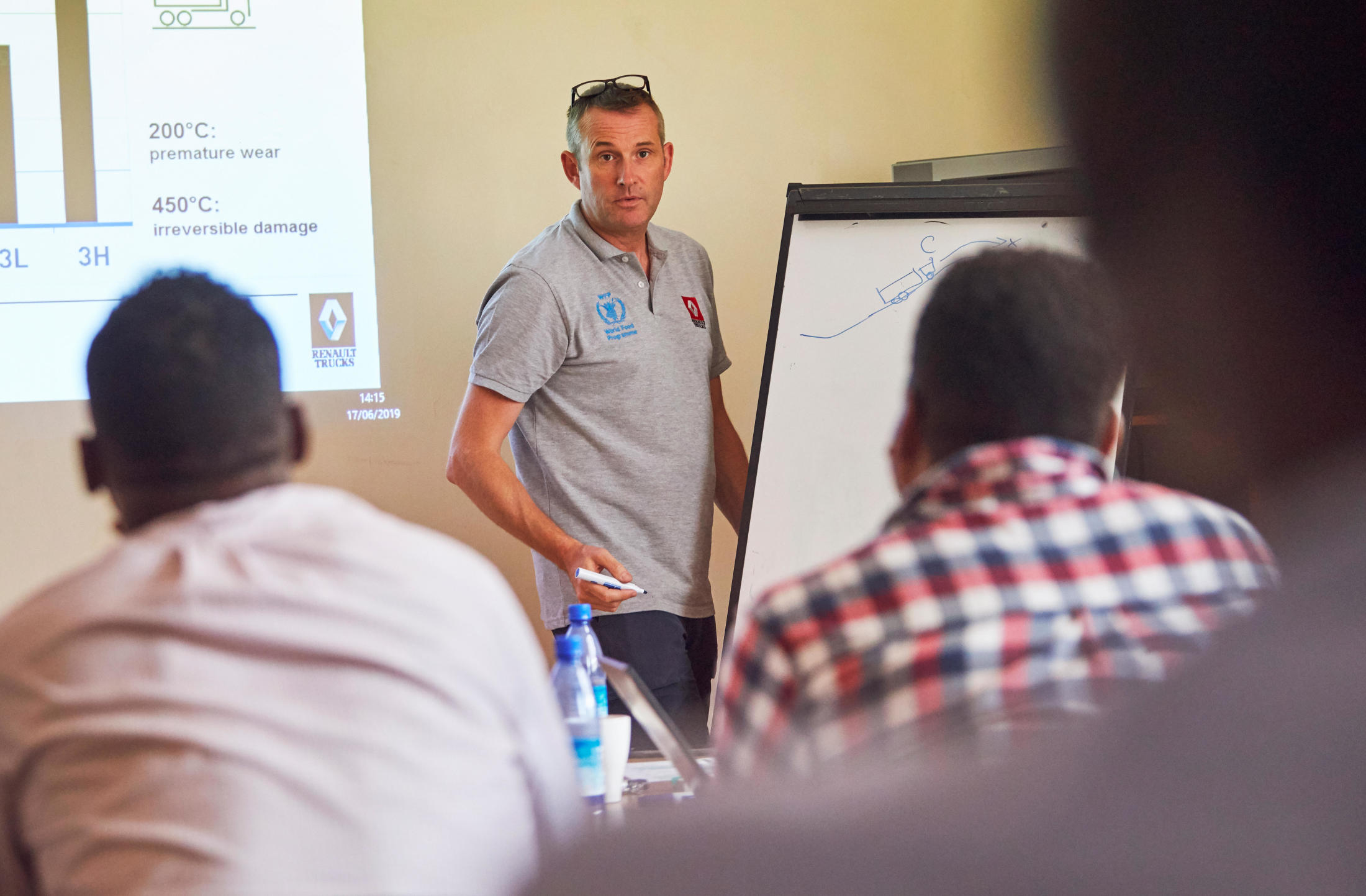 Monitor the performance of your trucks with Optifleet
Deploying fleet management tools will make eco-driving methods more tangible for your drivers, will involve them in the achievement of your company's objectives in the long term and will enable you to evaluate the benefits of the efforts made. To make this reduction effective, we suggest that you use a fleet management tool such as Optifleet. Designed and developed with haulage professionals, it allows you to monitor the actual fuel consumption of your fleet, on a truck-by-truck and journey-by-journey basis. From all the data items available, you can choose to report on those most relevant to your activity. You can use this data to identify the best practices and improvements to be made to support your drivers in their eco-driving. 
Fuel consumption can always be improved, and if you follow this advice, you will quickly see that your costs and CO2 emissions will be dramatically reduced. Our experts and specialists in these areas know how to support and guide you to adapt the Optifleet solution to your activity.
Benefit from our fuel efficiency software technology
Over the years, we have committed to developing and providing a large number of technological solutions with the aim of reducing the fuel consumption of our vehicles. Our Fuel Eco pack includes various innovations for reducing the fuel consumption of your vehicles, such as configurable engine stop/start functions, "power" mode inhibition and variable-flow pumps. The cruise control also integrates an "Eco Cruise Control" mode, which optimises gear shifting to prioritise fuel economy.  
Furthermore, our T, T High, C and K ranges are equipped with the new DE11 and DE13 engines, which, coupled with advanced technology such as "Turbo Compound" and dedicated services, result in a significant reduction in fuel consumption and CO2 emissions reaching up to -10 % (compared to the previous generation of DTI 11 and DTI 13 engines). "Turbo Compound" enables higher levels of torque to be developed, at low engine speeds. Similarly, the "Smart Torque Control" solution maximises time spent in the zone offering the best engine performance, without impacting manoeuvrability. 
Furthermore, the new 460 HP DE11 engine, which will be available on D Wide and C 2.3 vehicle drivelines, will make fuel consumption reductions of up to 10% a possibility. 
Renault Trucks also recommends a maximum vehicle speed of 88 km/h. This is preset as default in the on-board software of the trucks that leave our production facility. Indeed, limiting speed in this way impacts journey times by only a few minutes but represents a reduction in fuel consumption of 1% (over the same journey travelled at 90 km/h)! 
Choose the most efficient solution for maintaining and servicing your trucks
It is essential to complete periodic service intervals for your vehicles. A missed oil change, low tyre pressure or lack of wheel alignment will increase fuel consumption. This is why we offer a scheduled maintenance service for your fleet using GENUINE spare parts, covered by a genuine manufacturer warranty which keeps serviced vehicles on the road for longer.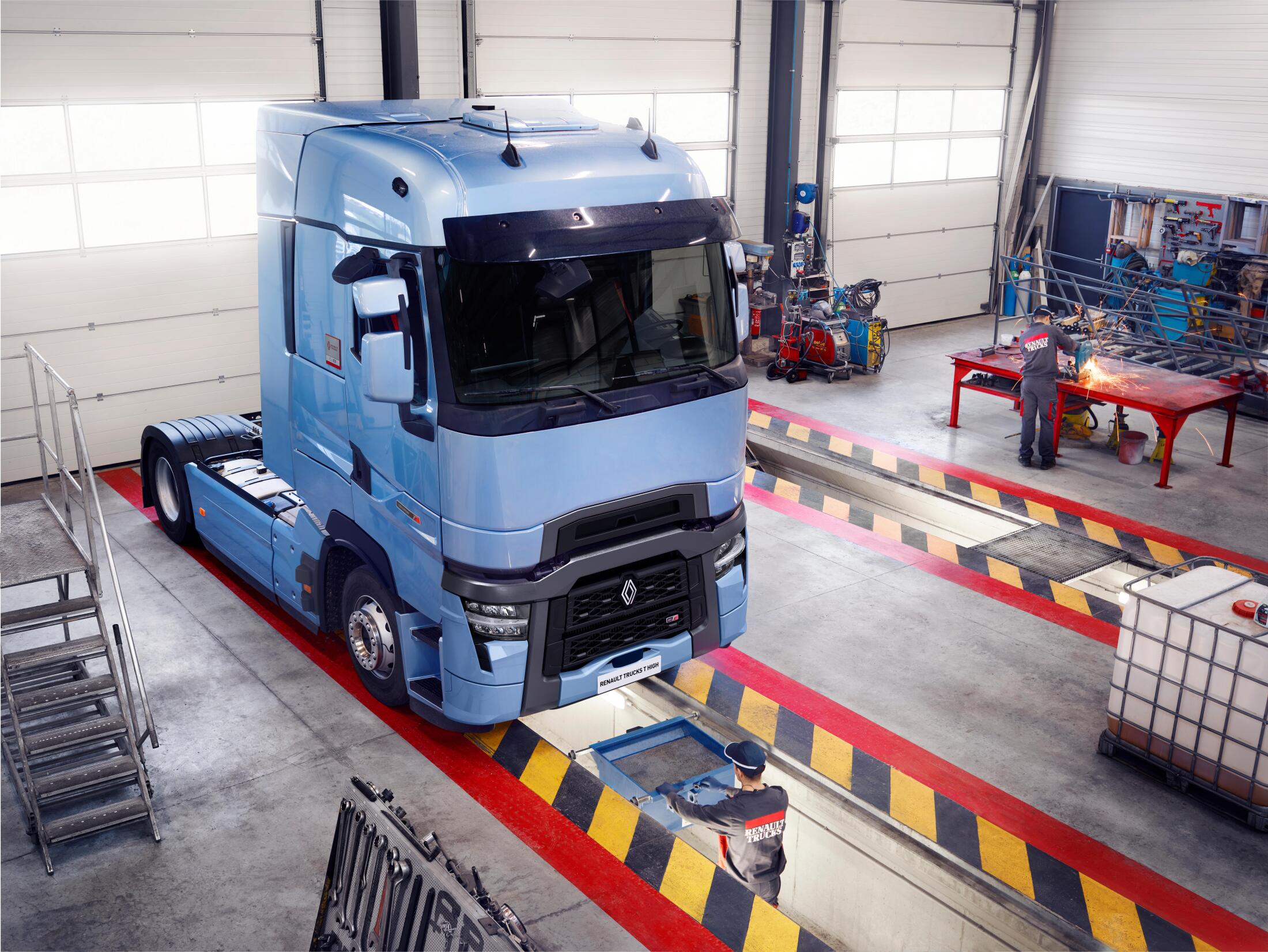 Use a specific configuration, lubricants and options
In addition to responsible driving and scheduled maintenance, we have developed technical tools for optimising the fuel consumption of your commercial fleet. This entails the use of engine lubricants suited to the needs of your truck. You may choose from an extensive range of high-performance lubricants which reduce driveline friction and protect the engine of your vehicle. 
When configuring your vehicles, you should take two main criteria into account:
the average load transported by your trucks
the topography of the ground that they will be covering.
Depending on your requirements, we will direct you towards an engine suited to your application, with the correct power output.  
Similarly, with the aim of improving the fuel economy of your trucks, it is important to select the correct drive shaft and final drive ratio. We have developed a powerful tool which you can use to ascertain the most suitable drive shaft as a function of the aforementioned two main criteria and your use: maximum required average speed, tyre fitment, etc. 
Deciding on the best configuration for your truck also involves taking into account aerodynamics, which although often overlooked, is of paramount importance.Renault Trucks has been designed, right from the concept phase, to have a reduced drag coefficient. For this reason, the cab is trapezoidal in shape; wider at the rear than at the front, with a windscreen canted backwards by 12%. The vehicle is also equipped as standard with an integral deflector which can be adjusted to 5 different positions. If reducing fuel consumption is your main priority, you may opt for heavy-duty aerodynamic components. You could choose reinforced side deflectors, fairing extensions over the chassis or door extension pieces. Combined, these components could reduce fuel consumption by more than 1%. Offset against the number of miles covered, this could amount to considerable savings. 
Whatever your objectives for reducing fuel consumption, please do not hesitate to contact us. 
AERODYNAMIC DESIGN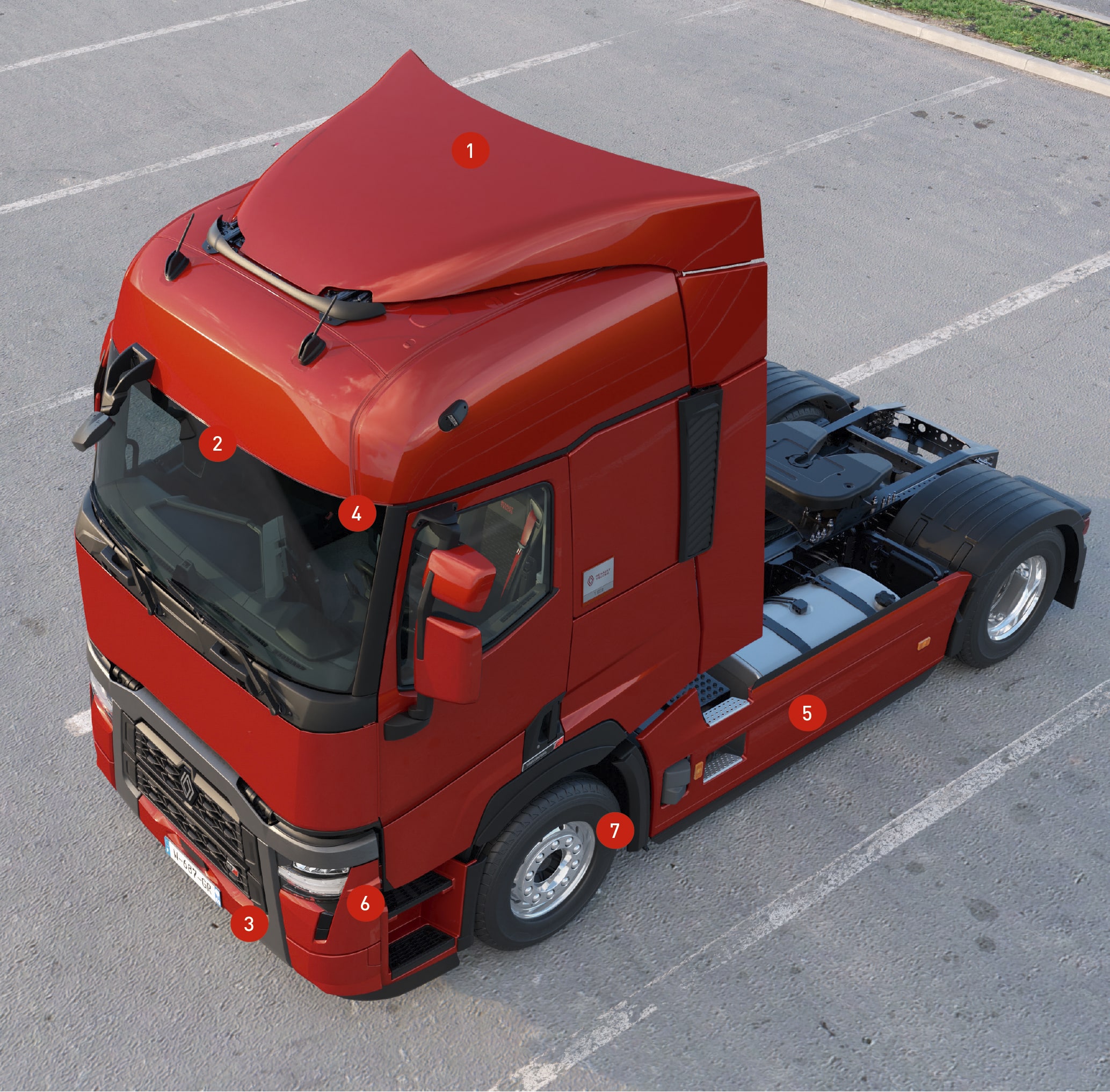 1- Different types of roof deflectors
Fixed (88 mm), manually adjustable from 285 to 496 mm (fast adjustment optional) - folding lateral deflectors.
2 - 12° Windshield inclination
3 - Bumper with integrated spoiler
4 - Trapezoid cab
2.3m at the front and 2.5m at the rear.
5 - Fairing extentions
On frame and door extensions.
6 - Deflector incorporated into the optical block
7 - Wheel arches
Improve air flow and reduce water splashes.