Transport solution
Concrete transport: handle, schedule and boost profitability for your deliveries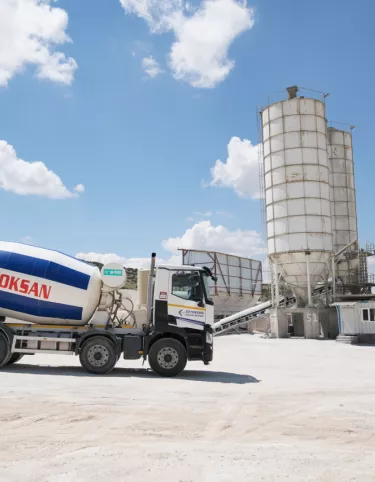 Concrete transport must comply with very specific constraints. In addition to needing a reliable and manoeuvrable concrete truck, you need to efficiently transport as much concrete as possible in as little time as you can. Renault Trucks is there to support you, with its products and services specially designed for concrete transport.
Boost profitability for your concrete mixer trucks
A concrete mixer truck is unlike any other truck. It is considered as much a machine as a means of transport. For it to be profitable, it needs to transport as much concrete as possible. To do so, it must be as light as possible. This is why Renault Trucks uses the chassis design from its C range, so the mixer of your choice can be fitted onto it, and your payload can be as high as possible. With the Renault Trucks C XLOAD, Renault Trucks offers the lightest 8x4 twin rear wheel concrete mixer truck on the market (UTAC-certified).
kg
This is the tare weight of our Renault Trucks C XLOAD 8x4
An exceptionally light chassis, to which you can add a 7.5 to 8 m3 concrete mixer. As you can fit more concrete in for each run, the number of daily journeys or the number of construction sites delivered to can be increased, thus reducing your costs and increasing profitability.
Reduce build lead time for your concrete mixer trucks
Concrete mixer trucks are particularly complex in terms of design. Renault Trucks engineers are available to help you configure yours, in accordance with your needs, so they can be delivered within the shortest lead time possible. The chassis on Renault Trucks C models can be equipped with special mixer fittings, according to body-builders' recommendations:
Space can be left for cranes in the case of pumping drums

High-capacity rear motor drives for concrete pumps

Storage areas 

designed for optimal load distribution
All this makes the body-builders' work easier, and has a direct effect on build lead time, which means vehicles are available much quicker.
Robust and reliable vehicles for your concrete transport
Before leaving our factories, trucks undergo quality checks to ensure robustness and reliability. Renault Trucks C models boast several advantages, so drivers can deliver to all construction sites - even those most difficult to access:
A 24° angle of attack

A below-tank ground clearance of up to 440mm

A short turning radius

An Optidriver

Xtended

gearbox, with two extra-slow gears and an off-road mode to make driving easier with heavy loads and on uneven ground
Manage your fleet in line with your needs
As a concrete transport operator, you pay closer attention to engine hours than to vehicle mileage. This is why our vehicles are fitted with hour meters, so you know exactly how long they have been operating for. This data can be fed back into Optifleet. This smart fleet management service will prove to be extremely useful to schedule your journeys in an easy and efficient manner. Thanks to the ongoing geo-tracking option, you can apply modifications directly and warn your drivers if their timetable changes, or if you need something else done on a construction site. You can also monitor truck use by tracking specific data: fuel consumption (in litres or as a percentage of time spent on the road) on the road and during power take-offs, time spent at slow speed with the engine on, and how well drivers tend to anticipate. This is a useful option to make sure you get the most out of your trucks and your drivers.
Improve your vehicles' uptime
If your company is managed based on the motto "better safe than sorry", then Renault Trucks' personalised maintenance plan, Predict, is perfect for you! It combines the best of technology and human intervention. Upon purchase, your trucks' technical data will be integrated into a digital platform that will regularly analyse them and send alerts to your advisor. The latter will inform you of any maintenance work to be done, and will set an appointment that least disturbs your company's daily activities. As such, you can increase your vehicle's uptime and avoid unforeseen breakdowns.
Optimise operating costs
Concrete transport is a unique activity and Renault Trucks is perfectly aware of this. Our teams are available to support and advise you in terms of financing and vehicle maintenance - so you can keep your costs under control.
Reduce maintenance costs
In the field of concrete transport, vehicles are often put under serious pressure, and mechanical parts may suffer from this. To reduce maintenance costs, Renault Trucks offers a wide range of standard eXchange parts: we replace used parts with certified originals which we have renovated ourselves. These parts meet the same requirements as new ones, and benefit from a two-year warranty (parts and labour), for a lower price. A great deal for your finances, your trucks and the environment.
Adapt your financing
You know your trade, and so do we. Renault Trucks advisors are aware of your constraints, and are there to support you. They will suggest the financing offer best suited for each of your concrete mixer trucks. Our financing offers are flexible, and take build lead time into consideration. Similarly, financing plans and durations are adapted to the low mileage usually recorded in this line of work. The goal will always be the same: to optimise operating costs and boost your activity's profitability.
Please feel free to contact us, we can discuss your needs and send a personalised proposal.