Transport solution
Refrigerated transport: efficient fresh or frozen product delivery
Distribution
Electromobility
Transporting fresh or frozen produce calls for extremely precise temperature control, in line with traceability and hygiene requirements. Renault Trucks meets those needs with its range of refrigerated vans and trucks and services specially designed for refrigerated transport. Our teams are available to support and advise you, so you can optimise profitability and control costs.
Vehicles suited to your refrigerated transport needs
The first way of ensuring higher delivery profitability is to use a refrigerated truck perfectly suited to your requirements, or those of your customer. In other words, you need to transport as many products as possible whilst maintaining excellent manoeuvrability. With that in mind, Renault Trucks offers a wide range of wheelbases to cover all lengths of bodywork - whether for the food retail industry with the Renault Trucks Master and its platform cab, or for the delivery of fresh products with the Renault Trucks D range, offering the widest wheelbase on the market. Renault Trucks experts will support you in your choice, so you can find the configuration best-suited to the bodybuilders' constraints: the latter will be chassis design, so they can be properly adapted and laid-out as required. We provide chassis plans that correspond to the ordered vehicle's exact configuration, as well as a website offering a dedicated hotline service. This helps to shorten the lead time in the body building process.
Purchasing a truck is so much easier with Renault Trucks.
Discover our range of Renault Trucks: D, D Wide, T and Master
When it comes to refrigerated transport, our vehicles are compatible with all types of refrigeration units installed by bodybuilders - including 100% electric units such as Frigoblock (Thermoking) and Eco-Drive. Our Renault Trucks D range boasts an engine rear power take off of up to 650 Nm, to drive electric generators, and our DTi 8 engine is equipped to accommodate Frigoblock Inverter® electrical generators. Our genuine batteries guarantee excellent operation of the refrigerating unit.
This means your work tool is available when you need it and has high performance levels.
Ensure efficient deliveries
Thanks to their reduced width and with one of the best turning circles on the market, our vehicles offer easy manoeuvrability. It makes navigating through narrow or congested streets a breeze for delivery drivers.
Reduce and anticipate vehicle immobilisation
An immobilised truck means fewer deliveries and therefore a loss of income. Drawing on our experience and know-how, we are able to provide you with the most reliable vehicles. Our Start&Drive maintenance contracts are available to support you and ensure maximum availability of your work tool, whilst adapting to your specific refrigerated transport needs.
m
Reduced turning radius to make manoeuvres easier for our Renault Trucks D range
Driver safety
To ensure deliveries are made in good time, driver safety and comfort are key.
To avoid any accidents when drivers access or egress their vehicles, our trucks are fitted with non-slip steps and three-point ergonomic handles.
Regarding active safety, several systems are in place to assist the driver and prevent accidents - such as lane departure warnings and automatic emergency braking.
Reduce your environmental footprint
Stakeholders within the supply chain are increasingly looking to reduce their environmental impact. To make your energy transition easier in the field of refrigerated transport, Renault Trucks designed the D WIDE CNG truck, which runs on natural gas. Available as a 4x2 holder weighing 16 or 19 tonnes, or a 6x2 holder weighing 26 tonnes, it is fitted with an automatic Allison transmission which is perfectly suited for urban, peri-urban and regional use. Renault Trucks offers a solution developed alongside Carrier, in which the refrigeration unit runs on gas. The latter is connected to a special four-bottle rack, and can thus carry on working even after the vehicle has been switched off.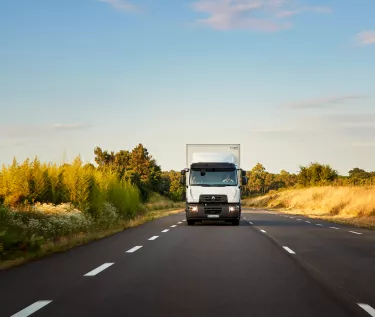 For its T range, Renault Trucks also developed a partnership with Avril - a company that created Oleo100, an alternative and sustainable fuel made from French rapeseed. This represents a true alternative to standard fuel, reducing CO² emissions by 60% and particle emissions by 80%. Moreover, it is 100% biodegradable.
The 100% electric Z.E. range
Our Z.E. range is particularly well-suited for refrigerated transport needs, whilst reducing your activity's environmental footprint. Our Renault Trucks Master Z.E. being 100% electric means this truck is perfect for covering the last kilometres, and for accessing Low Emission Zones (LEZs). Please feel free to contact us, to explain your needs and receive a personalised proposal.
Know more about our products and services