Report
Renault Trucks reducing CO2 emissions
#JoinTheGoodMove
Green Energies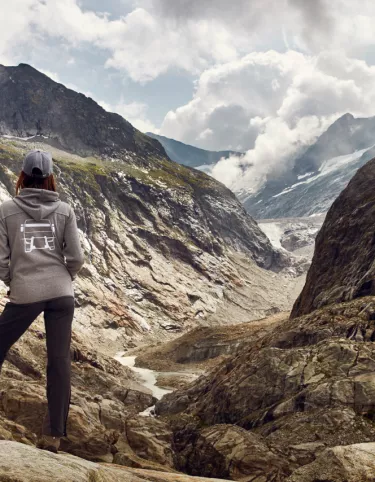 Taking action to deal with the climate crisis
The energy transition required
Climate change is real. As it concentrates in the atmosphere, CO2 (carbon dioxide) contributes to the greenhouse gas effect and to global warming. In order to throttle this phenomenon, we have to take action and quickly de-carbonised our lifestyles.
Transport by road of goods, which is essential to our societies, has a key role to play in the energy transition required, with a clear goal: to gradually reduce the use of fossil fuels to attain carbon neutrality as soon as possible.
Enhanced regulatory restrictions
As part of the Paris Climate Agreement adopted in 2015, which calls for bringing the rate of global warming below 2°C by 2100, the European Union decided to speed up the de-carbonisation of transport, which in Europe accounts for 25% of CO2 emissions.
To that end, European regulations have been stepped up, and now impose, for the first time, CO2 reduction constraints on truck builders, involving very precise objectives: -15% by 2025 and -30% by 2030 compared to 2019, in order to attain carbon neutrality in transport by 2050.
247 low-emission zones were set up in 13 European countries. In the very near future, internal combustion engine powered trucks will no longer be allowed on the roads.
Renault Trucks has made its commitment
Attaining carbon neutrality as of 2040
We have committed to speed up de-carbonisation in our operations so as to help limit the increase in the earth's temperature to 1.5°C. Our goal is to attain carbon neutrality for the vehicles we will put on the market starting in 2040.
Gradually moving to 100% carbon free
Electric vehicles are the foundation of our energy transition plans. We are ready to make electric trucks the new market standard by proposing a full line of effective, robust and profitable vehicles that meet the needs of all our customers.
Our goals are ambitious: 50% of our sales will be electric vehicles in 2030, and in 2040, 100% of the vehicles we set out on the roads will be carbon neutral.
To that end, we are moving in stages, gradually abandoning the use of fossil fuels, as de-carbonisation and electrification are extended to all types of use.
We are basing our transition on three complementary types of technology: Internal combustion engines powered by non-fossil fuels (synthetic diesel fuel, bio fuels, biogas and, in a few years, hydrogen), Electric batteries and Hydrogen-based fuel cells.
Renault Trucks reducing CO2 emissions
Renault Trucks has taken on the challenge of reducing CO2 emissions in 3 ways:
by offering trucks with ever-greater fuel efficiency
by providing 100% electric solutions for emission-free use in transport
by extending the life of its vehicles in a circular approach.
Enhancing the fuel efficiency of our vehicles
Renault Trucks designs and sells trucks that are ever more economical in fuel use and that emit less CO2. Combined with services that help operators and drivers increase their fuel efficiency, our engine systems have substantially reduced the environmental impact of our vehicles, but without diminishing their performance levels or reliability.
Every new generation of Renault Trucks products thus offers lower fuel consumption than the previous one.
Getting on board for electric vehicles
Renault Trucks produces electric truck models for medium tonnage, designed for uses such as urban distribution, trash collection and initial construction site work. In addition to a vast line of such vehicles, Renault Trucks is developing a full line of related services: the supply of batteries and infrastructure solutions for battery charging, supplementary systems to optimise the energy used, repairs and maintenance, and financing and insurance.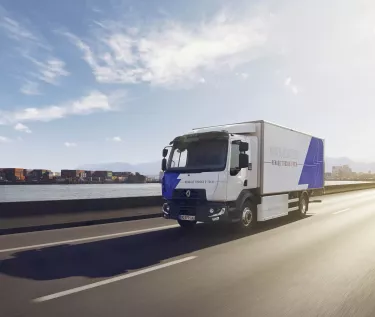 In order to meet all the needs of the marketplace, we are developing new technological systems that incorporate batteries or a hydrogen fuel cell. This will serve to expand electrification to other pertinent uses, such as construction, container transport or long-hauling.
Would like to switch to electric?
Know more about the support you can receive from our experts in electromobility
Creating virtuous cycles for the circular economy
In order to reduce the use of natural resources and limit the impact on the environment, especially the carbon effect, of the vehicles we produce, we are orienting our industrial operations to fit with a circular economy. That takes into account second and third lives for the vehicles, their re-use in various forms, and their recycling.
Re-generate: 

we renovate and recondition our used vehicles, update their software and adopt the latest generation technology available on our new trucks in order to extend their working life and seek to prevent their obsolescence.

Re-purpose

: in our Used Trucks Factory, we give our used trucks a new livelihood by transforming them so as to supply custom-purposed second-hand vehicles. Tractors are transformed into carriers; diesel engine systems are converted to bio-diesel fuel.

Re-cycle

: we offer a line of mechanical assemblies and renovated components for standard replacements, and their production has 60% less environmental impact than that of new parts.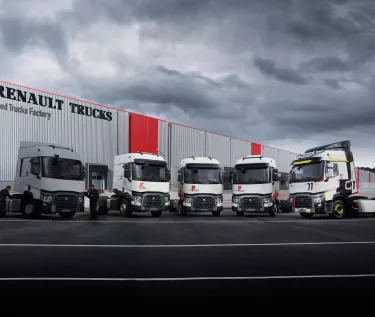 Providing a new livelihood or converting a truck can prevent 14.4 tons of CO2 emissions compared to what it would take to produce a new vehicle.