Transport solution
Mining vehicles : a real strain on trucks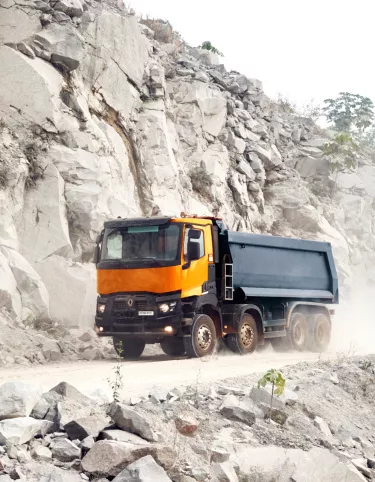 Mining transport is one of the most demanding activities for trucks. You need to be able to count on robust vehicles that can move heavy loads, and still ensure a safe environment for drivers. Renault Trucks is there to help with its K range - designed for heavy construction - and its service offers specially designed for mining transport.
Tipper truck: discover Renault Trucks' K range
The Renault Trucks K range is fitted with a chassis specially designed for heavy loads, which means you can reduce the number of journeys. Our vehicles are pre-equipped for easy body mounting.
Higher profitability with tipper trucks suitable for standard roads
Renault Trucks' K range meets your extreme loading requirements, with trucks that can be used on standard roads, and are able to transport up to 34 tonnes of payload for the Renault Trucks K XTREM. Its parabolic or semi-elliptic rear springs are made to tolerate loads ranging from 13 to 32 tonnes. As such, your vehicle can be used for stone extraction and transport to the processing area - all this with the same driver and with fewer journeys. You can therefore limit transport and labour costs, whilst increasing your overall pace and increase profitability.
The Renault Trucks K model in action in Guinea
Mining vehicles: safety before all else
Reliability and robustness
The heavy weight transported on uneven, muddy or dusty ground in quarries impose major constraints on the equipment used. This is why - as part of the K range dedicated to heavy construction - Renault Trucks offers its K XTREM 8x4 model, perfect for the most severe environments.
Unlike the "standard" Renault Truck K, this vehicle has special equipment to boost robustness and protect certain elements particularly exposed during mining operations:
Chassis with reinforced stringers, to ensure the frame's mechanical resistance

Parabolic 4-bladed springs with lubricated hinges, for intensive use

Cyclonic air pre-filter, to filter dust

Tanks designed for off-road usage, with a ground clearance going up to 20 inches

Protection of any components likely to be damaged
Certain parts including the battery, brakes or springs are more exposed during intensive use. To limit premature wear, Renault Trucks recommends using original parts, specially developed for the vehicle and approved following stringent tests conducted in extreme conditions. Trucks that are easy to manoeuvre
Trucks that are easy to manoeuvre
Having a robust truck is good, but drivers also need to be in complete control of the vehicle, and use it safely. To ensure proper vehicle control and protect its mechanical organs, the Renault Trucks K model can be fitted with an automatic Optidriver XTREM gearbox. It boasts a shaft with six teeth instead of four, special cogs and a gear-change management system especially suited for extreme loads. Additionally, one or two extra-slow gears (Xtended) can be fitted to make vehicle start-up even easier. 
A 32° angle of attack
Your drivers can also count on the market's best angle of attack and an axle ground clearance of 15 inches, which will prevent any scraping or potential damage to the front-wheel axle. In terms of manoeuvrability, the turning radius is reduced to just under 9 meters (8x4 configuration). The Renault Trucks K also has an automatic parking brake that boosts the driver's safety, and that of other quarry workers.
In terms of comfort and safety, your drivers can rely on an emergency brake system, cameras to check the truck's surroundings, climbing handles to access the vehicle, and a side step to check the truck's load.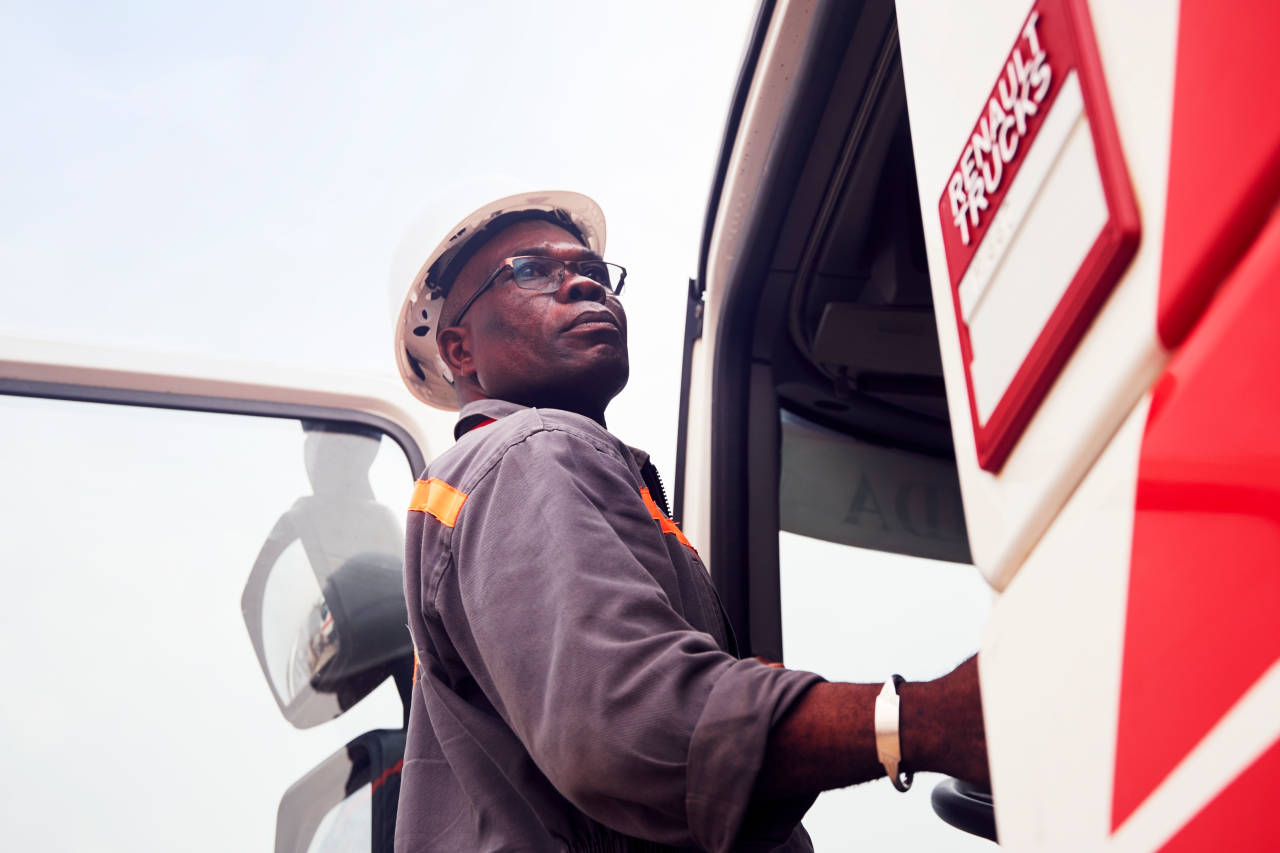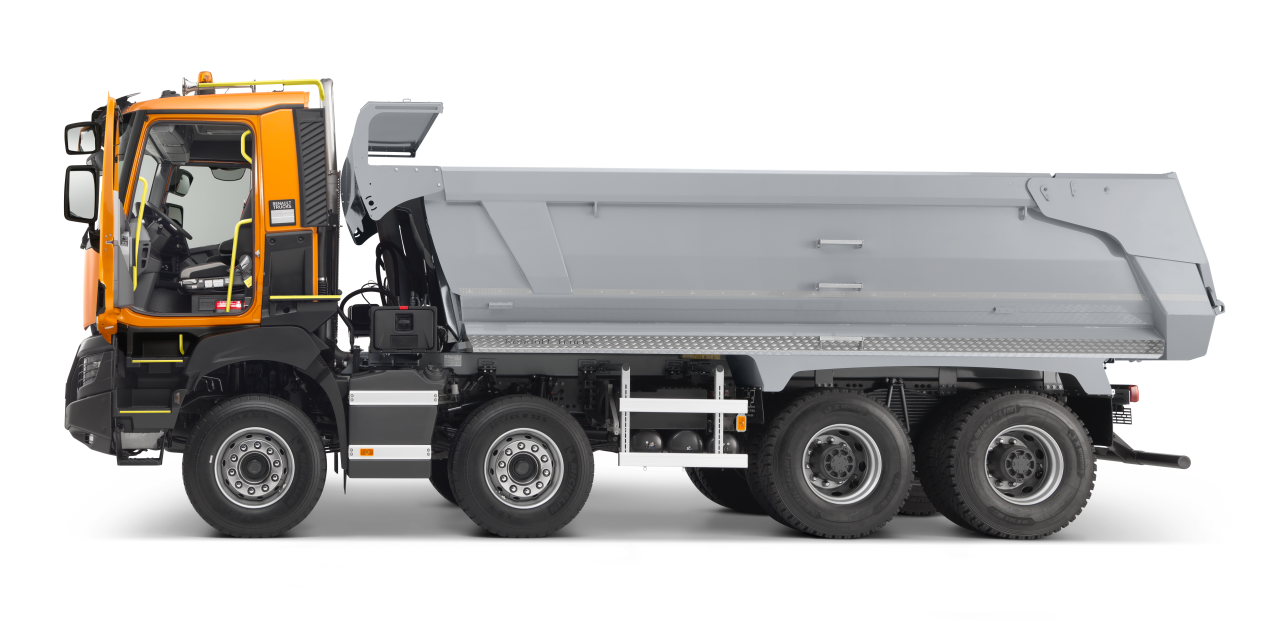 Real-time fleet management
Optifleet is a smart fleet management service, available so you can better manage your transport chain from the mine to the goods processing area. This solution makes your day-to-day tasks easier, allowing you to manage your fleet in perfect alignment with your daily usage.
Save on fuel, improve driver and vehicle use, follow up on engine hours, geo-track your vehicle and be warned in real time of its precise location thanks to geo-barriers.
With Optifleet, you can share your vehicle's data with whomever you like, whenever you like and however you like via a web portal, mobile application or by integrating data in a third-party system (API).
Reduce maintenance costs
When operating in a mine, certain vehicle parts such as suspensions or brakes will wear out quicker than others. To reduce maintenance costs, Renault Trucks suggests using eXchange parts. The goal is to recover used parts, renovate them, run appropriate tests and reintroduce them in vehicles. They benefit from a two-year fitted parts warranty and meet the same quality and performance requirements as new products, but at a lower price.
Make the most of our financing offers adapted to the mining activity
In the mining sector, mileage is not the leading cause of vehicle wear. This is why Renault Trucks offers financing and insurance solutions perfectly suited for mining trucks. Furthermore, if you need to do up a truck's body, we take bodybuilding lead time into consideration and offer financing plans and durations that will never jeopardise your activity.
Feel free to contact us for any personalised advice, or for a quotation.
Boost mining transport profitability
Mines are operated continuously. Any interruption in the transport chain leads to huge loss on your side. To help increase your vehicles' uptime, Renault Trucks offers the Predict option. The goal is to prevent breakdowns instead of having to endure them. The vehicle's information is sent to a dedicated digital platform, which will follow up on usage and warn your advisor of any necessary interventions. The latter will then set an appointment with you to conduct these maintenance operations, at a time that has little effect on your activity.
As the mine you work in does not necessarily have a service point nearby, we also have mobile workshops. One or several technicians will come on-site to run the maintenance operations on your vehicles.
FOR MORE INFORMATION, CONTACT US!