Testimonial
The Delanchy Group adopts electric trucks from Renault Trucks
#JoinTheGoodMove
Distribution
Electromobility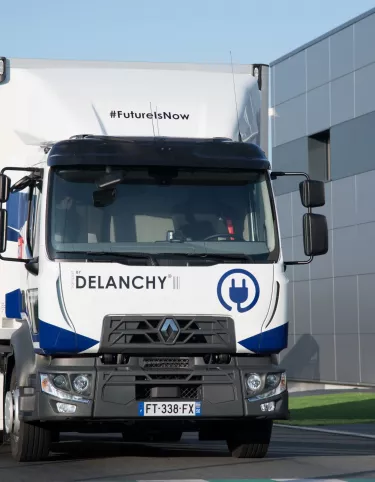 Brigitte Delanchy is CEO of this family business which was founded in Lorient in 1968, and now provides national coverage with 3,200 employees and 1,000 vehicles on the road. Uncompromisingly committed to sustainable development and protecting the environment, it is once again using electric trucks from Renault Trucks and very much looking to the future. Here's the story in Brigitte's own words.
"I love my job! Managing logistics flows, particularly when it comes to fresh produce for delivery within 24 hours. This demands not only efficiency and incredible attention to detail, but also a realistic attitude to innovation. When we decided to buy a prototype electric truck from Renault Trucks in 2017, I was fully aware that what I was actually doing was investing in the future. That 100% electric and quiet vehicle is still earning its living in and around Lyon. Every night, it delivers to the Halles Paul Bocuse in Lyon with seafood caught the day before in Lorient and transported by our "classic" refrigerated trucks.
Naturally, we decided to build on this success by purchasing a second electric vehicle - a Renault Trucks D Z.E. to serve Paris from Rungis international wholesale Market. This investment, beyond supplementing our fleet of vehicles, is part of our sustainable development strategy and our energy transition started in 2016, at the same time as we became partners of the hydrogen-powered Energy Observer, whose mission is to circle the globe over a six-year period by generating and using its own power and emitting zero greenhouse gases or fine particulates.
Delivering the transportation industry energy transition on a daily basis
Beyond this partnership with Energy Observer, I look forward to the first hydrogen truck. My father Joseph, who started the company in 1968 with one of the first Saviem trucks, always believed in hydrogen. I am carrying on the family tradition in a way! My great pride is to actively contribute to the energy transition of transport. At Delanchy, we do this in practice with our two Renault Trucks electric trucks in circulation every night in Lyon and Paris. I have no doubts that this is a solution for the future and that it will become widespread.
In the short term, I hope to be able to introduce several new Renault electric trucks into our fleet to ensure the delivery of the large cities we serve in France - Paris, Lyon, Marseille, Bordeaux, Toulouse, Annecy, etc. - not to mention, Italy and Spain where we are also present.
In fact, we may easily need around 20 electric trucks in 2021! But whatever the number, I will remain loyal to Renault Trucks. Their team has chosen to work with us on their adventure. They have always been there by our side in operating our prototype as our first business model. And personally, I am proud to have contributed a little to the industrial success of this vehicle.
On-road delivery of CSR commitments
By choosing to use urban electric trucks, we are actually delivering on the CSR commitments made by the Delanchy Group. Not only are we reducing our CO2 nitrogen oxide (NOx) and fine particulate emissions, but we are also improving efficiency and improving our corporate image. The fact that our electric trucks are so quiet allows us to deliver at night, without any break in the cold chain and without any harm to the environment or to residents.
In addition, our drivers are particularly proud to be driving electric trucks and made the transition from diesel vehicles very easily. They say that the handling is extremely simple, although the absence of any noise is a bit surprising at first.  Lastly, these trucks - which make daily rounds of more than 60 miles independently - require less maintenance than their thermal engine equivalent. This is a point to consider when calculating the total cost of ownership of these vehicles over time.