Testimonial
Renault Trucks D Cab 2.1 m - Spain - Fandiño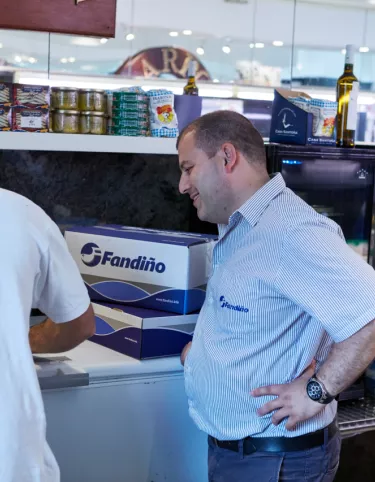 FANDIÑO
Fandiño is one of the benchmark companies in selling and distributing frozen meals throughout the North West of Spain. Every day, Jose Luis, a sales representative, delivers products at the wheel of a Renault Trucks D 2.1 m fitted with a refrigerated body.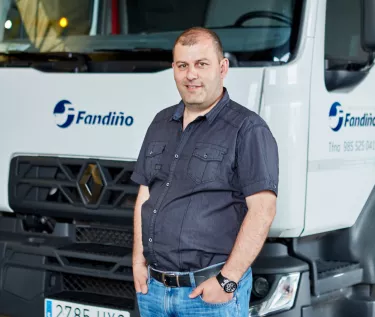 Can you tell us about your work with Fandiño?
José Luis — I am a sales representative and I carry out my daily deliveries throughout the Asturias region at the wheel of a Renault Trucks D Cab 2.1 m. Fandino has been selling and distributing frozen foods for communities and restaurants for almost 60 years. It is here, in Aviles, that we coordinate ak the activities of our distribution network to Asturias, Cantabria, Leon, Zamora, Valladolid, etc. We offer a wide range of products, adapted to our customers needs, from hors d'oeuvres to desserts. Transport is a key factor in our business, for we must be able to guarantee product quality at every stage in the process, which means preserving the cold chain. I begin my day at 7 a.m. My colleagues and I prepare the trucks for the delivery round. We disconnect the overnight power supply to preserve the frozen food, prepare our documents and then take to the road. Every week we carry out predefined delivery rounds, generally to regular customers. Our day ends around 6 or 7 p.m. Once we're back at the head office, we load up the vehicles with the orders for the next day.
What makes the Renault Trucks D Cab 2.1 m suitable for your activity?
J.L — The vehicle is perfectly suited to our needs in terms of manoeuvrability, reliability and robustness. It enables us to plan our daily work with perfect peace of mind and respect the commitments we have made to our clients. ALL we have to do is comply with the servicing plan to avoid breakdowns which would interfere with our work and delay deliveries. It therefore gives us a great deal of security and assurance. This vehicle also surprised me with its low fuel consumption, even though I do a lot of driving in towns, villages and on mountain roads where consumption tends to be higher.
In business for the last 60 years, Fandiño has taken full control of the entire cold chain so as to guarantee its products' quality. It vehicles cover 60,000 to 70,000 km a year. They enable drivers to look forward to their workday with total peace of mind and respect their commitments to their customers . 
LOW CONSUMPTION
Technology, aerodynamics and intelligent driving make it possible to reduce fuel consumption considerably.
EASY BODY MOUNTING
Several mechanical and electrical provisions to facilitate body mounting operations are pre-installed, designed to cater for every kind of activity.
MANOEUVRABILITY
A reduced turning circle, short front overhang and a compact cab make the vehicles in the D range extremely manoeuvrable
How does it perform in built-up areas and on mountain roads?
J.L — In the twirls and villages where I go every day, the Renault Trucks D Cab 2.1 m really makes my life easier. It's manoeuvrable, gives good visibility, is easy to park and drive, despite its size. It also allows me to drive smoothly in busy or congested places. And above all, which is very important, I can park in zones where access can be restricted and difficult. On mountain roads, its rnanoecarrability combined with its power enables me to cross mountain pasus. even when Me ground is slippery in winter or when iTs ring It is also very easy to drive because everything is within reach. It has a very easy-to-use robubsed gearbox as well as several driving aids, such as the help vs. parking in reverse which stops Me vehicle and avoids hitting others. On mountain pasus. Me retarder ensurest do not need to brake excessNely allowing me to drive,. total safety and willsout getting tired.
AN UPDATE ON...
REFRIGERATED TRANSPORT IN SPAIN: A FLOURISHING SECTOR
Due to the boom in exporting fruit and vegetables, Spanish hauliers are constantly updating and expanding their fleets of controlled temperature vehicles.
A GROWING MARKET
In 2015, registrations of Spanish refrigerated trailers and semitrailers went up by 36%. According to the official figures provided by the specialised manufacturers professional association, these sales accounted for 40% of the segment. Figures which say a great deal about the good health of controlled temperature transport in the Iberian Peninsula.
BUSINESS RECOVERY
There is a level of performance unquestionably driven by the general recovery in economic activity and by the dominance of Spanish fruit and vegetable exports, transported by road and delivered throughout the entire European Union. Spain is currently the leading exporter of fresh fruit and vegetables in Europe and ranked third in the world after China and the USA.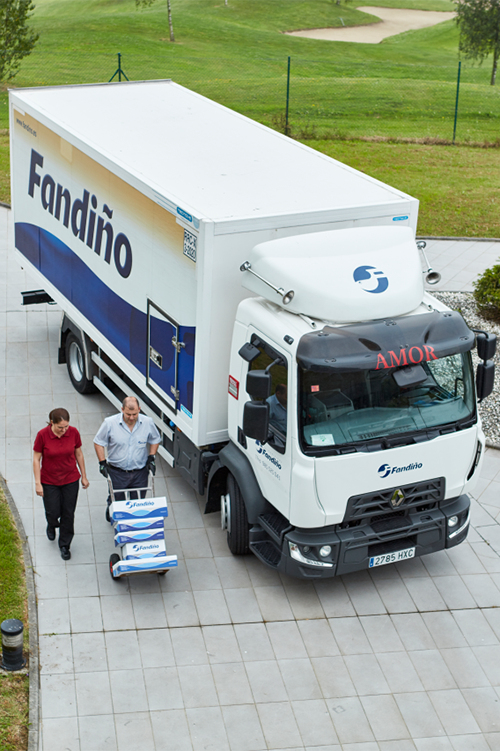 A FAVOURABLE ECONOMIC CLIMATE
Galvanised by this situation, haulage companies have increased their capacity and their fleets, thereby maintaining their competitive edge in the European market.
How do you rate the cab's comfort?
J.L — I spend a lot of time at the wheel of my Renault Trucks D Cab 2.1 m, so for me, comfort means safety because if I am less tired, I am more alert and efficient. The seats are very comfortable and the steering wheel position can be adjusted to suit my preferred driving position. The headrest and armrests can also be adapted and this is particularly important for long journeys. This truck is also easy to access; in my job, we have to get in and out of the cab several times a day and working in urban areas there's a number of other very important features on the trucks such as ABS, emergency braking, and good steering manoeuvrability. In summary, I would say the Renault Trucks D cab 2.1 m is a reassuringly safe working truck in every respect. It is reliable in everyday use well as being versatile and robust too, in every situation.