Press release
Vehicle specification and service cement conquest deal for Renault Trucks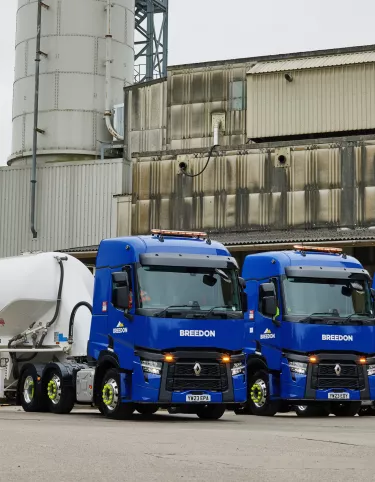 Vehicle specification and service cement conquest deal for Renault Trucks
Leading construction materials group, Breedon Group plc (Breedon or the Group) has taken delivery of its first ever Renault Trucks for its cement division after being impressed with the vehicle specification, service, and the overall deal on the table. Joining the 50-strong fleet are 24 new T520 6x2 tractor units, replacing a competitor's model, with further expansion of Renault Trucks vehicles into the line-up planned.
The new T520s, purchased from Thompson Commercials and supplied on a five-year repair and maintenance contract, are powered by Renault Trucks' Euro 6 13-litre engine, producing 520hp and 2550Nm of torque and will be used for Breedon's long distance cement operations across the UK.   
Dan Cheetham, Logistics Manager at Breedon, says: "We decided to take a look at alternative manufacturers for our new vehicles, and Thompson Commercials' proposal for the new Renault Trucks ticked all our boxes with the specification, service and value for money key to our decision to move to the new model."
Featuring spacious sleeper cabs, the new vehicles have been specified with luxury heated and ventilated seats, air conditioning, colour multimedia touchscreen, air suspension, leather steering wheel, "performance" roof console with four storage compartments and fridge, all with Breedon's driver comfort in mind. The cabs have been finished in Breedon's distinctive blue livery with matching bumper corners, centre and steps to complete the look. Dan says: "Our drivers are out on average three nights a week, on long distances so a comfortable driving experience is paramount. The roomy cab is a practical and sizable place to work and rest and is going down very well with the team."
The new T520s are supplied and fitted with WG Tanker Group Ltd.'s GHH-Rand CS750 (CS90) compressor that is directly driven by a propshaft giving a maximum of 770m3/h of airflow @ 2bar, all fitted on the inside of the offside chassis rail and pipework on the outside for easy driver access and maintenance. This couples up with a ZVVZ bottom discharge tank supplied and maintained by WG Tanker Group Ltd, supplying a complete system for discharging Breedon's products.
The vehicles are also fitted with a bespoke Fleet Focus system that is fully DVS and FORS compliant and includes AI-powered VRU protection, with all-round camera coverage delivering active safety warnings in the cab and external cameras and digital display screens to reduce driver fatigue and improve visibility in all conditions. The system provides comprehensive safety insights and instant access to incident data and video uploads are provided by Fleet Focus' cloud software, myfleetlive.ai web app.
Working closely in partnership with the dealer is crucial to Breedon, with strong dealer service a key factor in the decision to switch to Renault Trucks as Dan explains: " We are really impressed with the team at Thompson Commercials, from initial proposal, working closely with our tanker and fleet safety technology partners, to delivery of the vehicles and comprehensive repair and maintenance contract, they really understood our business and took the time to meet our needs. We look forward to working with them as we switch further vehicles to Renault Trucks in the future."