New Renault Trucks Trafic Red Edition
An exclusive offer of tailor-made solutions
Trafic Red EDITION commercial vehicle is equipped as standard with 150 HP Euro 6 d-full engine and with the essential standard equipments to help professionals on their daily life. Many options are available to personalize the vehicle to your customers' needs and activities.
Peace of mind with a dedicated network
Over 1400 service points in Europe
Long opening hours, even on Saturday mornings *:  
Fast, efficient repairs , high quality parts 
Parts availability at 96%
24/7 assistance with towing included in case of breakdown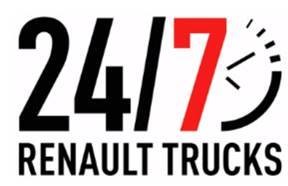 Renault Trucks experts will always be ready to take care of your Renault Trucks Trafic Red Edition at one of our Fast & Pro spaces*! * depending on dealership
Total cost control to optimize vehicle availability
Benefit from Start&Drive excellence contract**. 

Preventive maintenance
Wear parts
Repairs (entire vehicle)
24/7 assistance with towing included

All-inclusive financing : with our

Renault Trucks Financial Services

tailored and flexible solutions, we create a safe and easy environment for you. We propose you fixed monthly payments, which include financing, insurance, maintenance contract, and vehicles with complete peace of mind.
**more contracts available, contact your dealer for more information
Truck expertise for each application
4 different models to fulfill customer needs for all activities :
Van,
Crew Cab,
Platform Cab,
Combi
Accomplish any mission:
A combi version for passenger transport: up to 9 passengers with luggage

A crew cab version: a versatile vehicle to transport up to 6 passengers and material
A platform cab version ready for bodybuilding
Professional equipment in professional hands
An easy loading vehicle
Payload up to 1300kg
Maximum load volume 8.9 m3
Maximum loading area height 1.9m
Maximum loading area length 4.15m
Possibility of towing up to 2.5T thanks to its towing hook
A cargo zone designed for craftsmen
Rear Steel Doors 270°
Steel full bulkhead with hatch
LED lighting in rear zone
Rear Socket 12v
Rear left door locking latch
Ground & Lateral anchorage
A compact vehicle for urban driving
Standard parking spot size for outdoor: 5m length
Underground parking lots: less than 2m height
A real mobile workshop
Up to 88L of storage space
Integrated induction charger
8'' touch screen with smartphone replication 
LED lighting
Synthetic leather steering wheel
Fold-up bench seat
Foldable center seat providing a stable and practical work surface
Refrigerated pull-out glove box
SAFETY AND CONFORT
Driver assistance technologies and different driver systems to protect people and transported loads.
HILL START AID
The brakes are held for a few seconds after releasing the pedal to make hill starts easier.
EXTENDED GRIP
Electronic management for all types of terrain (sand, snow, mud, etc), available as standard on all models.
BLIND SPOT WARNING
Warns the driver of a hazard in the blind spot using a light signal in the mirrors.
A standard 150hp engine 
Optimized fuel consumption and more profitability with 150hp
3 other ratings available to adapt to your needs: 110, 130 and 170 hp
A dual-clutch robotized gearbox available on the 2 highest ratings
Automatic or sequential mode
6 speeds
Driving confort
Peace of mind
Savings
A wide range of vehicles
 

PANEL VAN

 

CREW CAB VAN

PLATFORM CAB

COMBI 9 seats

Models

L1H1

L2H1

L1H2

L2H2

L1H1

L2H1

L2

L1H1

L2H1

Levels of

equipment

Red EDITION

 

Red EDITION Exclusive

Red EDITION

Red EDITION

 

Red EDITION Exclusive

Red EDITION

Red EDITION

Engine

Ratings

Manual

Gearbox

110 HP

130 HP

150 HP

170 HP

150 HP

170 HP

110 HP

130 HP

150 HP

170 HP

150 HP

170 HP

150 HP

Engine

Ratings

Automatic

Gearbox Dual

Clutch

150 HP

170 HP

 -

150 HP

170 HP

- 

150 HP

170 HP

GVW

L1H1: 3T

L2H1: 3T11

3T
3T
3T
2T8
Volume (m3)

L1H1: 5,8

L2H1: 7,75

L1H1: 6,8

L2H1: 8,9

L1H1: 3,36

L2H1: 4,3

-

L1H1 : 1

L2H1: 1,8