List of content
Renault Trucks Oils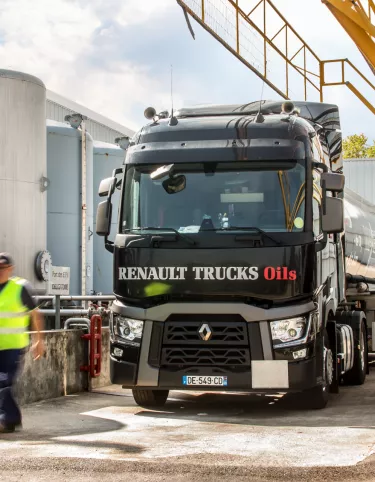 RENAULT TRUCKS OILS is a complete range of maintenance solutions which guarantees the highest level of performance and optimum extension of oil-change intervals. By choosing the RENAULT TRUCKS OILS range, recommended by Renault Trucks, you're choosing to be sure of perfect lubrication whatever the usage of your vehicle. So you can optimize your maintenance costs by limiting the vehicle off-road time.
Lubricants, greases, coolants, AdBlue®, CleanRMAX® and DiagoTrucks form an integral part of the ongoing Research and Development work so as to offer you the lowest running costs for your vehicle.
The products in the RENAULT TRUCKS OILS range are factory-fitted to your vehicle and available as after-sales from all Renault Trucks distributors.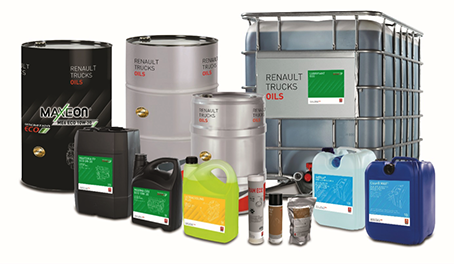 Specifically designed on the basis of Renault Trucks specifications, the RENAULT TRUCKS OILS product range is tested under the harshest and most demanding conditions. Like all Renault Trucks original parts, these products offer the best guarantee of performance, reliability and long life.
RENAULT TRUCKS OILS is designed and distributed by TLSP, certified to ISO 9001 and ISO 14001.
SAVE FUEL AND PROTECT THE ENVIRONMENT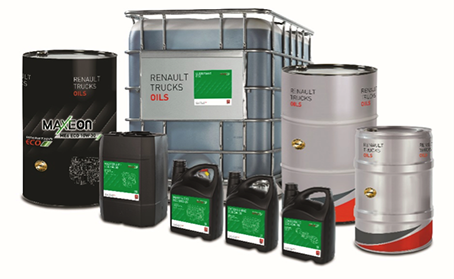 The ECO Generation lubricants in the RENAULT TRUCKS OILS range are based on superior fluidity and contain friction-reducing additives. Used over the entire drive train, they bring:
SIGNIFICANT FUEL SAVINGS
On average, 1 litre per 100 km, or a saving of €1200 per vehicle per year*
REDUCTION IN POLLUTANTS
On average, 3 tonnes of CO2 less per vehicle per year**based on a vehicle covering 120,000 km/year using ECO Generation lubricants over the entire drive train.
PROVEN AND VALIDATED RESULTS
Results certified by several organizations (UTAC, Millbrook) and by numerous fleet and bench tests (BMSVI).
ECO Generation lubricants form an integral part of the manufacturer's Optifuel solutions aimed at reducing fuel consumption.