Transport solution
Waste collection vehicles for collecting waste effectively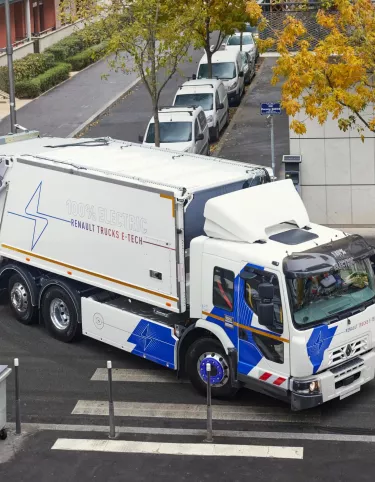 For collecting waste in your local area, you need a fleet of vehicles adapted to the various tasks in the city centre, outskirts or on industrial sites. Discover the Renault Trucks range offering excellent working conditions for your agents and the related services that help you to manage your fleet effectively. We offer waste collection vehicles with petrol engines or electric waste collection vehicles with our range Renault Trucks E-Tech D and Renault Trucks E-Tech D Wide and Low Entry Cab.
Waste collection vehicles: the right lorry for the right task
Waste management within a local authority covers very different situations. Whether it is collection in a city centre, on the outskirts of a city or waste management on industrial sites, it is important that you have the right vehicle specifically designed for the task in question.
To help you make the right choice, we rely on solid experience and know-how recognised by our customers: in France, our market share in this business segment is 60 to 70%. Our experts are in direct contact with vehicle body builders and are best placed to help you make your choice. To do so, they have access to a comprehensive range of diesel and 100% electric vehicles: Renault Trucks Master and Renault Trucks E-Tech Master in the chassis cab version and Renault Trucks D, D Wide, and Low Entry Cab in the diesel and electric versions.Overall, there are several dozen possible wheelbases and configurations, from overall weight of 3.3 to 32 tonnes.
For urban and suburban waste collection, Renault Trucks D, D Wide, and Low Entry Cab offer a high payload with good manoeuvrability, excellent visibility and significant load capacities. The many configurations available are particularly well suited to waste management, notably the 6x2*4 version of Renault Trucks D Wide, and Low Entry Cab with a second steering axle to help with city centre manoeuvres.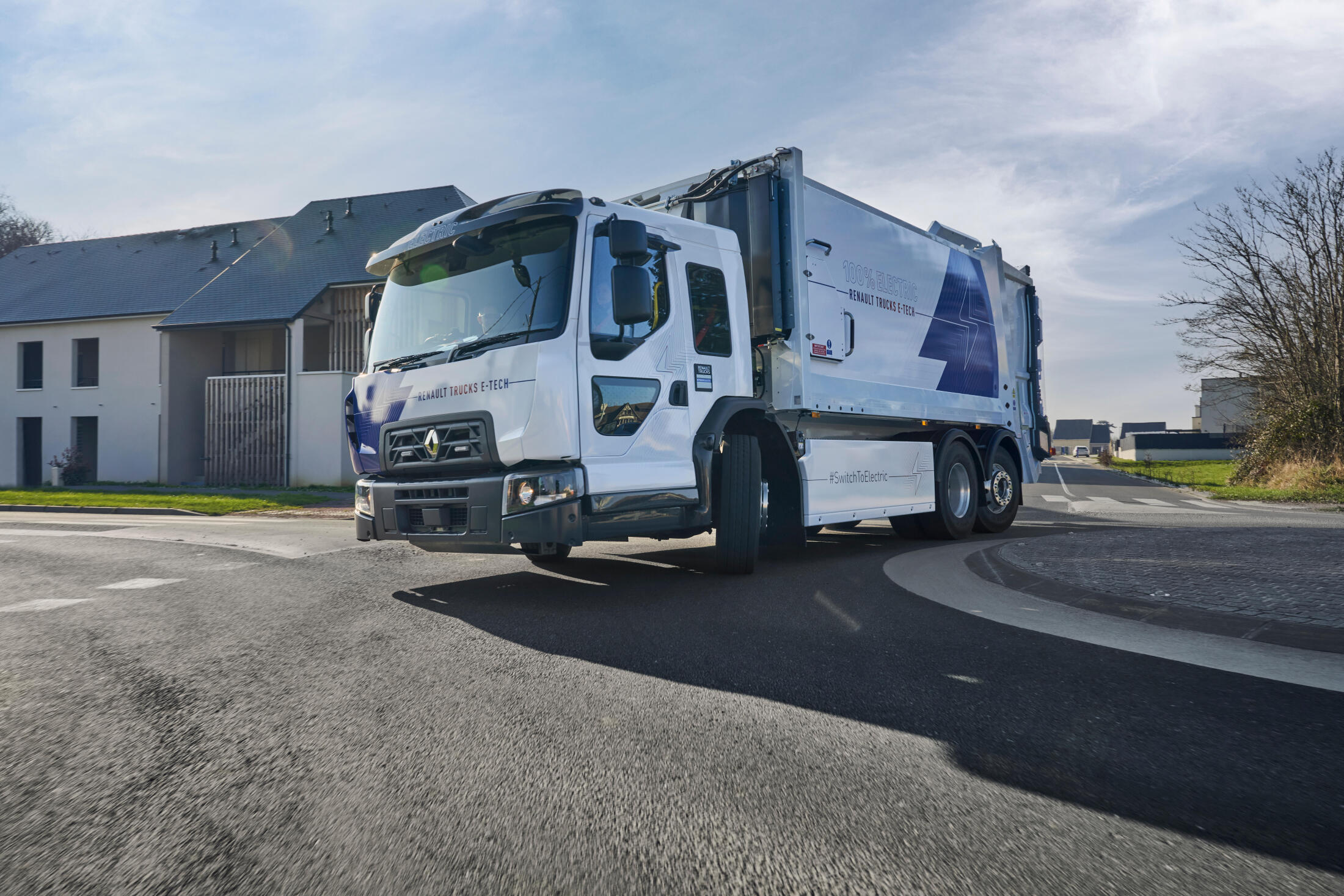 If your activity relates more to industrial waste management, requiring a higher payload and power, the Renault Trucks C is ideal for installing removable tippers, household waste tippers connected to a crane or even chain gantries. Renault Trucks C offer up to 22.8 tonnes of payload and engines up to 520 hp for activities involving the heaviest loads.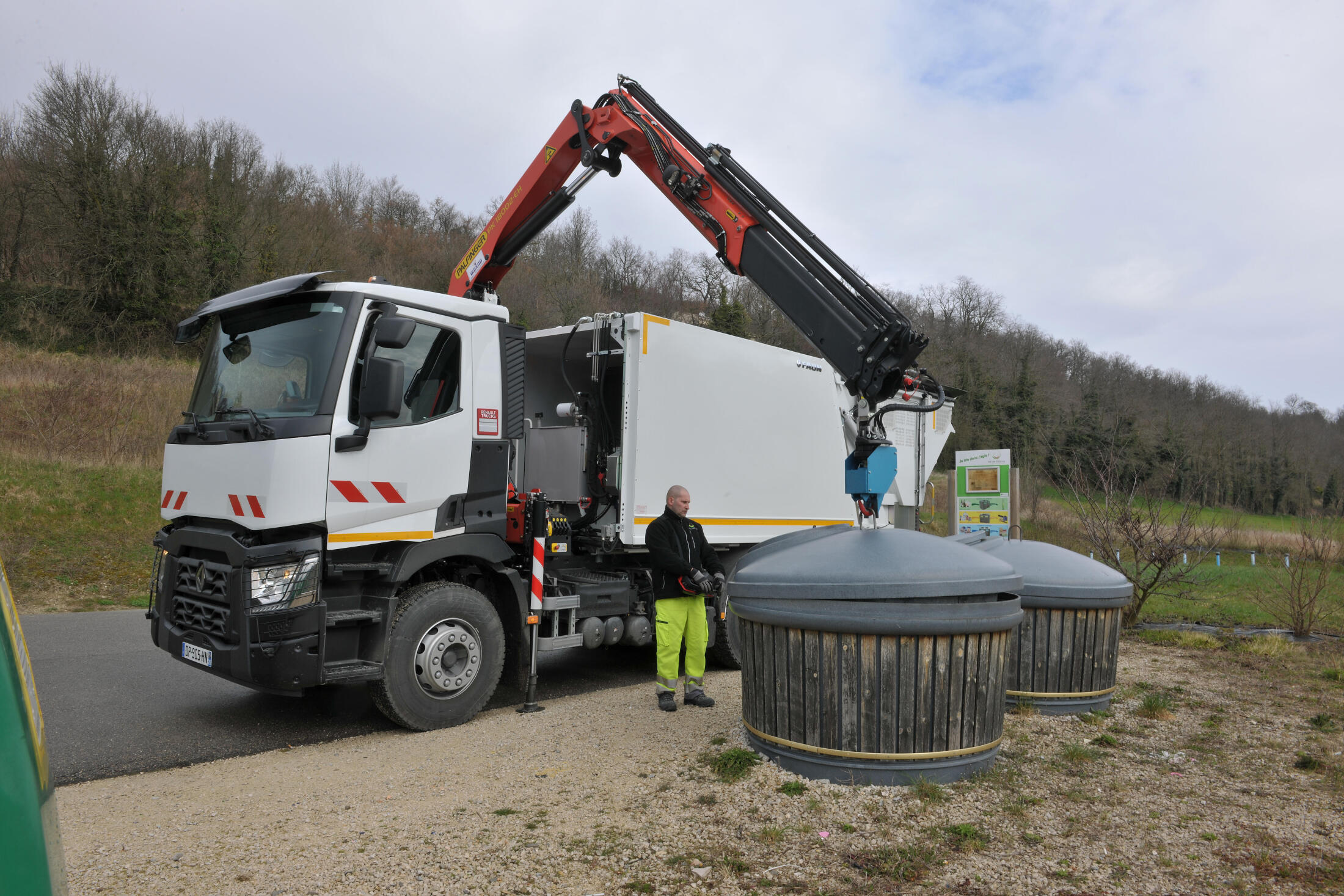 Quickly adapt the vehicle body of your choice to your waste collection vehicle
Waste collection takes various forms and requires a specific vehicle body. Renault Trucks works in close collaboration with vehicle body builders to help you choose the body best suited to your task. The vehicles are designed to receive any type of body thanks to a wide range of configurations, pre-drilled bars and a rear cantilever every 55 mm and plates and brackets on the frame. Thanks to these design features and the Bodybuilder Portal, a website for body builders with technical data sheets for each vehicle, the work of body builders is made easier and the time for the body to be built is reduced.
Waste truck: decarbonise your journeys thanks to our electric or gas waste collection vehicles
We are committed to zero emission vehicles by offering electric waste collection vehicles with Renault Trucks E-Tech D and Renault Trucks E-Tech D Wide and Low Entry Cab, all 100% electric. Electrical technology is particularly well suited to the collection of household waste. In fact, this task is very costly when it comes to fuel: lorries regularly breach the bar of 100 litres per 100 kilometres. Therefore, a transition to a fleet of electric waste collection vehicles make sense and the increased acquisition cost is quickly compensated for by the savings made on each journey.
In addition, these vehicles are often used in towns or city centres where environmental restrictions are much stricter. In addition to reduced CO2 emissions, local authorities are particularly keen to use electric trucks because they are silent and can be used late at night or early in the morning without disturbing residents. Drivers of electric waste collection vehicles say that the operational silence improves their driving comfort and makes their working conditions easier.
100% electric vehicles allow you to access restricted traffic areas and low emission zones.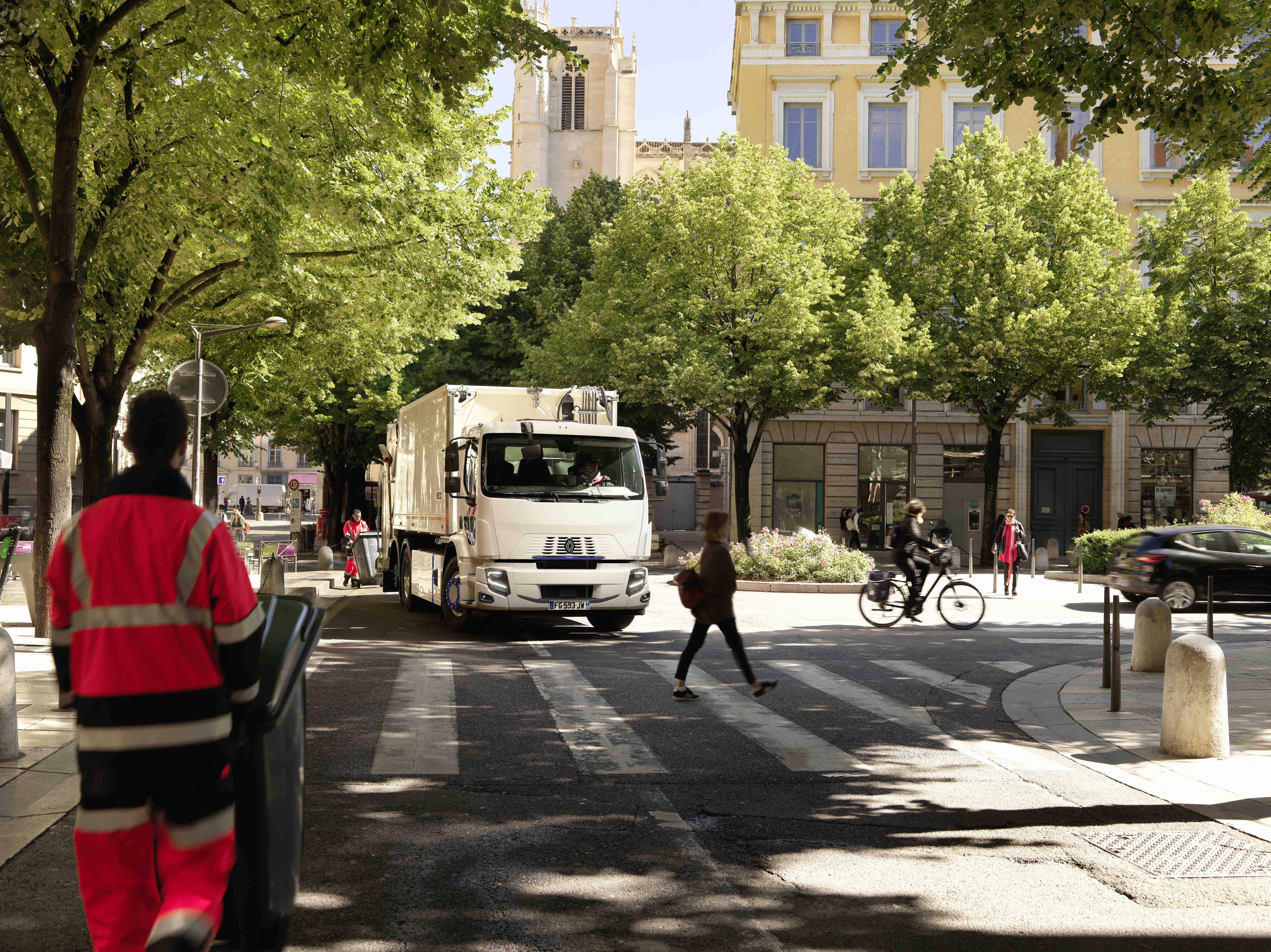 Waste collection vehicles running on natural gas
We also offer vehicles that run on natural gas. Many local authorities have already chosen natural gas propulsion for waste collection. With a 239 kW engine (320 hp) and a range of up to 800 kilometres, the Renault Trucks D Wide GNV can be used in urban or suburban conditions and can be used with the same body as other vehicles from our D range.
to 800 per round
This is the average number of stops and starts observed during a waste collection route.
Optimise the management of your fleet for more effective waste collection
The choice of waste collection routes is particularly important in terms of efficacy and can be changed regularly. The Optifleet connected fleet management solution allows you to plan your journeys effectively and find out the location of each of your trucks in real time. If your activity is subcontracted, the software will allow your partner to collect and integrate data in their own management system, regardless of the vehicle model or brand.
Optifleet can also be used to collect accurate information on equipment consumption and use: use of the tipper when stationary, use of idling, number of presses on the brake pedal, etc. You can also configure an alert level to warn you in the event of excess consumption by a vehicle and assess your drivers based on objective technical data. As an example, you can introduce rational driving training. The Renault Trucks network can help you with rational driving advice.
Waste collection: make things easier for your agents
During waste collection, your agents get in and out of the vehicle regularly. With this in mind, we have designed vehicles with a low step and doors that open to 90° to facilitate access to the cab. Vehicles have been designed to offer excellent visibility and short turning radii for optimised manoeuvrability. As an example, the 6x4*2 configuration allows for the addition of a steering axle at the rear which reduces the turning radius and which is particularly useful for waste collection vehicles in city centres.
Inside, everything has been designed to provide agents with everything they need to work in the best conditions. The spacious cabs are equipped with comfortable seats and the crew cab version can accommodate up to 7 people. The Low Entry Cab provides excellent visibility of narrow areas and of vulnerable road users.
There are various places for agents to store their belongings. Outside, they can store their work tools in the compartments provided on the chassis.
In terms of driving, we offer automatic gearboxes on all models, and a driver's cab where all the controls are easily accessible. For optimal safety, Renault Trucks D, D Wide and Low Entry
Cab also offer:
A glazed side door 
Automatic emergency braking assistance
Hill start assistance
A bus door on the Low Entry Cab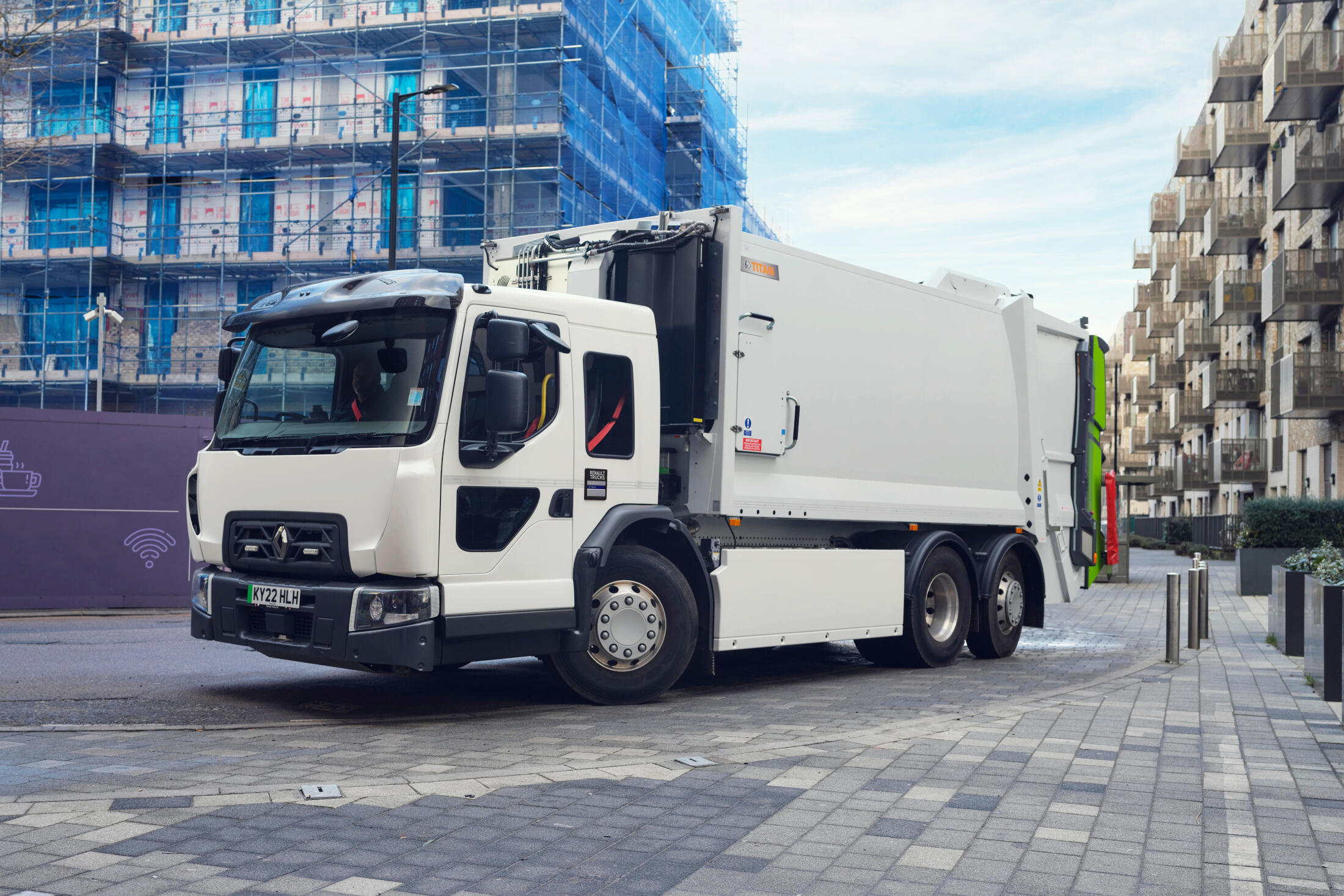 Reduce your maintenance costs for your fleet of waste collection vehicles
Vehicles dedicated to waste collection represent substantial investments. Therefore, it is important to maintain their performance over time. We offer customised maintenance plans adapted to the specific use of the vehicle. As an example, for waste collection vehicles, emptying intervals will be based on duration rather than mileage.
To prevent breakdowns and act before they occur, we have developed a predictive maintenance service: Start & Drive Predict. This is based on a digital platform that records the behaviour and actual use of your vehicles. When an intervention is required or when a part needs to be changed, the platform warns your advisor. The latter then contacts you to plan an intervention before the breakdown occurs. This allows for optimal management of your vehicles and fewer unexpected breakdowns.
When a part needs changing, Renault Trucks can offer you REMAN parts. This alternative to new original parts allows you to purchase parts renovated in our specialist factory for less than a new part. Once renovated, the parts are tested and checked to meet the same requirements as new products and are guaranteed for two years.
Finance and guarantee your vehicles and waste collection trucks
Because we know your business and the constraints related to waste management, we can help you with the financing of your vehicles. Your advisor will help you find the best solution for financing and insuring your fleet. All-in-one financing (vehicle, maintenance contract and insurance) allows you to manage costs with full transparency.
Please contact us to find out more.
Discover our all electric vehicles and services