List of content
Which alternative energy to choose for your Trucks?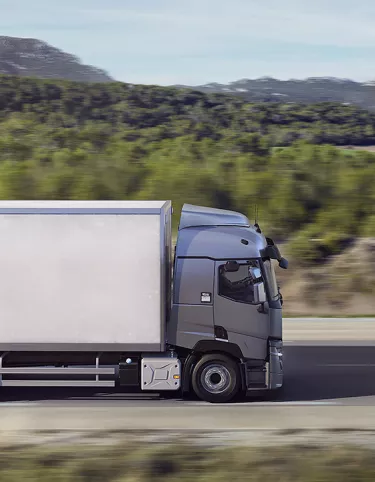 Renault Trucks can support your transition to sustainable transport solutions that generate less CO2 emissions. Whether you are an independent haulier or national fleet manager, Renault Trucks has the turnkey decarbonisation solution ideally suited to your business. Our experts assist you and analyse your operation and business requirements. This will ensure that we can offer you efficient and profitable haulage solutions throughout the service life of your trucks.
Reducing CO2 emissions for sustainable transportation of goods
In a dynamic economy, with expanding e-commerce and increasing end-customer expectations, the demands placed upon the goods transport sector are ever increasing. In order to support this growth in a sustainable way, governments across the world are implementing increasingly stringent environmental standards.
This is why, having committed to regulate vehicle pollutant emissions since 1990 with the introduction of the Euro 1 to Euro 6 standards (NOx, particulate emissions, etc.), the European Union rolled out a new regulation aiming to provide a framework and to reduce CO2 emissions of heavy commercial vehicles, in 2019. The target is a reduction of -30% by 2030 (compared to 2019 benchmark levels), with an interim objective of -15% by 2025. For the implementation of this legislation, the EU used its simulation software, VECTO, which calculates the theoretical CO2 performance of each vehicle as a function of its use cycles and various load conditions. The results are provided in grams of CO2 emitted per tonne and per kilometre (g/t/km).
%
This is the target for reducing CO2 emissions from industrial vehicles by 2030
The Renault Trucks solutions to support you in the decarbonisation of your fleet
Biofuels for diesel engines
The fossil fuel diesel vehicle market share will be reduced as a result of new regulations and technical advances in alternative fuels. It will, however, remain the majority share until 2030-2035. Renault Trucks reduced fuel consumption of our T, C and K ranges by 3% in 2021, and has already made a bold announcement for 2022: further reductions of up to an additional 10% in fuel consumption and associated CO2 emissions.  If ICE powertrains are essential for your activity, you also have the option to decarbonise your business through the use of biofuels: a renewable energy that generates less CO2 emissions than conventional diesel. Biofuels are available as first generation (such as B100) or second generation. These are synthetic paraffinic fuels, such as hydro-treated vegetable oils (HVO), which can reduce CO2 emissions by up to 88%. This biofuel option is available on our Renault Trucks T, T High, C, K and D ranges.
Learn more about driving with CNG
Driving CNG trucks
Read the article
Transports Houtch
Read the testimonial
Much more than 100% electric trucks: a global offer
Renault Trucks was the first manufacturer to market electric trucks as standard. With more than ten years of proven experience under our belt, our network maintains small-tonnage electric vehicles. For example, the Renault Trucks Maxity in its electric version went on sale in 2010.
Renault Trucks has also committed a significant part of its research into the development of medium to high-tonnage electric vehicles, conducting testing under real conditions, and establishing 360° support for customers. Our experts work with you throughout your decarbonisation transition. We understand the stumbling blocks associated with adapting a business to new fuel technologies, and can evaluate the best fleet structure according to your operation. Our teams guide you from researching your fleet and the requirements of your haulage routes and constraints, through to the end of service life of your trucks. This is achieved through analyses, services, recommendations in terms of recharging infrastructure, financial tools and haulage solutions. The level of support that we provide does not change regardless of the number of vehicles that you run. We are here to support you in this transition, from project management to the running and monitoring of your fleet performance. We will also support you in the day-to-day use of your trucks (installation of recharging infrastructure, optimisation of fuel consumption, etc.).
Since 2019, we have offered a 100% electric powertrain on our Renault Trucks Master, D and D WIDE ranges, covering your requirements between 3.1 and 26 tonnes. This is the widest range on the market, in terms of vehicle offering, and covers the majority of applications.
Our electric motor solution is manufactured at our Blainville production facility in France. It is reliable, cost-effective and suited to your urban distribution, domestic refuse collection or site delivery activities. It will soon be available for construction, goods haulage and even long-haul applications.
Renault Trucks is committed to a more sustainable transport of goods, for the benefit of your business and the environment. Discover our current 100% electric transport solution offer.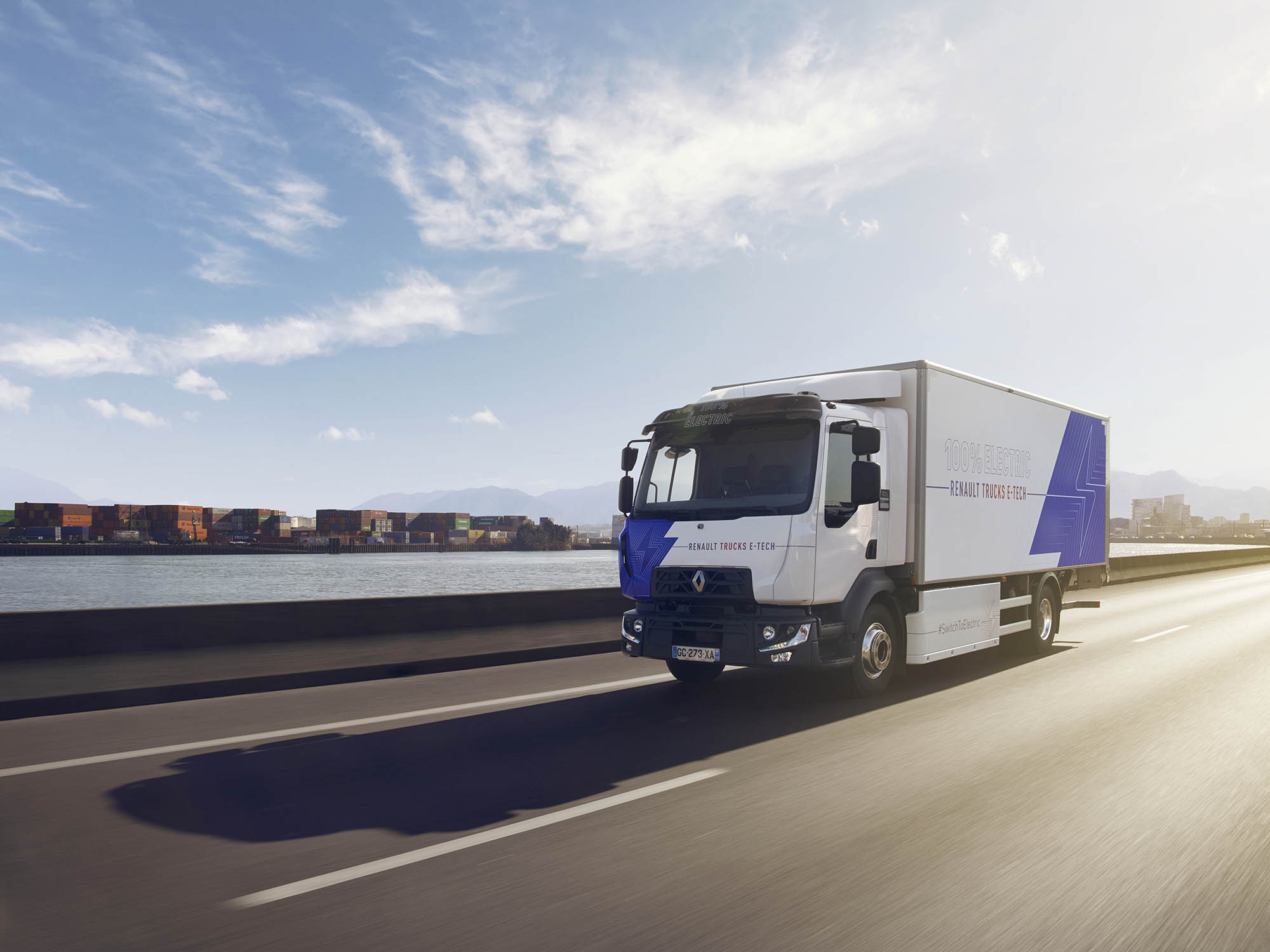 Discover how to switch to electric trucks
7 key points to consider
Download the checklist
How to finance an electric truck?
Read the article
Renault Trucks delivers ways to increase your profitability
Renault Trucks designs vehicles for sustainable haulage, guaranteeing your profitability. With the benefit of our knowledge and commitment to reducing the use of fossil fuels, Renault Trucks is developing vehicles powered by alternative fuels. We have benefited from the support of our parent group - Volvo Group, and are able to offer you vehicles that are reliable, efficient and profitable. As testament to its unerring commitment to energy transition, the Group has created its own division: Volvo Energy. Volvo Energy is responsible for the provision of new, used or reconditioned  batteries and charging solutions for electric vehicles. Furthermore, Volvo Energy has formed partnerships with the main players in the industry to develop fuel cells and batteries that will enable us to offer ever more efficient electric vehicles without impacting your profitability.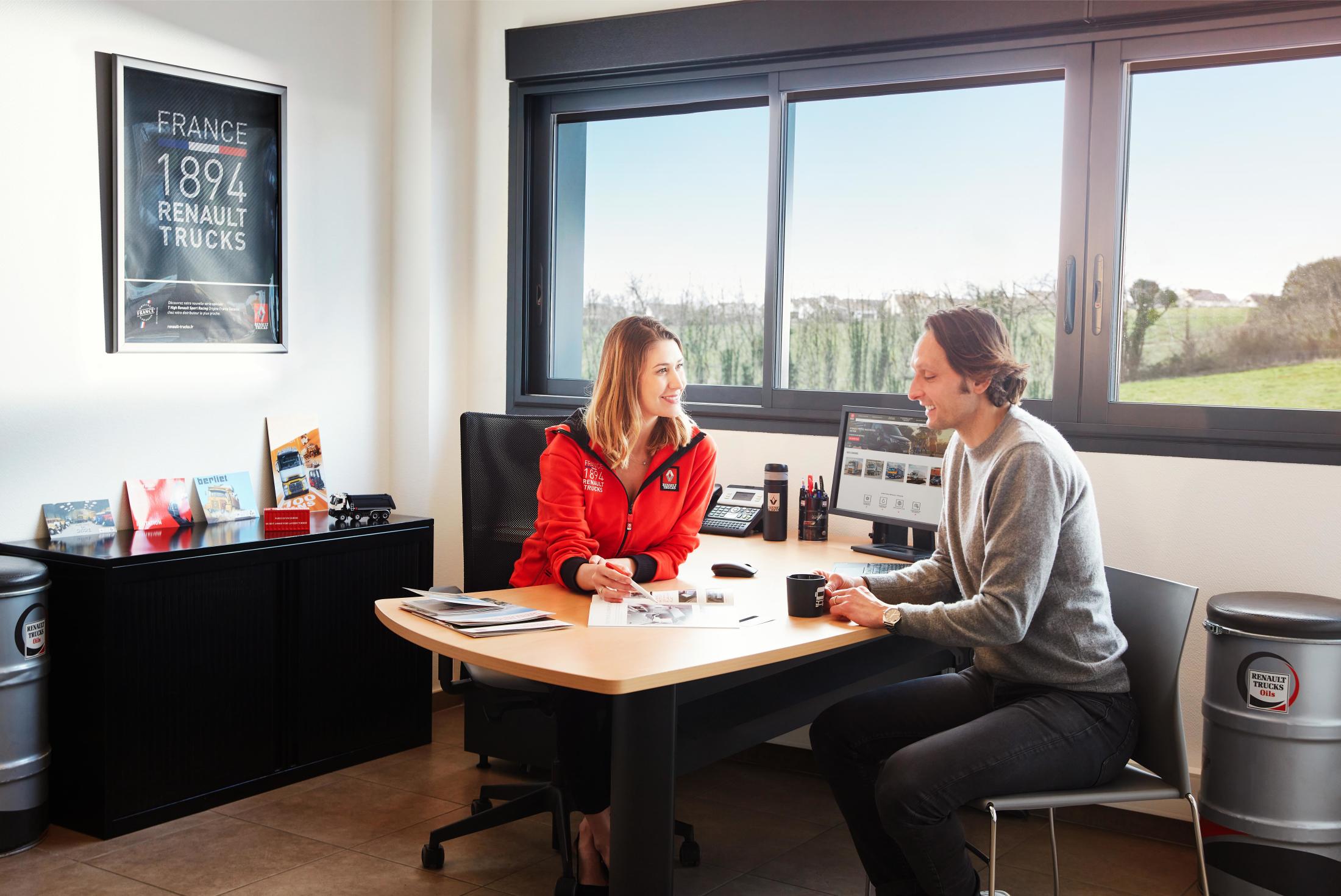 Reduce your environmental impact while also reducing your TCO
Renault Trucks is here to support you with a comprehensive 360° offer focused on electric vehicles, to provide you with turnkey decarbonisation solutions for your business.
The transition of a fleet to decarbonised vehicles should not be improvised. Expertise support is essential for a trouble-free transition. As with any new technology, moving to an alternative fuel sometimes requires a change of approach to your haulage routes and your wider business. However, in the long term, your TCO (Total Cost of Ownership) will be close to that of diesel vehicles, but with many added benefits:
Reduction of your carbon footprint
Access to low-emission zones (LEZ), which are becoming more widespread in city centres
Enhanced green credentials for your company for your customers and your partners
Reduction in driver turnover, as a result of the driving comfort of electric vehicles
If you wish to find out more about alternative fuels, or our electric commercial vehicle offer, please do not hesitate to contact us.
Contact our experts in decarbonisation